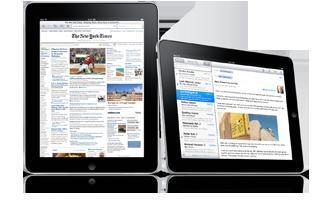 One word: Amazing!
Apple will change the market, migrate users.
I am not talking about a migration of part of the market as anecdotal began to Kindle (Amazon) I speak truly shake up the market and to change habits.
Apple launches mobile multimedia smart terminal. A machine in real virtual keyboard, capable of both your book, your picture frame, your television, your stereo, but especially your newspaper. Apple today introduced a solution open to the press tomorrow (which becomes the news today). A real solution that is both simple and existing products. (this will certainly be another article). Like all Apple products, after an initial discovery you can only tell you "obviously" and tell you that by extrapolating the logic of the market should lead to that.
I can already hear some criticism:

The iPad has no phone: obviously it does not, it is not made for that! as it is not pleasant to read a book on his phone, it is not nice to call on an iPad. And then phone tomorrow for what?Equipment and people are constantly connected, an email is much faster ;-)
The iPad is no SD card reader or USB connection: he obviously did not make such a connection would have been "thinking yesterday" while Steve and his team were "thought tomorrow" dematerialize. You are now a TimeCapsule (or another server share) and your data before you see everywhere. there you are with a mobile multimedia smart terminal. Browse your photos, music, videos, movies, books simply and quickly.
The iPad is only 64GB hard: but how do you not read the beginning of the article? iPad is an intelligent mobile terminal and touch your data are therefore only partially and temporarily on your iPad, since they are on your database server, think future, think home automation, home automation, media think … Synchronize your emails, your latest books, sorted some photos and some videos and here.
The iPad have no camera. What a strange idea, wanting to be displayed in a mobile terminal intelligent camera. Want to turn your "Picture Frame / book / chain / TV" tool for video conferencing, no interest. you have your home TV with an integrated webcam, so if you "think tomorrow" you have the Samsung or LG TV connected so you can already communicate with and your iPad is then sent via Bluetooth to a photo or video or extract a paper on the TV so that your partner sees it.

I already see you smile, here :-) Yes! The iPad is the tool of the future and the tool today, offering everyone to read, watch, listen or write or he wants.