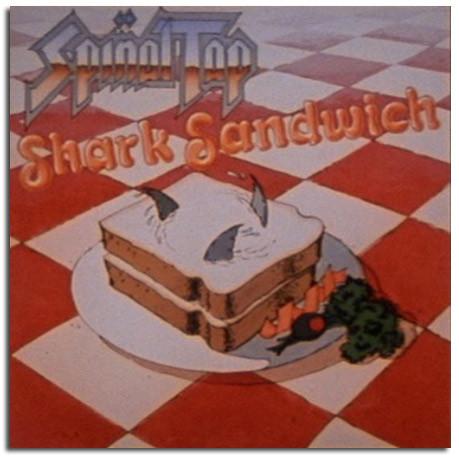 Voici un texte prévu pour Zikworld version anglaise et qui n'a pas été publié.
 
La version française se trouve ici:http://zikworld.wordpress.com/2012/03/17/e-story-rock-et-cinema/
 
 
ROCK & CINEMA......& HUMOUR.
Beware! humour is dangerous to the health of people who don't have any.....
Even if rock music doesn't always get along with the big screen, rock'n'roll owes a large part of his success to the movies.
In 1954, Bill Haley & His Comets issued a single called «Rock around the clock» achieving only moderate success.
A few months later, the song is used in the movie «Blackboard Jungle» and start its race toward the number one spot.....all around the world.
The first wave of rock'n'roll is born, giving birth to the early great rock movies like «Jailhouse Rock» with Elvis or «The girl can't help it» with the best of 50's rock artists AND Jayne Mansfield as the blonde bombshell.
Since then, a lot of rock movies have been made but the best in my opinion will always be «This Is Spinal Tap» directed by Rob Reiner (Marty DiBergi) and featuring Christopher Guest (Nigel Tufnel), Michael McKean (David St. Hubbins) and Harry Shearer (Derek Smalls).
(You're too young and I'm too well hung but tonight I'm gonna rock ya«Tonight I'm gonna rock ya tonight»)
The Guest-McKean-Shearer trio comes from american TV shows like the prestigious «Saturday Night Live» and, with director/writer Rob Reiner, they are gonna create the most moronic metal band in the world: Spinal Tap.
An incredible level of details is written down, every change of musicians, names, places, chronology, the drummer's curse, the crazy looking albums and their reviews and best of all: about twenty great songs, showing the evolution of British rock music throughout the years.
In the early sixties, the Band started out as The Originals, then The New Originals, back when they were an amateur skiffle band, playing on the streets of East Squatney (All the way home).
By the mid-60's, evolving into a rhythm'n'blues quartet, they became The Thamesmen (Gimme some money) .
After a few more changes, they become the legendary Spinal Tap by the end of 66.
A very grooooovy, psychedelic, love & peace, flower power Spinal Tap who sing «Listen to the flower people» in 1967, their first hit.
After a few years of intense lack of success, they change to heavy-metal and quickly become England's loudest (and stupidest) band ever, with albums like «Brainhammer», «Intravenus De Milo» or «Shark Sandwich».
(Marty DiBergi: the review of «Shark Sandwich» is merely a two word review, that read: shit sandwich!)
Playing an epic heavy metal with celtic accents (Stonehenge) or rewriting the gospels (Rock'n'roll creation), Spinal Tap try every fad passing by, even the disco with «Big bottom», a success that allows them to return to America with a vengeance....
.....And that's how the movie begins: five english rockstars, like so many before them, landing in New York, with the will of conquering the american market (and the chicks!), dressed to kill, outrageous make-up, wearing their cucumbers high and proud and bursting the eardrums of their enthusiastic fans, the amps turned up to eleven.
Unfortunately....
(In ancien times, hundred of years before the dawn of history, lived a strange race of people: The druids. «Stonehenge»)
«This is Spinal Tap» tells the story of an american tour that fails.
A phenomenal flop: the shows are cancelled one after another, the new album is delayed indefinitely because of a sexist cover (so what? Nigel will respond, what's wrong with being sexy?) and will finally be published with an entirely black cover.
But that's not all: non stop faulty equipment, their lack of orientation backstage, an 18-inch Stonehenge monument on stage, and to top it all off, the singer's girlfriend who improvises herself as the band manager...
The worst in all of this is that this story came from hundreds of all too real anecdotes and legends of rock bands on the road.
It evens makes fun of the great Jimmy Page, when Nigel, during one of his never-ending solos, plays his guitar with a whole violin.
Flop after flop, incidents after incidents, the band is going down and after another mishap on stage, Nigel Tufnel, the flamboyant guitar hero, leaves Spinal Tap.
Having lost its legendary axeman, Spinal Tap falls into free jazz territory and their fans quickly abandon the sinking ship.
Spinal Tap prepare for the inevitable split, but at the last minute, just before going on stage for their final show, a miracle happens ..... Nigel Tufnel returns with amazing news: «Sex Farm» has just entered the japanese charts!!!
Spinal Tap are saved and even the death of their drummer won't stop them from conquering Japan.
(Nigel Tufnel : I've always been influenced by Bach & Mozart....this one's called «Lick my love pump»)
Only modest success awaited «This Is Spinal Tap» when it first came out in spring 1984, but through the years, the film has gone from obscure cult movie to legendary cult classic.
What? Spinal Tap, a fake band?
Are you kidding?
In 1984, the soundtrack is published and shows the genius of these real artists who can come up with rock standards like «Stonehenge», «Big bottom» or even «Listen to the flower people».
Soon thereafter, the band issued a christmas single: «Christmas with the devil» and launched into their first real american tour.
In 1992, Spinal Tap is back with a great album: «Break Like The Wind», a new tour and a TV movie: «The return of Spinal Tap».
The opening act for Spinal Tap during this tour are none other than themselves, playing as The Folksmen, but some fans don't recognize their heroes under their new disguises of Jerry Palter (McKean), Alan Barrows (Guest) and Mark Shubb (Shearer) and their set is often troubled by metal Tap fans.
In 1995, they star in a commercial for IBM (really?) with a new song that is still unreleased today: «Goat boy».
In 2000, they launch their website of illegal download: Tapster....with only one song on it, their recent «Back from the dead».
In 2007, they play in the «Live Earth» festival in Wembley, delivering another new song: Warmer than hell.
Their drummers keep dying fairly regularly, like Skippy Scuffleton, who died in the explosion of his Ipod while downloading a Celine Dion album.
In 2009, they are back for their 3rd (real) album : «Back From The Dead», unfortunately disapointing, offering new versions of their old classics and there can be only one review for this kind of album: SHIT SANDWICH !
The only good thing about this album are the 4 new songs (Back from the dead, Warmer than hell, Celtic blues & Rock'n'roll nightmare) worth having.
(My baby fits me like a flesh tuxedo, I like to sink her with my pink torpedo «Big Bottoms»)
Christopher Guest and Eugene Levy brought back the concept of mockumentaries with improvised dialogues for a few must-see movies:
Waiting for Guffman (1996)
Best in show (2000)
A mighty wind (2003 The Spinal Tap of folk music)
For your consideration (2006).
(The more it stays the same, the less it changes, and that's the majesty of rock, the mystery of roll «The majesty of rock»)
© Pascal Schlaefli