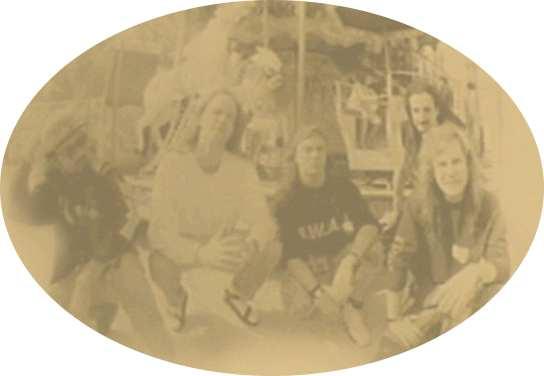 Découverte intéressante sur DIME récemment : une des premières  -sinon la première - démos de Faith No More avec Mike Patton au chant. Autrement dit un sacré bijou pour moi

Apparemment enregistrée sur un 4 pistes (les doutes sont permis) chez Billy Gould, cette démo nous offre les 4 titres suivants :
The Cowboy Song
Surprise! You're Dead!
Underwater Love
Falling To Pieces
Dédicace à Kirst, The Cowboy Song.
Infos
Some time ago I remember someone mentioned this demo so I started an extensive search on the internet to find out who got it. When I found the guy I thought it was going to be difficult to trade with him but he accepted immediately and now I decided to share this jewel with all of you Patton fans, cover art included.

Patton Introduction Tape
4-Track recording, Billy Gould's attic, San Francisco, CA
1988-??-??

01-The Cowboy Song
02-Surprise! You're Dead!
03-Underwater Love
04-Falling To Pieces

This torrent goes to my friends Shayenne, voltarized, Leandro and hothcanada (you already have it but thanks for trading with me :))
Special thanks to S.T.O.H. Productions for this amazing demo.

-Vic 2008-06-20

Notes from RealKosh 2006-09:
Recorded on 4-Track in Bill Gould's attic as a demonstration of Mike Patton for Faith No More's management and their record company (Slash). Two copies of this tape exist, dubbed directly from the 4-Track by Bill onto tapes with pre-existing music on them.
This copy was sold on eBay in September 2006 after being found in a Hollywood, CA thrift shop in a box of other music industry demo tapes along with a copy of Mr Bungle's 4th demo "OU818″ and 4 photos of Mike Patton taken in a Photo Vending Machine.
These are rough versions of the songs, most likely played live into the 4-Track. The music and lyrics are early versions and contain many differences from the final recordings.
The exact timing of the recording is unknown but FNM's first gig with Patton was in Nov 1988 and so this recording was probably made before that.
This is the missing link between Mike Patton in Mr. Bungle and Mike Patton in Faith No More and is a must for all collectors.

**DO NOT SELL**
**ONLY FOR TRADE and TORRENT**