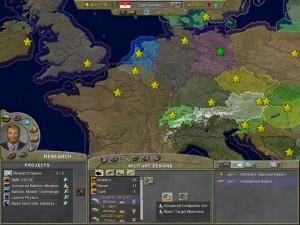 Comme promis, Battlegoat a sorti une nouvelle mise à jour pour Supreme Ruler 2020. Ce patch permet de profiter des dernières améliorations ajoutées au jeu dans la récente version Gold. Pour plus de détails voyez le changelog ci-après. Le fichier se récupère directement par le biais de l'interface du jeu.
***
This update will bring Global Crisis all the new game engine features included with the SR2020: Gold Edition
Player Options: During the installation of Update 6 player options will be reset.
Savegames for Supreme Ruler 2020 and Global Crisis are now stored in the My Games folder of My Documents for a given user by default. This can be changed in-game using the My Options/Player Options/Files settings to specify a preferred save game location.
If you have updated from an earlier version and have Saved Game files stored, simply turn of the « Save in 'My Games' folder » checkbox in the Options.
Supreme Ruler 2020 and Global Crisis (all versions) Update Notes:
- Games for Windows compatibility
- Windowed mode now supported (Graphic options)
- Spies system reworked to create tension instead of wars.
- More spy related e-mails added
- Elastic banding improved (focus carriers with aircraft type situations)
- Satellite construction cost added to expense report
- Fixed ability to right click, pick Facilities, then select specific facilities.
- Military branch remembered when going from a reserve facility to reserves unit list in Defense Dept
- Improved AI commodity trading (including AI requests products/offers money, before did only reverse)
- Added ability to mark units as excluded/favorites
- Added rally point centre button
- Added ability to adjust 'autodeploy' and 'continuous' to units in the Queue and in Production
- Added more 3D Unit Meshes (6)
- Orer of Battle (unit list) Updates
- Uranium costs for units added to unit popup
- Right click – bombard/attack facility command fixed
- New Lobby Option – Units Die when Region Falls
- Ctrl + elastic band can be used to add more units to selected units
- Different Sound volume levels for on-screen and off-screen as well as other regions vs. own units
- Sounds fade when map zoomed out
- Fixed trade money for money exploit
- Fixed « unlimited missiles » exploit
- Fixed value for techs when negotiating treaties with the AI
- Fixed Naval Rally points
- Fixed various indirect fire issues (neutral/own waters, bombard, attack facility)
- Fixed AI valuing techs when negotiating treaties
- Fixed AI valuing naval unit designs
- Fixed Satellite costs in regional budget
- Fixed UN relations hit when an allied region dies
- Fixed order of units being added to production and queued lists
- Path line displays over world edges fixed
- Completed various minor GUI improvements
- Campaign maps updated
Incremental 6.6.2 Changes (all versions including Gold Edition):
- Fixed rare Fog-of-War off bug
- Build-to-Strength on Merged Units fixed
- Play on as Dictator available when losing an election
Global Crisis (expansion only) Update Notes:
- Enhanced Tooltip to show what's in a BattleGroup
- Added AI trading of units
- Maximize offer button added for Diplomacy Offers
- Facility controls added for « Facility Build » screens in various departments (activate/deactivate and build by type, minister chooses best location)
- Game Option to show War Declaration and Alliance messages about all regions
- State Department priorities added for Trading
Global Crisis Scenarios: There are four new custom scenarios and two new multiplayer scenarios.