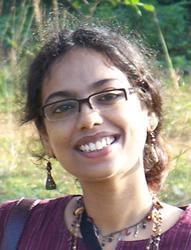 AGREEMENT

Everything else apart from this, everything you love to fiddle
These breasts, this belly, with a slit-like wound in the middle
Where the germs have dug more intricate bends and turns
You may take all its pus and blood. The pain is what I've earned.
There are much more... the navel taken off at the middle of the 
   [night
The nipples, public hair, the armpits where you planted your
   [rights
The skin where your teeth and tongue embossed a blood-red
   [seal
Please tally the balance, see how each stanza fts the bill...
Check it out whether there are any flaws left somewhere
Call on witnesses if you want, I will strip naked I swear
I wouldn't hide even the smallest nevus from your lust
You'll get everything you wish. But the rest that's lying on
   [dust...
Picking that clean from my own body, mind and soul
Fiercely I guard 
  You can never ever have me as a whole...
  


OFFERING.

Not even a grain of salt, you only have your wish
Cook with your tears, girl, tears is also saltish
Make a full course of menu, a full course of suffering
Sour dream, sweet envy, oh please, don't miss a thing !
Keep it to the east,, to the south some lemon to taste
Keep wind to the north, a sleeping oven to the west
Now the ritual is done, shut all the doors and pray
The time has come, girl, today is the ultimate day...
Don't let him run away from these offerings you've made
Into the dish of God, girl, serve your own bloody head.

FULL MOON : AN UNTIMELY ONE.

Ever since that afternoon,
Even the pale moon look to be lost in a trance
She...who had stopped bleeding
From the eighth day of previous dark fortnight
At the corner of her mouth, traces of drug,
Or poison, still can be found
What made her think that inside her bloodstream
Still she could take such a chance
With a faint retching sound, the entire roof was
Flooded with vomit, moonlight
Warm milk filled her ancient breasts that
Aren't anymore that round


Mandakranta SEN


Significant indian poet from the new poetic generation of Bengal state, which has a famous old and geat intellectual tradition (remember, for example, Rabindranath Tagore who got  the Nobel Award),

Mandakranta Sen

was born on 15 september 1972 at Tollygunge, near Kolkata.
She studied medicine in Nivatar Sirkar Medical College.
As a poet, she is regularly published since 1999, and she received many awards.
Her poems, written in bengali language, have been translated in hindi and in english (but not in French, and, unfortunately, I'm not enough able to master the english language for translating them correctly).
Mandakranta Sen's poetry is talking about existential fear and also about her angryness resulting from the inferior female condition.
* Please, forgive my bad and limited english.
Thank you.
(P.L)