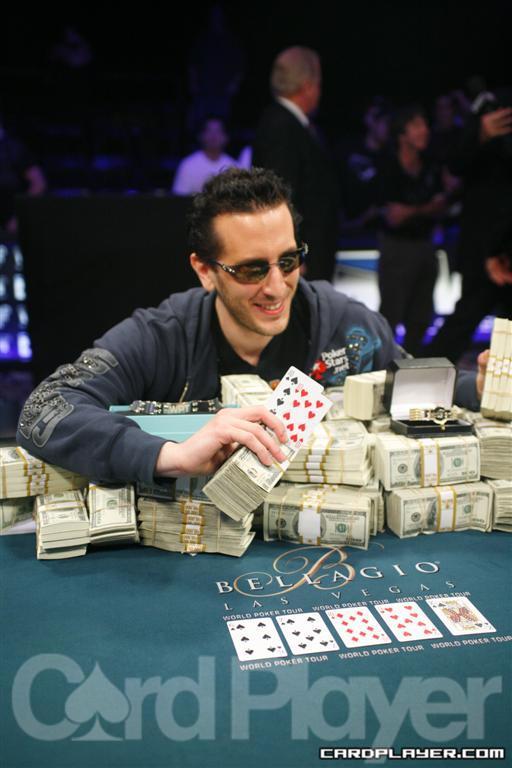 COCORICO ELKY GAGNE SON 1ER WPT !!!!
et de belle façon ici l'interview
Il a marché sur la table de belle façon... superbe performance ! et prend $1,411,015.
Entre Bertrand et David le poker français rocks
By Tom Bostic
"A vaincre sans péril, on triomphe sans gloire."
Translation: "To win without risk is a triumph without glory."
~Corneille.
If Corneille is right, let glory be bestowed upon fellow countryman Bertran "Elky" Grospillier, for the ability to risk it all is what put him in position to win it all. Grospillier played fearless poker for six straight days, highlighted at the final table when he continuously moved all in time after time. His unrelenting aggression and ability to risk large amounts of chips at any given time help him to single handedly eliminate all five of his final table opponents.
His first victim would be satellite winner, William Mietz. Mietz had played with Elky for several hours prior to the final table and described Elky's play as "super aggressive". Mietz tried to counteract the aggressive play in his elimination hand when he check-raised all in on a nine high, paired board. Mietz was forced to flip over K10 while Elky had no trepidation in calling him down with ace high to eliminate Mietz and extend his chip lead over the rest of the field.
Next would be Adam "Roothlus" Levy. A relative unknown to the general poker fan before his deep run in the WSOP this summer, Roothlus has been a well respected internet professional for several years. He had been playing all in poker over the past few days, folding most hands and moving in with the others. In fact, during the first 17 hands of play, Levy moved all-in five separate times. Apparently, one too many, as he shipped it with A9 against the two black queens of Elky. The queens held up and Levy walked away with his largest score to date of $266,445.
After the Levy elimination, Elky shot up to over 10,000,000 – more than half of the chips in play. His unrelenting aggression allowed him to pick up pot after pot with preflop raises, even showing off by tabeling 2-3 after taking down an uncontested pot. Nenad Medic, perhaps fed up with the routine made his stance when he was dealt pocket sixes. He open pushed for 1.28 million chips and was called by Elky, holding KJ. The board came J9325 and the former WPT champion was eliminated in 4th place.
With Medics chips added to his stack, he now had his opponent's out chipped by better than three to one. The disparity in chips along with increasingly high blinds led to only one logical conclusion – an all in fest. First it was Elky that realized he was in the perfect position to apply pressure, moving in the first two hands after the Medic elimination. It didn't take long for Oddie Dardon and Nam Le to figure out that they too would have to push in order to make any headway in the tournament. Nam was the first to manage a double up, shortly followed by Dardon. All of a sudden it looked as if Elky didn't have the title sown up as he only had a 1.5 to 1 chip advantage over the competition.
With renewed confidence Dardon began to attack Elky in large pots, eventually managing to actually capture the chip lead back from the Frenchman; an improbable feat considering his once insurmountable chip lead. But Dardon danced off that thin line that separates confidence from its ugly sister over-confidence in several important pots. He called two large river bets of almost a million chips and bluffed away 2 million more with nine-high. Back to where he started after his first double up, Dardon now only had three million chips. However, Elky was back to his old aggressive self and moved Dardon in after a raise and a re-raise. However, Elky got caught with his hand in the cookie jar when he was called and forced to show 102. Dardon held AJ, but when the board brought a deuce for Elky, Dardon was sent to the rail.
Now, down to the heads up match Nam Le sat with only 925,000 – a pittance compared to the over 15,000,000 of Elky. Never one to fear the short stack, Nam doubled up on the first hand of heads-up with AJ. The next hand he doubled again with pocket deuces. The two double ups gave name over 3.7 million in chips. With a reputation of being one of the most patient, methodical players on tour, fans started to prepare themselves for a longer than expected heads up match. Unfortunately for Nam Le, this would not be the case.
On the very next hand, Nam Le completed the small blind for 200,000 and Elky Grospellier raised to 700,000. Nam thought for a minute before moving all in. Grospellier called, showing a pair of tens while Nam turned over AQ. Racing to the flop, the players saw 1076, all but eliminating Nam by giving Elky top set. The board failed to bring a miracle and Grospellier exploded into a celebration along his rail.
Even with the runner-up finish, Nam moves into 10th place on the all time WPT money list with $3,084,273, one spot ahead of his good friend, JC Tran. As for Elky, this is his second major live tournament win, and his only WPT cash. First place is never a bad place to start, as he will collect $1,411,015 for his efforts at the 2008 WPT Festa al Lago this week.
Join us next week as the World Poker Tour Travels to Foxwoods, Connecticut for the World Poker Finals.