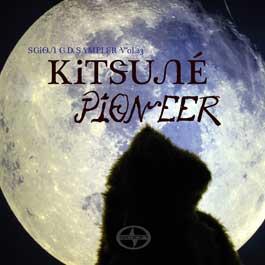 Pour le 23ème numéro des
Scion sampler
, c'est l'un de nos label préféré (et de loin l'un des plus éclectique),
Kitsune
qui est à l'affiche en association avec
Pioneer
. 11 remixs et versions inédites des artistes du moment de la maison. Comme c'est samedi et qu'on se remet encore d'un soirée de la veille, on va vous faire un joli copier/coller (mais nous on vous le dit) du communiqué :
1. Ted&Francis;: Erlend (Ted&Francis; Remix): A driving, moody electro-disco beat featuring male vocals surrounded by lush, swirling synths set the tone for this Kitsuné offering.
2. Heartsrevolution: Ultraviolence (Dubka Remix): As legitimate a reproduction of the classic 80s movie anthem as can be found this side of 1990, Heartsrevolution kills it on this upbeat track with distorted vocal screams and guitars that have to be heard to believe.
3. Guns'n'Bombs: Riddle of Steel (Para One Remix): With a vocoded, robot vocal calling for everybody to dance over a signature Para One style beat, this track is a sure thing for the straight up electro set.
4. Cazals: Somebody, Somewhere (Lifelike Dub): This brilliant slice of 80s style electro-boogie has everything you'd want in a disco dub record. Funky synth bass, reverbed-out drum machine toms, double time hi-hats, and Cazals vocals echoing out all over the place. Great mixtape material or warm-up record.
5. You Love Her Coz She's Dead (You Love Her coz She's Dead vs. YLHCSD Super Mix): Total peak-time electro anthem here. The incredibly catchy female lead vocal is the real star of the situation here off any so-so beat. YLHCSD goes the extra mile though, and supports it with an incredible triplet, sub-bassline and infectious arpeggio.
6. autoKratz: Stay The Same (Alex Gopher Remix): This solid chunk of housey electro builds slowly into a frenzy of vocoded voices and wild hi hats giving way to a sweet, poppy hook. Definitely a great way to take things from 0 to 60 in a flash.
7. Beni: My Love Sees You (Beni's Dub): This track does a great job of straddling the fence between classic and modern disco sounds. Natural electric bass and claps are juxtaposed with reversed vocal samples and synth bits to great effect.
8. autoKratz: Pardon Garcon (Carbon Footprint Mix): One of the more tech-y tracks featured here, this mix starts out with a disturbingly chopped female vocal and gets right down to business. Think soul-songstress with insomnia visits a computer factory for the night tour.
9. Cazals: Poor Innocent Boys (Shinichi Osawa Remix): Mr. Osawa aims to please both the old and young with this new-rave anthem. Great vocal hook, breakbeat samples, and big-room synths that'll take you back to '91 in a heartbeat.
10. Fischerpooner: Danse en France (Beni Remix): A frantic, arpeggiated bassline propels this piece of electro fury from start to finish. Decidedly hard and focused, techno fans old and new appreciate this nod to the originators of the style.
11. Appaloosa: The Day (We Fell In Love) (Ted&Francis; Remix): Rounding out the release and mellowing the vibe is this haunting, disco ballad. Great vocals swim in a sea of synths and strings over a laid back disco beat that builds surprisingly to an incredibly full, orchestrated climax.
>>
Download Kitsune-Pioneer Scion sampler 23 (.zip)