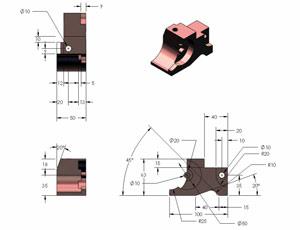 Last week at SolidWorks World 2009 in Orlando, the SolidWorks Certification Team released the new Advanced Surfacing Exam (CSWP-SURF). This is the third advanced topic exam released, and is available to individuals who have passed the CSWP-Core Modeling exam.
The new Advanced Surfacing exam covers a wide array of surfacing tools found inside SolidWorks including:
Spline Creation
Filled Surface
Swept Surface
Surface Trim
Move Face
Thicken
Planar Surface
The new exam has a time limit of 90 minutes and requires a 75% passing grade. More information about the exam can be found here, and a sample exam is available for download by following this link. Those wishing to take the exam can purchase it for $19.95 here. The exam is self-proctored and requires an Internet connection for the duration of the exam, along with a working version of SolidWorks.
Due to new functionality covered, it is recommended that SolidWorks 2008 Service Pack 3.1 or newer be used to complete the exam. It is also recommended that potential candidates complete the Advanced Surfacing Training Course offered by SolidWorks resellers.
If you need additional information about the Advanced Surfacing Exam, please contact certification@solidworks.com.
Mike Puckett,
SolidWorks Certification Specialist
Share and Enjoy: