Okay, this one is coming late in the game but it's actually the first idea that came to mind when I heard this month's challenge was Summer Berries.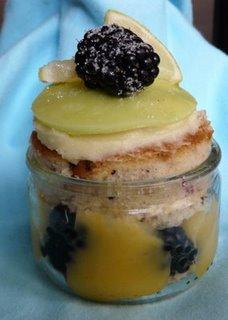 When I first moved to France, I knew of and loved many of the traditional bakery favorites like eclairs, millefeuille and pain au chocolat. Now that I live right above a bakery, I have learned to explore and embrace an ever-expanding assortment of patisseries (unfortunately my backside has expanded with them!). Things like a Tigré, which is a chocolate chip spotted vanilla sponge cake with a fondant chocolate center,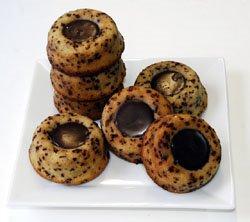 Or a Divorcé, two puff pastries which have been melded together - one filled with a coffe crème patissier, the other with a chocolate one and a squiggly line of whipped buttercream dividing it down the middle (the ones on the far left),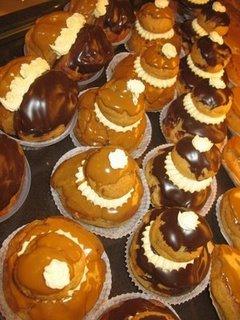 Or a Gland, my husband's favorite which is a cream-filled puff pastry coated with a slightly green tinted sugar icing. Sometimes the icing is subtly tinted like a cool lime but other bakeries do a full-on fluorescent green one. It is often half-dipped in chocolate sprinkles for a two-tone look. Go figure.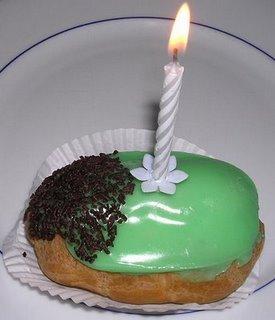 One of the more popular bakery desserts at this time of year is the Fraisier. It is made from a genoise cake that is halved; creme mousseline and strawberries are smoothed in the center and then it is reassembled. It is usually topped with a thin covering of marzipan and some decorative strawberries and other objects.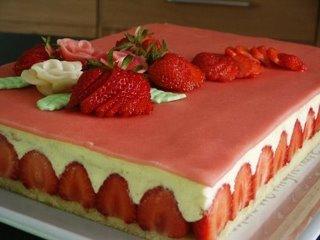 Frequently, when you buy it sliced in the bakery, there is a thin cellophane film surrounding the slice to hold it in place. Thus was my inspiration for my 3rd and final entry in this month's Iron Cupcake:Earth. I call my creation Le Murier cupcake since blackberries in French are called mures. To make them I took a simple vanilla cupcake recipe and threw a bunch of freshly chopped blackberries in the mix. Once they had baked, I sliced them in half, spread home-made lemon curd in the center, popped a few blackberries in too and put the cupcake back together. It is topped with a cream cheese frosting, a marzipan cap, sugared lemon slices and a blackberry. Enjoy!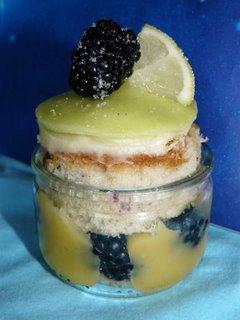 Le Murier Cupcakes

Take your favorite vanilla cupcake recipe. I'm going to share Amy Sedaris'with you as I keep my vanilla cupcake recipe closely guarded!
Once cupcakes have cooled, you are going to slice them in half. I placed mine in recycled chocolate pudding pots to hold them together but you cause any old container like a coffee cup or empty yogurt pot. Cover the bottom with a dollop of lemon curd and some blackberries. Then cover with a layer of cream cheese frosting and marzipan cap.


Amy Sedaris Vanilla Cupcakes


Makes About 24
1 ½ sticks of unsalted butter
1 ¾ cups of sugar
Beat well, then add:
Add 2 large eggs
2 Teaspoons of pure vanilla
½ teaspoon of salt
2 ½ teaspoons of baking powder
2 ½ cups of flour
1 ¼ cups of milk
Beat well, (I mixed in about 1 cup fresh blackberries that had been picked over and slightly chopped) fill cups, and bake at 375 degrees for 18-20 minutes.

Lemon Curd
1/4 cup sugar
1 tbsp grated lemon zest
1/4 cup strained lemon juice
3 tbsps. butter
3 egg yolks
Mix together sugar, grated lemon, butter and lemon juice in a small pot over low heat. In a seperate bowl, whisk yolks til liquidy. Once the lemon mixture comes to a boil, very slowly pour half of mixture into yolks, constantly whisking so that the eggs don't cook. Then pour that mixture back into the pot, still whisking, whisking, whisking until fully combined. Continue to cook as curd thickens and almost comes to a boil, whisking all the time. Remove from heat, pour into a clean bowl and cover with plastic wrap, making sure to press plastic wrap firmly against curd. Refrigerate and use when cool.


Vanilla Bean Cream Cheese Frosting


1 package of Philly cream cheese
1/4 stick butter
2-3cups sifted powdered sugar
seeds of 1/2 vanilla bean
Bring cheese and butter to room temperature by letting it sit out for 1 or 2 hours. Beat butter and cheese at medium speed until creamy. Add 2 cups sugar and beat until combined. Add vanilla and beat until combined. Add more sugar until you get to the consistency and sweetness you like.
**Picture Credits** Tigres from www.achat-essonne.com, Divorce from www.terredesaveurs.com, Gland from www.imageshack.us and Fraisier from www.mescoupsdecoeur.com
As a reminder, here's what I am competing for in this month's Iron Cupcake