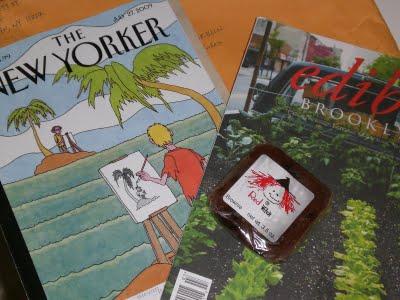 Upon opening my mail box this morning, I discovered a big yellow envelope from New York City. I was immediately transported by its contents, finding myself suddenly with Calvin in the heart of Greenwich Village.
The cherry trees were still in bloom and, in order to get moving, we decided to start with coffee at Cafe Grumpy in Chelsea, a charming coffee shop that also serves real coffee (a rarity in New York) with a little something extra: foam on top swirled into the shape of a heart! This time I decided against indulging in one of their cupcakes, which although beautiful are without flavour…
We left our perch on the bench in front of the shop to meander into SoHo to say hello to Kee, the chocolate maker. She was all smiles in her tiny shop. I bought a box filled with sesame seed truffles and chocolate hearts filled with passion fruit creme. At Morimoto in the West Village, we stopped only to study the menus - its fusion cuisine will have to defy my impatience and wait until next time!
Our rambling then led us to the Meatpacking District, in which former slaughterhouses have been converted into trendy shops, restaurants and cafés, complete with old butchers' hooks hanging from the ceilings. Suddenly a grey building with a hidden entrance caught Calvin's eye and with a roguish smile, he led me inside to discover Buddakan… where New York transforms itself into Shanghai. Shades of wood and armchairs upholstered in zen colours filled the vast space. Unfortunately for us, it was still too early for a cocktail!
Stepping out of this Shanghai dream and back into New York, we found ourselves one block away from Chelsea Market. Inside, an array of cuisines came face to face: Italian, Japanese, Chinese, organic… and the cupcakes! Each more creative than the last. And then, next to a window revealing bakers hard at work, we happened upon the Witch, a chocolate shop in which I sampled the most delicious brownie I have ever come across. Before I could finish eating it, Calvin led me back onto the street and we headed to the Union Square Greenmarket, with its many cheese, vegetable and fruit stands… as well as excellent people watching!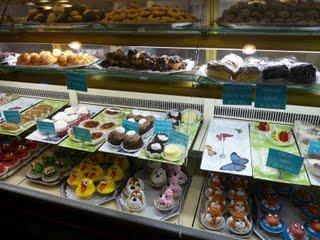 I stepped back out of the envelope, which was still full… Peering inside I found a few issues of The New Yorker, an Edible Brooklyn magazine and … a truly disappointing chocolate raisin brownie from the Witch. Thank you, Calvin, for this trip back to New York. I send you my regards and all the best from our good friend, JP Hévin.

Thanks to Karin for her big help to translate the text!

café Grumpy:

224 West 20th St. Manhattan

www.cafegrumpy.com

Kee's chocolate:Morimoto: 88 tenth Ave. , Manhattan,http://www.morimotonyc.com/Buddakan: 75 Ninth Ave., Manhattanhttp://www.buddakannyc.com/ The Witch: Chelsea market