It was to show their support for Sherbrooke Mayoral candidate Hélène Gravel, that a group of citizens and influential people gathered in front of City Hall this morning.
These women and men, of all walks of life, wanted to express why they hope Hélène Gravel will win the November 1st election. Among the candidate's qualities, they all recognize her ability to mobilize, her audacity and her creativity.
« Wether we are red or blue, francophones or anglophones, newcomers, dignitaries, business women or men, or citizens, Hélène Gravel is the only candidate who was able to convince us of her desire and her ability to work in collaboration with everyone» declared Heather Bowman.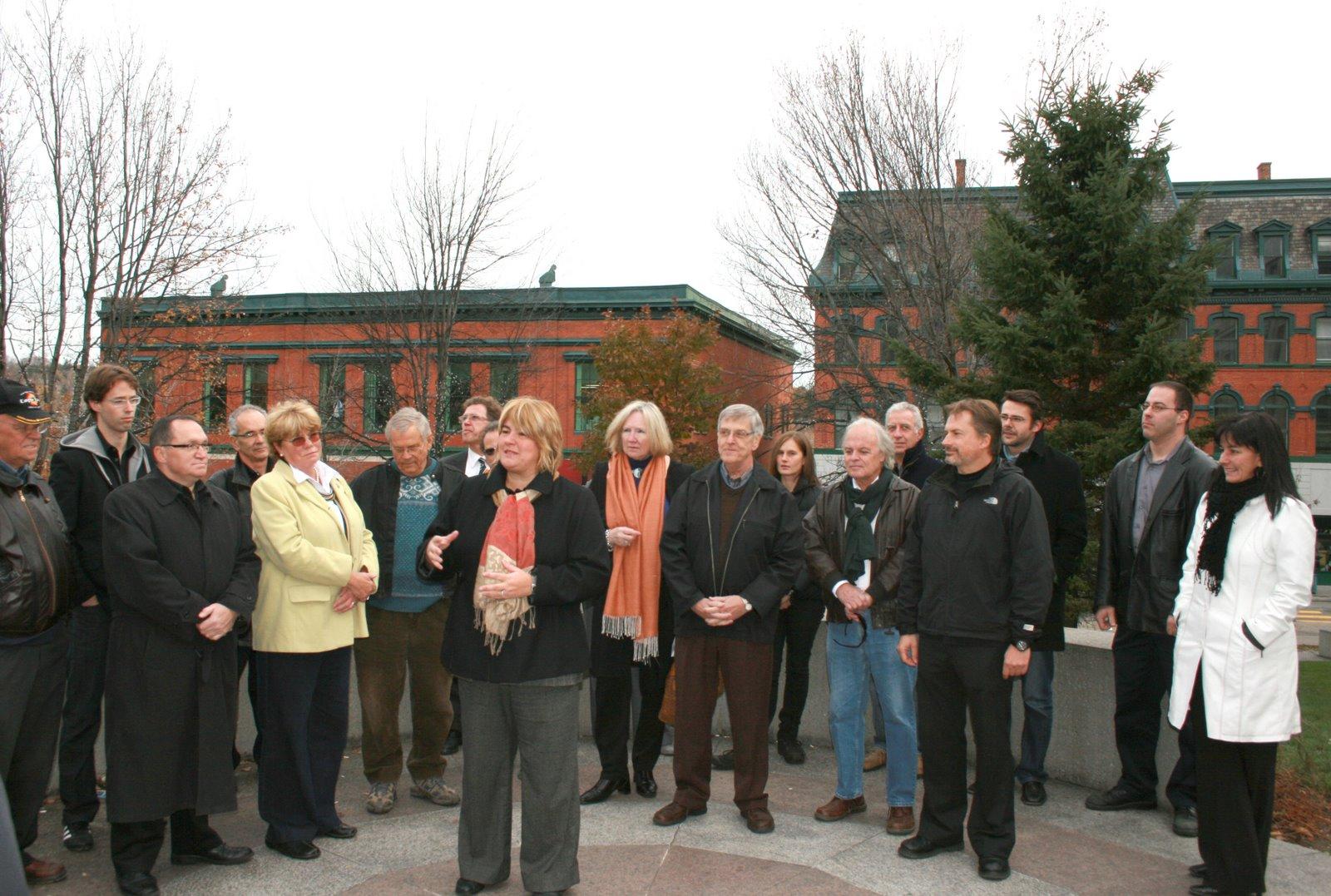 The group also emphasized the fact that
Hélène Gravel is a thriving and experienced administrator
. « Just like me, Hélène has built her business from scratch. Since I have had to laboriously work through the different steps of starting a business myself, I know that she has the knowledge of what entrepreneurs need to create more quality jobs in Sherbrooke» declared
Philippe Marchesseault
, young entrepreneur and Plogg Média Director.
« Unlike other candidates who have already let the population know with whom they would prefer to work, Hélène will work in complete collaboration with those who the electors have chosen, regardless of their allegiance. She is the ideal mayor to unify our univerity town's strengths because she cares so much about the citizens », added Bruno-Marie Béchard, University of Sherbrooke ex-rector and official agent.
« Municipal politics is where the citizen is closest to power, and that is what makes it beautiful. To be a politician, you need to have a rich life experience. There is no doubt: Hélène has the professional experience and the leadership skills required to bring her good ideas to fruition. Furthermore, her vision is inspired by her talks with citizens and her travels abroad» said Janick Anctil of Communication Jean Malo.
Everybody agrees on one thing: « Bringing Hélène Gravel to City Hall, will be a welcome breath of fresh air for Sherbrooke. It's the impulsion Sherbrooke needs to really make its mark. ».
People who support Hélène Gravel for Mayor:
Nil Allaire, retired businessman
Janick Anctil, Communication Jean Malo
Nathalie Ashby, Cible Solutions d'affaires Director
Serge Auray, Polym2 President and CEO
Gaston Bachand, consultant
Bruno-Marie Béchard, University of Sherbrooke ex-rector
Annie Beaudoin, lawer
Heather Bowman
Daniel Chassé, Inc. Copie Expert CEO
Vincent Chornet, Enerkem President
Nadia Choubane, cultural communities representative
Frédéric Côté, engineer
Patrice Côté, Graphic Illustration
Roger Fortier, retired businessman
Sébastien Gagnon, lawyer
Caroline Galipeau,
Maxime Gauthier, legal advisor
Nicolas Hamel-Côté, University of Sherbrooke student
Pierre Jones, tax consultant
Martine Leblanc-Constant, University of Sherbrooke graduate
François Lanctôt, IDEA Communications President
Colette Lavoie, lawyer
Bertrand Lapalme, arts and culture consultant
Alexandre Mailloux, Sherbrooke College student
Jean-Sébastien Marchand, University of Sherbrooke student
Philippe Marchesseault, Plogg Média Director
Catherine Melillo, IDEA Communications
André Nault, environmentalist
Étienne Richer, Sherbrooke College student
Denise St-Pierre, women's rights activist
Joëlle Subranni, University of Sherbrooke student
Michelle Tolszczuk, doctor