'WHEN they approached the little house they saw that it was built of bread and covered with cakes, but that the windows were of clear sugar. "We will set to work on that," said Hansel, "and have a good meal. I will eat a bit of the roof, and you Gretel, can eat some of the window, it will taste sweet."
Hansel reached up above, and broke off a little of the roof to try how it tasted, and Gretel leant against the window and nibbled at the panes. […]Hansel, who liked the taste of the roof, tore down a great piece of it, and Gretel pushed out the whole of one round window-pane, sat down, and enjoyed herself with it.'

In the heart of every child – and the big children that we are – there is a secret dream to one day cross the path of a house made of bread and sugar, where life would be nothing but enjoying the pleasure of a fresh homemade cake.
On Connaught Street, in London, this dream may have come true. Stepping through the door of Cocomaya, the chocolate shop that recently opened an artisan bakery, is like stepping into the sugar house that Hansel and Gretel discovered on their journey back home.

But at Cocomaya, instead of a wicked old woman waiting for you, there's an intimate and warm atmosphere, away from the luxurious decoration of grandiloquent hotels.
Wood-panelled walls and long tables invite you to enjoy a well deserved hot chocolate or a walnut cake after a day in the cold. With the addition of a bakery, the team now provides pastries, bread and handmade cakes, savoury biscuits and sandwiches; an afternoon tea that Hansel and Gretel would never have resisted.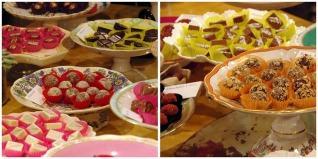 For the chocoholic in us all, Cocomaya has an important selection of different chocolates with creative flavours such as cranberry truffle, fennel & vanilla, coconut & cinnamon or rum & raisin.
Be it to enjoy a warm tea, some cakes or just to buy some chocolate, Cocomaya would be the ideal home where a grown-up Hansel and Gretel would chose to enjoy a relaxing time in company of their friends or family, treating themselves to tasty delights.
And once they left, they surely wouldn't forget to throw white pebbles along their way to be sure to find their way back to this modern day sugar house of pleasure.
Cocomaya
12 Connaught Street,
London W2 2AF
020 7706 2770
www.cocomaya.co.uk