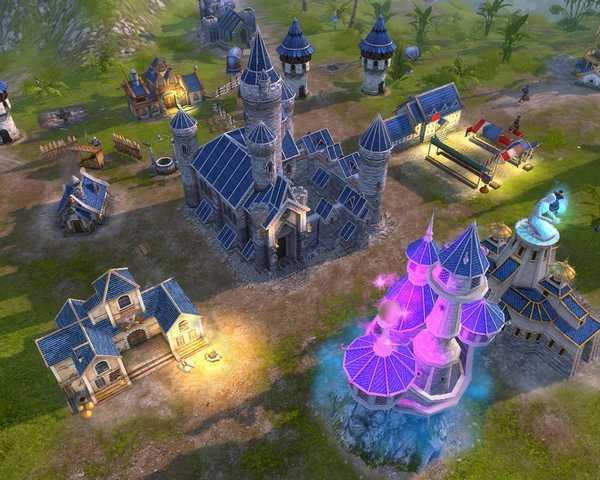 Ino Co a mis en ligne une nouvelle mise à jour pour Majesty 2 The Fantasy Kingdom Sim. Ce patch ajoute deux missions ainsi que diverses fonctionnalités supplémentaires, optimise l'I.A. et corrige de nombreux petits bugs ou déséquilibrages (cf. changelog ci-après).
Vous trouverez un lien pour télécharger le fichier depuis cette page chez Paradox.
***
Changelog
The update can be installed on Majesty 2 ver. 1.0.P EN,
1.0.97 EN, or 1.1.88 EN
New features and fixes
- Added "randomize" feature in all missions of the game, including multiplayer. Switching on randomize mode shuffles locations of non-quest monster dens, and places for construction of temples and trading posts. Warning! This can dramatically affect the difficulty of the mission.
- Random filling of chests. Now heroes can find various amounts of gold, as well as weapons, armour, elixirs, and artifacts.
- Added the possibility of purchasing additional game content. Part of additional content is available for free.
- Added map editor with a short manual. Video examples of using the editor are available at http://majesty2.com/index.php?option…=98&Itemid=173
- Fixed display of hints for icons in multiplayer lobby
- Added system of automatic synchronization in case of critical mistiming in multiplayer.
- Optimized work of some GUI components
- Added Anisotropy to additional graphic settings, which dramatically improves display of textures
- On mini-maps graves of monsters no longer appear as an alive enemy
- Added ability to view a list of heroes who are interested in a selected flag
- Opened access to basic resources game for mode-makers
- Added network compatibility of versions with different languages. Now only number of version influences the connection possibility, not localization language. Warning! Foreign language in chat may be displayed incorrectly.
- Multiplayer compatibility for the Majesty 2 with installed « Kingmaker » expansion.
History of changes for previous updates:
Additions:
- Mission « Treacherous Tropics »
- Mission « Wizard Wars »
New features:
- The system that checks for updates has been implemented into the game.
- If the graphic settings exceed the system parameters and the game crashes, « safe mode » will automatically be activated on the next launch.
- The ability to fix the central information panel has been added.
- The ability to scroll through the party-creation window has been added.
Programming:
- AI: Modified the system of preferences for different classes of heroes when purchasing goods
- AI: Heroes now pay more attention to the protection of the city if important buildings are under attack
- AI: Heroes now want to protect their guilds
- AI: Improved use of elixirs by heroes
- AI: Improved hero reaction to monster attacks
- AI: Improved behavior of guards under fire
- Fixed a rare bug causing 2D sounds to turn off
- Fixed the offset password field when connecting
- Removed outlining frame that appeared with RMB held
- Fixed an issue with saving and loading when creating a party
- Fixed an issue with the info panel caused when disbanding a party
- Fixed the violation of rules of construction when a sewer appears next to a trading post or a temple
- Fixed an issue with the number of tax collectors and royal guards on the 2nd and 3rd levels of the palace
- Fixed an issue with increased spell distance failing to add cost
- Fixed an issue with cleric attack animations
- Fixed an issue regarding the desynchronization of game-time speed and construction speed
- Fixed a rare issue in the GUI with the party panel not closing after the death of a party member
- Fixed the incorrect display of dead heroes in the GUI
- Fixed the crash during saving and loading with maxed-out « building queue »
- Fixed an issue with some missions not being flagged as « completed » after their completion
- Fixed an issue with the screen over- brightness on some ATI video cards
- Fixed an issue with the bloom special effect
- Fixed an issue with haze in the « Big Problem » mission
- Fixed an issue with spells and great artifacts being cast on a selected unit icon
- The distance-related cost of spells is now displayed correctly under the cursor
- Fixed an issue with the camera trembling while scrolling near map borders
- Fixed an issue regarding the excessive save and load times
- Multiplayer: GameSpy rating is displayed and calculated correctly
- Multiplayer: GameSpy error messages are now displayed correctly
- Multiplayer: Fixed an issue with reconnecting to a server after a failed attempt
- Multiplayer: Server filter has been added. It is now possible to display in the server list only those that are available for connection
- Multiplayer: Fixed an issue with the game being non-synchronized
- Multiplayer: Fixed an issue with the info panel for enemy heroes and buildings
- Fixed an issue with the lords' ammunition and artifacts having no effect
- Fixed the crash with saving and loading while the character characteristics panel is open
- Fixed an issue with upgrading a hero while they join a party
- Fixed an issue that allowed players to choose suitable trading lands and holy ground through the fog of war
- Quicksave and quickload hotkeys have been changed to F5 and F9
- Fixed an issue with scrolling in the GUI
Balance:
- The cost of inventing the « Stone Incantation » spell has increased from 1,000 gold to 2,000 gold
- The invention of the « Stone Incantation » spell has moved to the second level of Dwarven Settlement
- Cost of inventing « Grab-grass » has been increased from 500 gold to 2,000 gold
- Reduced the cost of casting « Grab-grass » spell from 500 gold to 250 gold
- AI: Paladins are now more aggressive in attacking the undead and their buildings
- AI: Dwarves and mages are now more aggressive in attacking lairs and buildings
- Fixed a bug in the order abilities used by the elves: first, the hero uses the attack that stops the enemy with roots (« Roots »), and then uses a basic attack
- Health of the Greater Fire Elemental has increased up to 1,000 hit points; increased its resistance to melee, shooting, and magical attacks to 35/85/100 respectively
- Cost of the Warriors Guild has been reduced from 650 gold to 550 gold
- Cost of the Clerics Guild has been reduced from 750 gold to 700 gold
- Cost of the Rangers Guild has been reduced from 500 gold to 450 gold
- Cost of upgrading to a 3rd-level palace has been reduced from 5,000 gold to 4,000 gold
- Cost of upgrading to a 3rd-level market has been reduced from 4,000 gold to 3,000 gold
- Amount of money generated by a 3rd-level market has been increased from 500 gold to 600 gold per day
- In « The Eternal Love, » the starting amount of money in the player's treasury has been increased by 3,000 gold
- In « Bloody Offenses, » the starting amount of money in the player's treasury has been increased by 3,000 gold
- In « Pretenders to the Throne, » the starting amount of money in the player's treasury has been increased by 1,000 gold
- In « The Demon's Advisor, » the starting amount of money in the player's treasury has been increased by 1,000 gold
- In "Pretenders to the Throne," the holy land appears instead of the enemy's destroyed Temple to Dauros
- Fixed issues associated with upgrading the weapons for Priestesses of Agrela and Beastmasters
Localization:
- Changed the description of the « Debility » perk
- Added the status "defends the kingdom" to the heroes' actions