Bedroom Eyes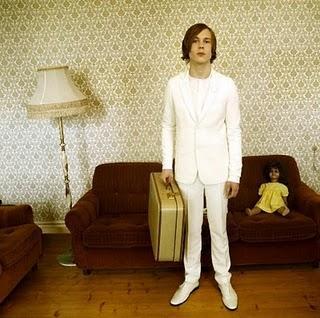 Anti rock n' roll hero




(Photo @ Severus Tenenbaum)




Références musicales : Penny Century, The Smiths, The Beach Boys


Bedroom Eyes - Hand-in-hand Grenade (new single version) (mp3)
(Pour mes compatriotes français :
Afin de conserver une taille convenable à ce billet, il n'est pour une fois pas traduit)

I think it all started back in October 2006 with Penny Century, a Swedish pop band I really like. Those guys told me I sould give a listen to one of their friend called Bedroom Eyes. I did. I loved. I wrote a first post then another one about him. (Actually, now, Penny Century's members play live with Bedroom Eyes).
This year, four years later, his debut album will eventually be out (no release date yet). The first single of this record is

Hand-in-hand Grenade

. It is out today. This song was featured in one of his previous EPs, but the single is a quite different new version. You can download it here only for few days (or buy it here). You should: it is brilliant and much more elegant than the average pop music. Also, it is an Absolut Noise exclusive!
Just as if it was not great enough, I did today an interview with Bedroom Eyes. There is pretty much everything you should know about him: from the incredible reason why he chose this nickname to his opinion about Internet. Enjoy !
Let's start by the beginning ! Your two first EPs met a strong success on the web, you reached the Elbo.ws and The Hype Machine charts and everything. How did you feel like at this time?
I always thought that these EPs were absolutely great myself but I never expected anyone else to share my opinion. I put the songs up for free on my website and it was really cool to see how they found their way out in the world all by themselves. Rolling Stone and Der Spiegel wrote great pieces on the music and I was overwhelmed by mails and phone calls from people all over the world. So I indeed was a bit surprised but always felt that the music really deserved all the attention it got. Both EPs where recorded in a few days time in the classic indie hang-out Gula Villan in Östersund with my friend and now co-producer Henric Boija.
To me, your two self-produced EPs were full of violins and romantic melodies. They did not sound like the usual "lo-fi"/"do-it-yourself"/whatever demos one usually find on the Internet. I mean the sound was quite polished somehow. How did you want them to sound like?
My aim has always been to make pop music that is so beautiful that it makes people want to go out and do something pretty. I guess some might call the sound polished because there's a lot of orchestration – which basically is the core of the Bedroom Eyes sound. Upbeat but somewhat melancholic and orchestrated indie pop. I wanted the demo songs to be grandiose and epic but vivid and fleet pop songs with an outright vulnerability. I have always been anti-rock'n'roll. In fact, that's what my white suit represents – the complete opposite of the black leather jacket.
On your MySpage page, you claim you recorded your debut record in an all-analogue studio. I guess this was important for you. What is the point?
I honestly don't know if there ever will be a second album. If this is the only impression I will leave in the world of pop music, I want it to be a classic. Therefore, I wanted to record it in the best studio in the world surrounded by my genius friends and the best people within orchestrated indie pop. So starting from New Year's Eve more than two years ago, I haven't bought one single item. Not even clothing, haircuts or newspapers. I've saved every cent for the studio bills. I would definitely say that Ocean Sound Recordings is the best studio upon this world and everything that comes out of it has some strange magic vibe to it. My album absolutely has the Ocean Sound vibe and I am certain that I can pull this album out in fifty years time and say that I surely did my best.


Actually, when I compare the EP version of

Hand-in-hand grenade

to its new one, I find the new one more "crafted", maybe because of this loop at the beginning. I think it kind of changes the atmosphere of the whole song, it gives it a kind of lo-fi attitude that disappears when the violins arrive. What about this loop? Do you agree with me or should I quit smoking pot?
There's a sad side to the song which gets more space in the new version because it's recorded in a far more dynamic way than anything I've done before. The "loop", as you call it, is in fact sampled strings and together with some drum machine verve it clashes in a strange way with the 60's orchestra arrangements and to me, makes it a standout track on the album. A wistful song you really want to dance to.
The new version of

Hand-in-hand grenade

is the only song from your debut record I could listen to. Could you tell me how the whole debut will sound like? What are the main differences between it and your two previous EPs? Any release date?
I don't want to give away too much of the album before it's out. But I can promise you that it is one well-crafted piece of pop that I am very proud of. The demo EPs were recorded over the course of a few days, as I said, but with the album we have really taken our time making sure that everything sounds just like the way we've visioned it to do.
Is Bedroom Eyes a band or a solo project? Why did you name it "bedroom eyes"?
I am Bedroom Eyes. A lot of people seem to think it's a band but it never has been. The story behind the name is simple. I was in London when I had just turned 20. I was exiting from a record shop in SoHo and accidentally smashed into a lady passing by on the street. I almost knocked both of us over and when I looked up to apologize, every cell in my body froze. It was Chrissie Hynde of The Pretenders. I stood there staring while my mind unsuccessfully tried to find some polite and suitable words to say. She looked back at me, adjusted her sunglasses and said "Hey, watch your step, bedroom eyes!" and disappeared down the street. I went back into the shop and with shaky hands bought "Get Close".
You are from the Östersund. Do you have any explanation how such a little city could give so many interesting Swedish artists? (Annika Norlin, Sibiria/Vapnet, Penny Century

, Autisterna, for instance). Do you still live there?


I don't live in Östersund anymore although I did for almost ten years. I actually grew up in a small town called Föllinge, an hour drive from Östersund, way up in the Swedish mountains. Föllinge is a very quiet but beautiful place with only a few hundred residents. I've been asked this question a few times and I find it hard to pin point exactly what makes Östersund such a great cradle for musicians. But a common explanation seems to be that it is a pretty close-knit community where most people know eachother, lends helping hands and works as inspirations on one another. But the thing that strikes me the most about artists from Östersund is the fact that nearly all are fantastic lyricists. Just look at those artists you mentioned there. The first thing that comes to my mind with each and every one of them is that first and foremost they're all standout lyricists. And that I can not explain at all.
You are signed on A West Side Fabrication which produced most of Bear Quartet records. Are you a big fan of BQ?
Yes, as anyone with a genuine interest in pop music and politics in northern Sweden should be. Great, great band.
Just one last question: Internet managed to make you more well-known at the beginning of your career. But how do you picture its influence on music?
Internet is the best thing that has happened to pop music since John Lennon. It took the music, and the control of it, out of the hands of the corporations and put it back into the hands of the artists and the listeners. We're the ones deciding where it goes from here and that's the way it should be. There are thousands of artists building fan bases around the world, doing shows and getting their music out in a way the previous generations of pop artists only could dream of. I for one am thankful for being a part of the indie scene these days.