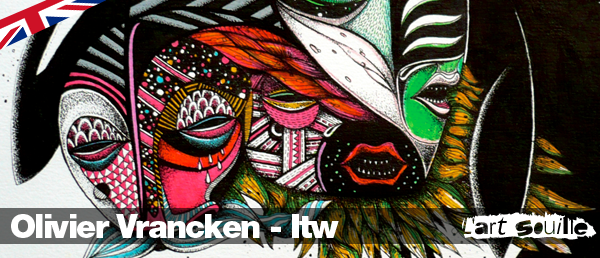 If I say Olivier Vrancken, does it reminds something to you ? I hope so ! Because remember, we had spoken of him few months ago, and in particular of his faculty to excel on both handmade creations, a bit freaky, and his corporate side, more minimalistic.
Accumulating big clients, to an ultra-personal work where he unveil his proper vision of Human Being, Olivier is still at the premiss of an artistic carrer that we feel really prolific ! Some dude to follow closely so, that we went to meet in his little town of Breda.
Encounter,
Nous sommes allés à sa rencontre.
Hi Oliver, lets start with our classic question ; Where are you, and what hour is it while you are answering to our questions ?!
I'm at home in Breda, The Netherlands and it is 01.30…
Can you quickly tell us about your career ?
Well, i dropped out off the Academy in '95 where i studied graphic design and illustration. Did a year of painting before
starting my career as a graphic designer. I worked freelance until now with all it's ups and downs. The road can be bumpy sometimes !
Did some minor art stuff in between. Moved to Holland and met this wonderful chap and great webdesigner late 2007 with whom i formed a small design-agency called Strafwerk. Ever since i still had the urge to start drawing and painting again.
I started doodling again mid 2009 and along came the first works. That's about it in a nutshell.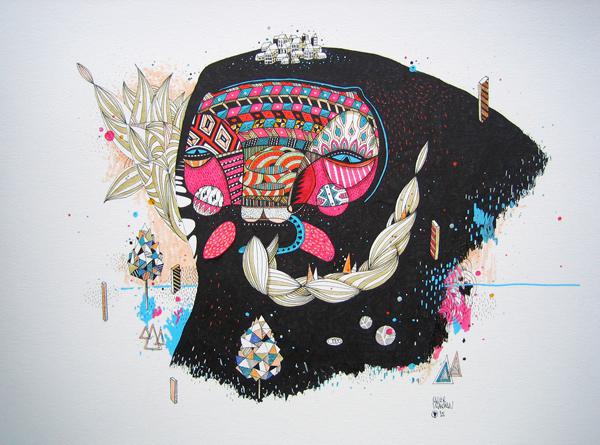 Given that you touch in (almost) everything, which is the method of work which you like the most ?
From impulse. Mostly i start with a vague idea, a thought, an image, a phrase,…. and go from there.
At the moment we have the impression that you go more and more towards handmade work, have you made an overdose of the informatic tool ?
In some way you could say so. On the other hand i feel i can express myself more through handmade work and i get a lot more satisfaction doing it.
Your work on computer is purified while on paper it is more mess and detailed, how could you explain it ?
I think one of the main reasons is that my computer work deals more with communication and that works best when it's purified, in artwork i feel like i can freak out more, it's a more personal approach.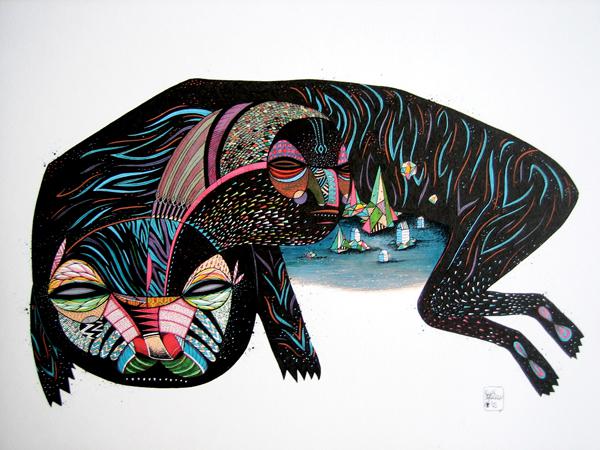 Cradle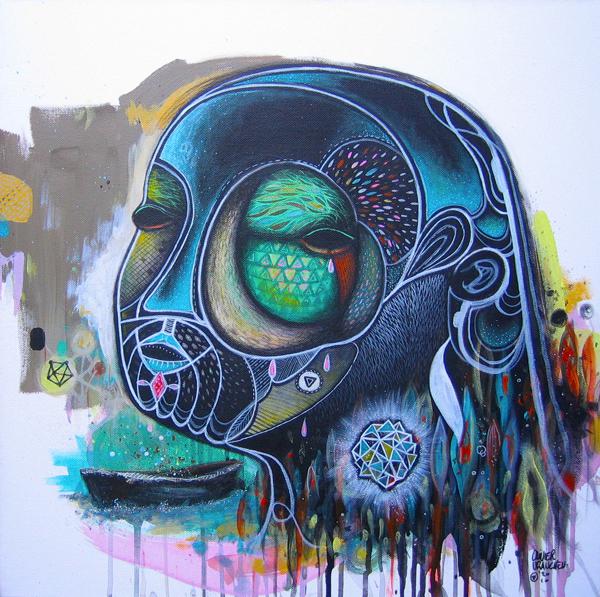 Rise
Your handmade artworks often represent strange humans in landscape mixed with various geometrical forms and symbolism… but as i'm curious i would like to hear from you some explanations on two artworks of your choice.
Ill take « Cradle » and « Rise » :
In both works there's a certain solitude to the characters. Like they are trapped in their own world, being and thinking.
Cradle deals more with the element of protection where as Rise is more focused on the self. Surrounded by surreal elements and symbols reflecting their innerworld and connection with the subconscious. All interconnected and divided through lines and patterns as everything is through those, i believe.
Can I also ask why all your characters are paint in black ?
Good question! I never gave it a real deep thought, it just evolved along the way.
Anyway it think it makes a good contrast with all these intricate patterns.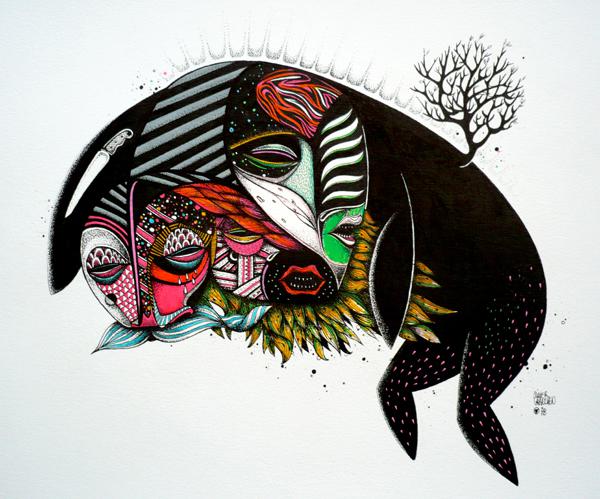 Illustration exclusive pour Jekyllethyde.fr
Tell us a little bit about the illustration you made for us on the theme Jekyll & Hyde ?
In the illustration i represented the transition/morphing between doctor Jekyll and mister Hyde. A lurking monster on a killing spree through Victorian Brittain.
The transition being the metaphor for the resistance and/or surrender to the dark side.
You also realized many artworks for the music scene (covers, flyers, rbma's brochures), so can you tell us what is the place that music occupy in your life ?
Top 3
BTW, Can you give us your top 5 tracks which turns in buckle on your walkman at the moment ?
Are albums ok to ?
De Puta Madre – Technik Stonic
Roots Manuva – Awfully deep
Burial – Burial
Hatcha & Youngsta – Dubstep Allstars Vol6.
Black Sabbath – Black Sabbath
Do you ever played any instrument / or Djing by yourself ?!
I played bassguitar in a hardcore/thrashband for a couple of years, somewhere in the early 90's.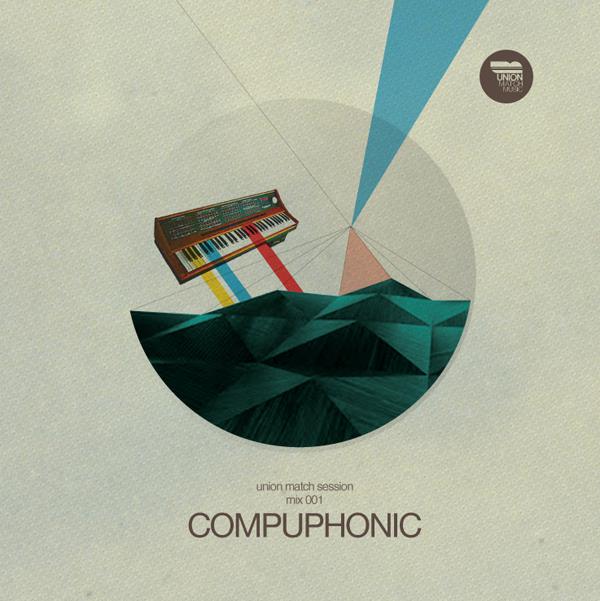 Lets now pass to our special faith interview (you can develop on the subject if you want :
Do you believe in paper ? Yes
Do you believe in evolution ? Yes, but i believe it's only a part of the big picture.
Do you believe in Monarchie ? No, power to the people !!
Do you believe to the DIY culture ? Yes, because nobody will do it for you.
Do you believe in internet ? Yes, curious where it's all going…
Do you believe in reptiles ? ???
Do you believe in the new world order ? No, i guess there's still enough sanity to prevent something like that from happening.
Do you believe in exces ? No, it doesn't work, just look around, the world is filled with excess.
Do you believe in electronic music ? Yes, i'm a big fan and there's a lot of good stuff out there.
Do you believe in Baphomet ? I used to listen to a band called Baphomet way back.
Do you believe in galeries ? In some
Do you believe to porn in 3d's ? Haha
Do you believe in pyramids into graphism ? Yes
Do you believe in drugs ? Yes in some, not all. Think of Ayahuasca and Mushrooms, there is something more to them.
Do you believe in ambition ? Yes, it's the fuel that gets you going.
Do you believe in Future ? Yes, it's in our hands.
What are you worst and at the contrary better memory in your artistic career ?
Worst : Clients that pay you way to late or just don't wanna pay, … You know who you are…!!
Better : The satisfaction of my work are the best moments for me.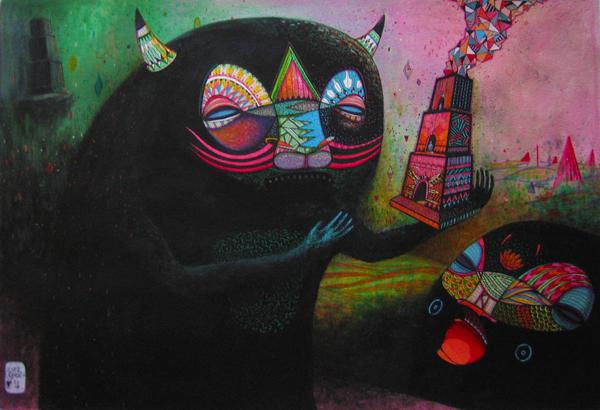 Do you have a special message to deliver to people who want to enter in the artistic scene ? Believe in yourself, work hard and go for it !
How would you describe your universe in one word ? Chaotic
How would you describe society in one word ? Absurd
How would you describe artistic world in one word ?
Disaster
And finally I let you give the last one (word) ?
Thanks a lot for this interview.
Bonus question : What question wished you to hear from us, we didn't ask ?
Don't know really. I guess i'm not that much of an interviewer.
Olivier Vrancken Flickr
Olivier Vrancken Website