Pianezza was founded as a textile company in Azzio, Italy, in 1935. Its main products were textiles for fashion and
furniture
but, since the 1990's, it has diversified its business into children's
toys
. When it comes to toys for children, there are many legal restrictions on materials for possible hazards to human health and therefore a lot of caution is required. To ensure compliance, the company uses substances harmless to children in all production materials, and this is the biggest characteristic of its products.
This year in particular, Pianezza attracted a lot of attention by unveiling its new interior decoration collection called MIHO-Unexpected Things. It was launched into the entire European market, on the strength of the "made-in-Italy" concept.
All the materials used in this collection, including naturally-processed paints and varnishes, are harmless to human health, increasing the safety of the products. The biggest strength of the collection lies in the sophisticated
senses
of colors that are unique to Italy and emphasize the characteristics of the products.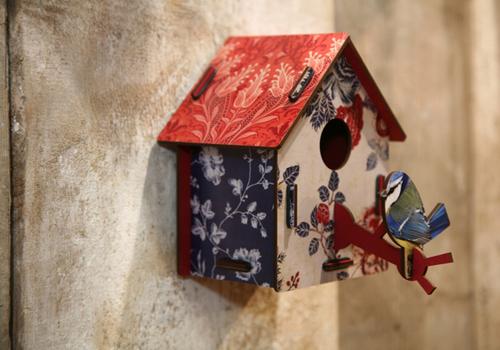 As all products come in flat packaging, they are not bulky to move, besides being easy to assemble. Also, they are so strongly decorative that they will serve as great decoration
ideas for the bland interiors of your home.
In this collection, they unveiled three different types of products: decorative bird houses, animal-shaped decorations, and tidy boxes. They all have their own color characteristics. Animal-shaped decorations mostly look like deer and goats. In the case of the bird houses, the combination of diverse colors and graphics was outstanding. Tidy boxes have a simple design with an emphasis on decorative elements.
All these products can be bought and assembled easily by hand. Buyers can select from a diversity of colors according to their preferences.
All the products exhibited in the MIHO Booth were designed by professional designers engaged in fashion, furniture, and accessory designs in Italy. They boast of good quality, in addition to excellent design.
Here's what I think would work nicely: Hang one of the bird houses at a corner of your indoor garden or in your children's room; one or two of the animal decorations in your living room or on a wall that needs something as a highlight. Then they will turn out to be great design items making up for your design senses - I mean, if you think you come a little short on design senses. Also, tidy boxes are easy to assemble and disassemble, so they will be good for making the most out of the small space of a children's room or kitchen.
Small design accessories can sometimes make a difference in the design of your home or any interior. If you make good use of them, you'll not only be able to change the ambience of your home, but you may also be able to refresh yourself in the process.