Kristen pourrait présenter les Kids Choice Awards
2011
Lisez l'article
ici
Jose Rivera Mentions
"Kristen Stewart plays Marylou, and she's really the female lead of
the film
. She's the only woman that goes on the
journey
with the guys and is sassy and crazy in her own way. One of the great things that we had, before the film was shot, was Marylou's actual daughter, Anne Marie, was part of production. She and Kristen spent a lot of time together talking about her mom and stuff like that."

Peter Murphy
Interviewer: I have to admit, I love those movies. I think they're very clever.
PM: I do too. I think that young actress [Kristen Stewart] is very good. She's lovely, too.

Brad Elterman
Kristen Stewart
went fucking nuts when she
saw
my
Joan Jett
t shirt from L'Agence.
Dakota Fanning
was a bit more reserved, but incredibly cool. Joan Jett was holding court.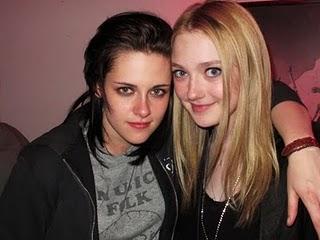 Matthew Perry Tweets about Kristen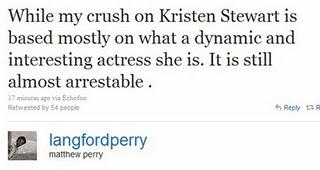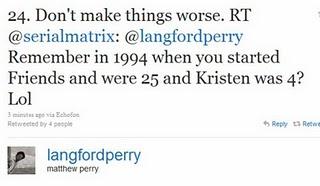 Flecking Awards: Kristen Stewart wins Best Actress award
And the award for Best Actress goes to… Kristen Stewart.
The Twilight actress bagged the Flecking Award, with strong competition from other nominees (including Oscar winners). Others up for the award were Natalie Portman, Angelina Jolie, Sandra Bullock, Ann Hathaway, Jessica Alba, Michelle Williams, Kate Hudson, Emma Watson, Scarlett Johansson, Julia Roberts and Mila Kunis. Twilight Eclipse also picked up the Best Film award, as well as star Robert Pattinson picking up Sexiest Male, Sexiest Vampire and Most Stylish Male. Congrats Kristen!

Chris Weitz Tweets About Kristen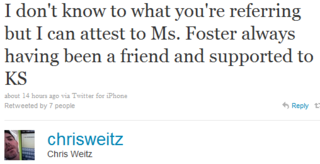 @
athenia_22
Kristen once said she cried really hard in her car right before filming the breakup scene? did you know and how did you react?
@
chrisweitz
Yup, I did know that. It was a tough night's filming.
Source:
robstenation
fleckingrecords
fiercebitchstew
langfordperry
bradelterman
@KstewAngel
rpattzkstewtwilightaddict