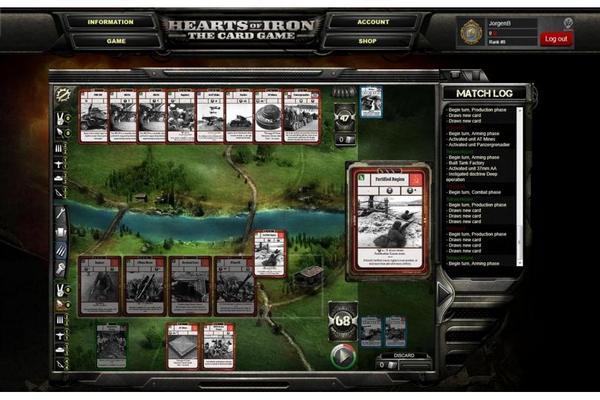 Paradox annonce que son jeu de cartes à collectionner Free to Play basé sur Hearts of Iron est désormais disponible. Ne vous y trompez pas, il s'agit ici d'un jeu en ligne, jouable avec un navigateur web.
Pour plus d'informations, voyez le communiqué et la vidéo ci-dessous ainsi que le site officiel.
***

HoI The Card Game – Tutorial trailer par Cyberstratege
***
Communiqué
NEW YORK – October 3, 2011 – Paradox Interactive today announced that Hearts of Iron The Card Game, a free-to-play, browser-based, online Collectible Card Game (CCG) set in World War II, is now live and ready for players to start their domination in this unique turn-based, online strategy game. Hearts of Iron The Card Game is now available online at: http://hoitcg.com
Paradox will also be holding several special events over the coming weeks including opportunities to play with the devs and compete with some of the best HOITCG players. For all of the details join the Facebook group at: http://www.facebook.com/HeartsofIronTheCardGame
"Hearts of Iron The Card Game takes the Hearts of Iron universe in a new direction as a collectible card game," said Jörgen Björklund, producer at Paradox Interactive. "Now we're launching the game and invite players to check it out with a special starter deck that is free for a limited time. Anyone interested in checking it out should go grab the free special edition deck because we'll retire some of the cards at the end of the month and then you'll only be able to get them from other players through trades."
The special limited edition cards will be available for free until October 17 for all new players. These cards include:
• Zavod No. 38 – a Comintern card that enables players to play or repair one T-70 or Su-76 tank
• Panzer Repair Shop – an Axis card that lowers the cost of tank repairs by 3 ammunition
• Plentiful Ammunition – an Allies card that unpins all artillery units
In Hearts of Iron The Card Game, players take on the role of Axis, Allies, or Comintern and choose their strategies as they challenge opponents online in a browser. The game features 140 unique cards with authentic World War II vehicles, strategies and events. A deck editor also allows players to create custom decks according to their play style. Based off the popular historical grand strategy game the Hearts of Iron card game is designed to enable card commanders to strategically build and combine a lethal force to be reckoned with.
A beginners guide is availible here: http://forum.paradoxplaza.com/forum/showthread.php?549676-The-Beginner-s-Guide-to-Hearts-of-Iron-TCG
Main Features:
• Free-to-Play
• Play as the Axis, Allies, or Comintern
• 140 Unique cards, with authentic World War II art and photography
• Competitive game modes where players can earn booster packs
• Deck editor lets you collect, build and customize decks according to your play style
• Trade cards with other players.