As the map herebelow clearly shows, the Lake Geneva Region is at the geographic center of the major European markets. An ideal location indeed to conquer the affluent markets all around, not to mention the fabulous natural environment of the Lake of Geneva, beautifully nested between the Alps and the Jura mountains.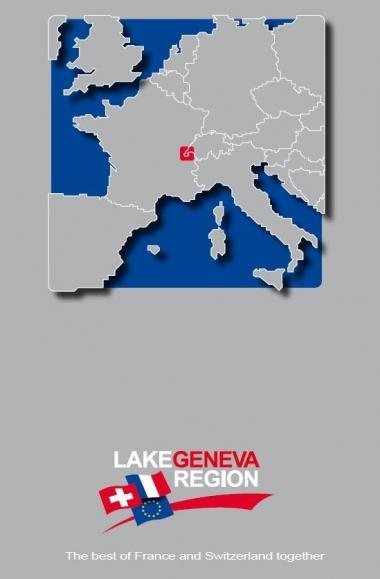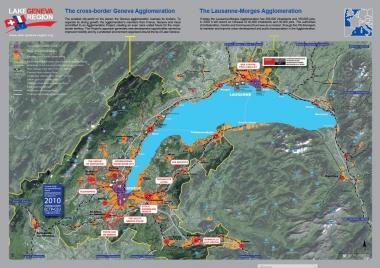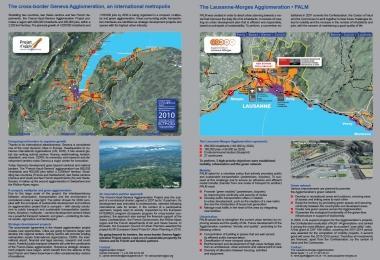 Even though a small territory in size, it offers a richness of wonders rarely seen anywhere else in the world, both in terms of touristic and economic appeal.
The Swiss economy is known for having excellent performance levels. Highly specialised enterprises with first rate qualifications, international groups, very liberal politics, a stable purchasing power (notably due to rates of inflation that are among the lowest in the world) and capital at relatively low cost all guarantee companies a fair level of prosperity.
Western Switzerland offers, in addition to a favourable general context, considerable advantages in matters of law, taxes, communication, know-how and mentality of the manpower.
The fact that Switzerland is not part of the European Union is by no means a concern since numerous treaties and bilateral agreements have been signed with the members of the European Union or with other countries in the world. Besides, there is always the possibility to stradle the border with a foot in each territory.

Moreover, Lake Geneva Region gathers the presence and know-how of world-renowned actors active in such fields as:
banking 
finance
chemistry
medicine
pharmaceuticals
biotechnology
food
telecommunications
technologies in general
industrial equipment
micro- and nanotechnologies
watch-making
 
The particular stability of the country and the welcome conditions reserved for enterprises have naturally incited many multinational companies to establish themselves in Western Switzerland once they have analysed the alternatives. Some of the major groups of the world have been active here for years and this trend is increasing with European enterprises that choose, in 57 % of the cases, to relocate their headquarters in Switzerland.
Currently, they have all chosen Western Switzerland for access to world markets, services, products and knowledge of proximity that foster their activities. In this open, liberal and competitive quality environment, Lake Geneva Region welcomes several company headquarters such as:
Alcan
Alcoa Europe
Cartier
Celgene
Cemex
Ciba
Cisco
Du Pont de Nemours
EBay International
Givaudan
Logitech
Lonza
Merisant
Michelin
Nestlé
Novartis
Owen Illinois
Philip Morris
Procter & Gamble
Merck Serono
Rolex
Sunstar
Tetra Laval International
Tupperware
UPS Supply Chain Solutions, and many more....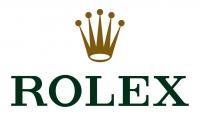 Besides, as another evidence of its attractivity, Lake Geneva Region accommodates numerous international and non-governmental organisations whose mission resides in designing the future of humanity. In addition to the United Nations, the region has the biggest organisations related to:
The contributions of international organisations are important. Among the major advantages one can name:
infrastructures
international presence
stability and security
information (statistics, analysis, etc.)
scientific and industrial return, technological gains (access to particular components, for example, training of researchers)
cultural diversity
For instance, the investment per inhabitant in telecommunications equipment is the highest in the world.
In spite of a complex topography, connections by rail, road and air are among the most developed in the world (71,277 km of roads, 5,100 km of railways, 1,640 km of motorways, 180 km of tramways and 65 km of waterways).
Motorway and railroad systems cross the swiss cantons, as well as nearby French departements and allow rapid access to the international airports of Geneva and Lyon, as well as to nearby European airports. The big hubs of the continent can thus be reached rapidly. Moreover, the region also has about ten airports that can accommodate business jets and private aeroplanes.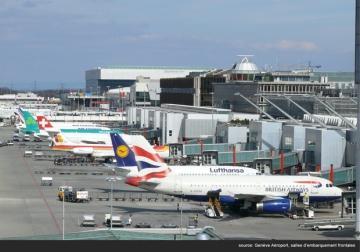 Lake Geneva Region is linked to the European network of high-speed trains (TGV, ICE, Cisalpino, Thalys, etc.), enabling numerous connections with surrounding countries:
France
Germany
Italy
Belgium
Denmark
Luxembourg
The Netherlands
Austria
Spain
The Czech Republic
Hungary
In the region the trains are reputed for their punctuality and link all the Swiss cities on journeys that last, on average, less than two hours, while Paris is a mere 3 hours ride from Geneva.
A particularity of Western Switzerland and the country are the free ports (17 entities spread all over Switzerland). Situated near the major highways and borders, these logistic centres are kept for goods that transit through Switzerland and do not need to comply with the free zone's entrance and exit formalities.
The Swiss Post offers one of the densest and most efficient European networks.
Another key element of the region's attractivity lies with its excellent offer of private and international schools.
Lake Geneva Region is a privileged location for all those who wish to receive a first class education. The region indeed accommodates the biggest concentration of private schools in the world, reflecting the multicultural and multilingual context that characterises it. Thus, in Geneva alone there are 1.37 international schools for 100,000 inhabitants, ahead of Brussels (1.10) or Singapore (0.21).
These institutes dispense special schooling or complete education up to university levels in most languages. Some of them are world renowned for the exclusive education they dispense in general culture, the hotel business or in yet other fields.
Furthermore, certain private schools are reserved for children of expatriates who can profit from their short or medium-term mandates to offer their children a good education, adapted to the exams they will have to pass in their home country. In an international comparison, the schooling of most of these establishments offers an unmatched quality-price ratio (e.g. schooling expenses of 15,061 US$ in the English primary schools).
And yet, all this is even reinforced by the outstanding natural beauty of the region, with such world renowned spots as:
* Geneva's lake
* Mont-Blanc, Europe's highest mountain.
* Chamonix, world capital of alpinism
* Annecy and its lake of pure water
* The Lavaux area, named at the UNESCO World Heritage
* and so much more.....  
A point worth to be pinpointed by non European companies eager to set up European headquarters: In Lake Geneva Region, you can benefit from the better of 2 worlds:
Attractiveness of a Swiss business friendly environment coupled with back office location in France's close territories, that offer access to the huge European market; as well as some specific advantages on the French side such as Research Tax Credit which favors installation of companies which devote large amounts to research, especially valid for high  business.
I have travelled the world over, and lived many years in Asia; Yet I can tell you, ther is no other place in the world like our Lake Geneva Region. It's definitely worth your visit, as a business man, or as a  tourist. That is why I hope I will have convinced you of the interest to look favourably at our region as the next place you want to be. For those interested, you can reach me by mail to get some key addresses for further investment information