La liste complète des acteurs de la saga Twilight, de la production ainsi que des célébrités présentes lundi soir à Los Angeles pour la première mondiale de la seconde partie de Breaking Dawn a été révélée ! Un très grand nombre du cast de toute la saga sera donc présents, des chanteurs, des groupes, et de nombreuses autres célébrités.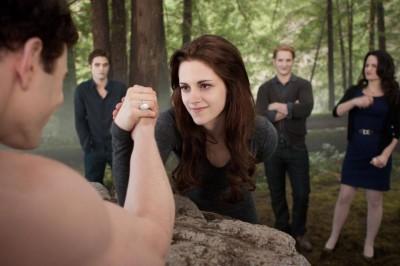 Les acteurs de BREAKING DAWN – PART 2 présents sont :
Kristen Stewart
(Bella),
Robert Pattinson
(Edward), Taylor Lautner (Jacob),
Billy Burke
(Charlie),
Peter Facinelli
(Carlisle), Elizabeth Reaser (Esme),
Kellan Lutz
(Emmett), Nikki Reed (Rosalie), Jackson Rathbone (Jasper),
Ashley Greene
(Alice),
Michael Sheen
(Aro), Dakota Fanning (Jane), Mackenzie Foy (Renesmee), Julia Jones (Leah), Booboo Stewart (Seth), Christian Camargo (Eleazar), Mia Maestro (Carmen), Casey LaBow (Kate), Maggie Grace (Irina),
MyAnna Buring
(Tanya), Joe Anderson (Alistair), Omar Metwally (Amun), Rami Malek (Benjamin), Guri Weinberg (Stefan), Noel Fisher (Vladimir),Andrea Gabriel (Kebi), Angela Sarafyan (Tia), JD Pardo (Nahuel), Marisa Quinn (Huilen), Lisa Howard (Siobhan), Marlane Barnes (Maggie), Patrick Brennan (Liam), Bill Tangradi (Randall), Erik Odom (Peter), Toni Trucks (Mary), Valorie Curry (Charlotte), Amadou Ly (Henri), Janelle Froehlich (Yvette), Judi Shekoni (Zafrina),Tracey Heggins (Senna), Chaske Spencer (Sam Uley), Jamie Campbell Bower (Caius), Daniel Cudmore (Felix), Christopher Heyerdahl (Marcus), Charlie Bewley (Demetri), Cameron Bright (Alec), Andrea Powell (Sasha), et Masami Kosaka (Toshiro).  
L'équipe de production :
Bill Condon (Réalisateur),
Melissa Rosenberg
(Scénariste), Stephenie Meyer (Auteure de la série Twilight, Productrice), Wyck Godfrey (Producteur), Karen Rosenfelt (Producteur), Marty Bowen (Producteur executif), Mark
Morgan
(Producteur executif), Bill Bannerman (Co-Producteur)
Autres acteurs de la saga TWILIGHT :
Catalina Sandino Moreno
(Maria),
Xavier Samuel
(Riley),
Christian Serratos
(Angela), Gil Birmingham (Billy), Justin Chon (Eric), Michael Welch (Mike), Sarah Clarke (Renée), Tinsel Korey (Emily),
Alex Meraz
(Paul), Bronson Pelletier (Jared), et Kiowa Gordon (Embry Call).
Célébrités invitées (par ordre alphabétique) :
A Boy and His Kite (Band), Alex Newell ("Glee"), Amandla Stenberg (THE HUNGER GAMES), Antawn Jamison (LA Lakers),
Aramis
Knight (ENDER'S GAME), Ashley Tisdale (Actress), Boom Circuits (Band), Brent Smith (Musician), Brooke Lyons ("2 Broke Girls"),
Bryan Singer
("House M.D."), Carly Craig (HALL PASS),
Carmen Electra
(Actress),
Caron Butler
(LA Clippers),
Cheryl Hines
(Actress), Chris Colfer ("Glee"), Chris Scott (Choreographer), Christina Perri (Singer), Christina Robinson ("Dexter"), Damian McGinty ("Glee"), Dawn Olivieri ("House of Lies"), DeAndre Jordan (LA Clippers), Dwight Howard (LA Lakers),
Edson
Buddle (LA Galaxy),
Eva Amurri
(Actress), Flo Rida (Musician), Frank Marshall (THE BOURNE LEGACY), Goran Visnjic (THE GIRL WITH THE DRAGON TATTOO),
Green Day
(Band), Guiliana Rancic (TV Personality), Gus Kenworthy (Professional Skiier),
Hilary Duff
(Actress), Jacqueline Emerson (THE HUNGER GAMES),
Jaden Smith
(THE KARATE KID), Jake Abel (THE HOST),
Jaleel White
("Psych"), Jana Coffey (Musician), Jeanine Mason ("So You Think You Can Dance"), Joey Lawrence ("Melissa and Joey"), Julia Snigir (DIE HARD), Julian Morris ("Pretty Little Liars"), Julianne Hough (ROCK OF AGES),
Julie Bowen
("Modern Family"),
Kathleen Robertson
("Boss"),
Kathryn McCormick
(STEP UP REVOLUTION),
Kent
Boyd ("So You Think You Can Dance"), Kiernan Shipka ("Mad Men"),
Kim Raver
("Grey's Anatomy"), Kristen Quintrall ("The Helpers: Refuge from the Storm"),
Lori Loughlin
("90210"), LOU (Singer), Louis Van Amstel ("Dancing With The Stars"),
Mae
Whitman (THE PERKS OF BEING A WALLFLOWER), Maria Menounos (TV Personality), Mary Lynn Rajskub ("How to be a Gentleman"), Max Irons (THE HOST),
Mayim Bialik
("The Big Bang Theory"), Metta World Peace (LA Lakers),
Michael Chiklis
("Vegas"), Molly
Sims
(actress), Morgan Saylor ("Homeland"),
Natasha Bedingfield
(musician), Nene Leakes ("The New Normal"), One Direction (Band), Paramore (Band),
Pau Gasol
(LA Lakers), Rachel McAdams (MIDNIGHT IN PARIS),
Radha Mitchell
(SILENT HILL),
Ryan Guzman
(STEP UP REVOLUTION), Saoirse Ronan (THE HOST), Sharni Vinson (STEP UP 3D), Sherri Shepherd ("The View"), Sterling Beaumon ("Red Window"), Steve Blake (LA Lakers), Stevie Nicks (Musician),
Sydney
Leroux (US Tennis Olympic Gold Medalist),
Terrell Owens
(Seattle Seahawks), Tia Mowry-Hardrict ("The Game"), Trevor
Donovan
("90210"), Trey Thompkins (LA Clippers), Willow Shields (THE HUNGER GAMES), et Willow Smith (I AM LEGEND).