January 14 - March 29, 2013 / Artist Labs Residency and Exhibition
February 23, 2013 / BORN TO CURATE battle 6:00 – 8:00 pm
Opening Reception 8:00 – 10:00 pm
18th Street Arts Center
1639 18th Street, Santa Monica, California, USA 90404
www.18thstreet.org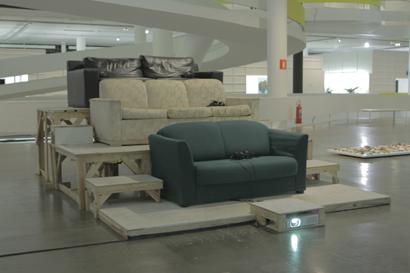 Home Cinema, installation, Pauline Bastard and Ivan Argote, 2011

SANTA MONICA, California - Encompassing 18th Street Arts Center's Visiting Artist Residency Program, its Artist Labs process-based exhibition series, and in partnership with Highways Performance Space, Paris-based artists Ivan Argote and Pauline Bastard tap into multiple platforms for public engagement from January through March 2013. Guest-curated by Isabelle Le Normand, Argote and Bastard are frequent collaborators that create "scenarios" as the premise for their art-making. Often times relying on public or community participation, Argote and Bastard favor the unexpected outcomes that arise from collective action. A group of videos, objects and functional installations will occupy the main gallery, and new works will be developed on-site throughout the course of their residency.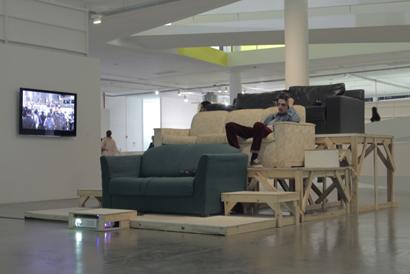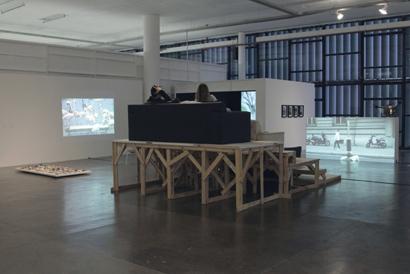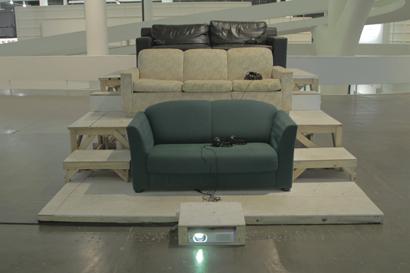 Home Cinema, Pauline Bastard and Ivan Argote, 2011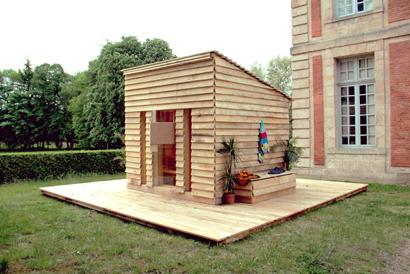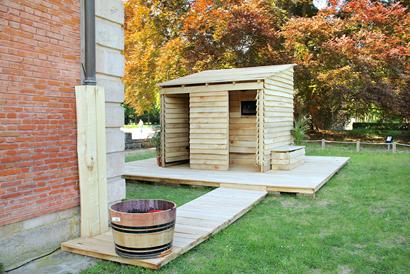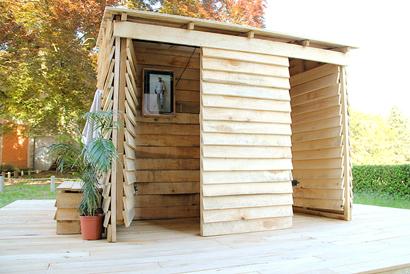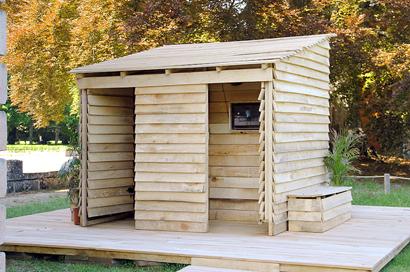 The Sauna, Pauline Bastard and Ivan Argote, 2010
As a culminating event, Argote and Bastard present BORN TO CURATE, a live curatorial battle that pits four teams of Los Angeles-based curators head to head in a fast-paced game of wit and knowledge. Structured like a game show, teams have two minutes to conceptualize a curatorial project or exhibition in response to a theme picked at random. Inverting the largely private curatorial process into a public event, ideas behind the construction of meaning are infused with open response and humor. Winners are determined by an applause meter and receive the coveted BORN TO CURATE trophy.


DATES :
Residency : January 2 - February 28, 2013
Artist Labs Exhibition : January 14 - March 29, 2013 (in process until February 23)
Public Event and Reception : February 23, 2013
• Born To Curate (performance / curatorial battle) 6pm
• Reception 8 pm


Iván Argote
Iván Argote was born in Bogota in 1983. He lives and works between Paris and New York, and graduated from the Beaux-Arts in Paris in 2009. Recent exhibitions include : 30th São Paulo Biennial, "Sin heroísmos, por favor" (solo), CA2M, Madrid (2012) ; Art Brussels (solo), Perrotin booth (2012) ; Girarse, Joan Miró Fundation, Barcelona ; The Dialectic City, Laboratorio de Artes Binarios, Puerto Rico (2011) ; Caliente, Galerie Emmanuel Perrotin, Paris, 2011 (solo show) ; A brake to dance, Galerie Valenzuela & Klenner, Bogota, Colombia, 2009 ; Zapping Unit, MAC/VAL Museum of Contemporary Art of Val-de-Marne, Vitry-sur-Seine, France, 2009. He's preparing upcoming exhibitions, including : 30th Sao Paulo Biennale (Sep 2012) ; La Estrategia, Palais de Tokyo (Dec 2012). Iván Argote's practice deals with social, political and art historical fields through mediums as varied as video, photography, sculpture and painting. Being simultaneously the director and main actor in his work, Iván interrogates with humour the views and perspectives imposed by our social positions, the status of an artwork and the notion of interactivity, which he addresses through a fictionalisation of the everyday.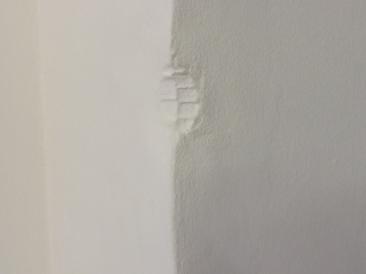 Expansion, Ivan Argote, 2012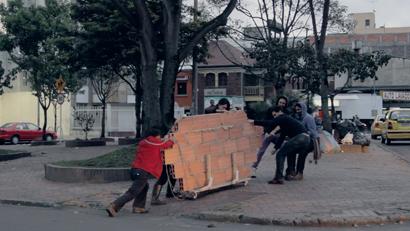 La Estrategia, Ivan Argote, 2012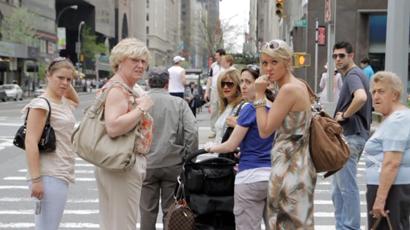 Untitled (New York), Ivan Argote, 2011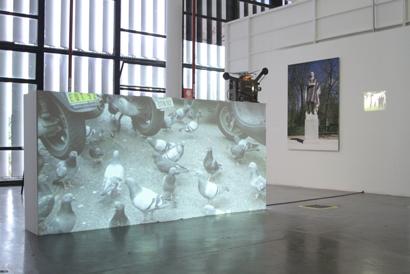 The Pigeon, Ivan Argote, 2010


Pauline Bastard Pauline Bastard was born in 1982 and lives and works between Paris and New York. She graduated in 2009 from the Beaux-Arts in Paris and from the University of La Sorbonne, Paris in 2010, she then spent a one year research residency in New York University. Recent exhibitions include : 30th São Paulo Biennial, Unheimliche Reisen at Dienstgebaude, Zurich ; Coup Double at FRAC Aquitaine, Bordeaux ; Voyage voyage at Maison de l'Amérique Latine ; Green-white-red at Collezione Maramotti, Regio Emilia, Italia ; Jours Heureux at 80WSE, New York ; XOVUXY at Eva Hober gallery, Paris (solo show) ; Rehab, Espace Electra, Paris. She is now in residency in Domaine departemental de Chamarande where she is preparing for upcoming exhibitions, including the 30th Sao Paulo biennal. She invites us into a world where fiction and reality are entangled, at the heart of which misleading fictions reign. Through mediums such as video and sculpture, she plays with and defies narrative processes through the phenomenon of detachment, re-appropriation and semantic displacement. Popular objects and everyday materials are omnipresent in her practice, creating a complicit game with the spectator where the veracity of their fictional and dramatic potential is questioned.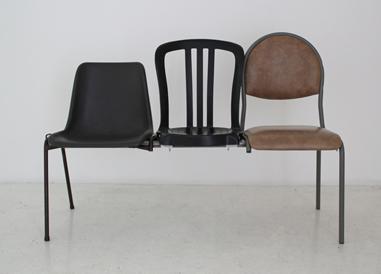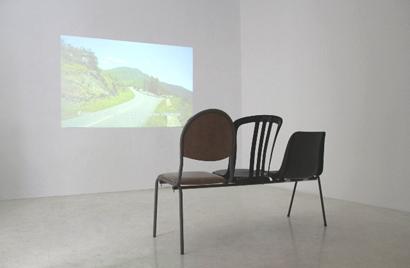 Bench, Pauline Bastard, 2011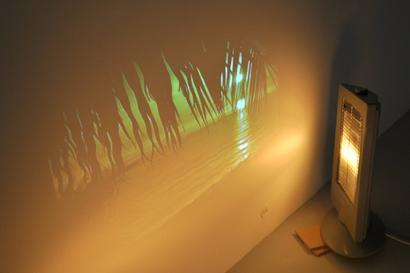 Burning Mirage, Pauline Bastard, 2011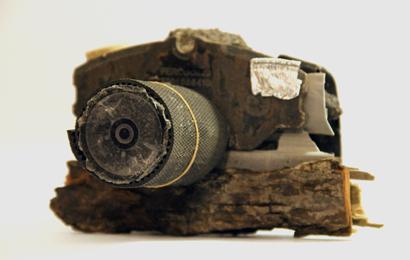 Untitled, Pauline Bastard, 2011/2012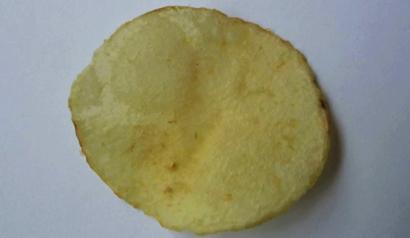 Chipsing/crisping, Pauline Bastard, 2010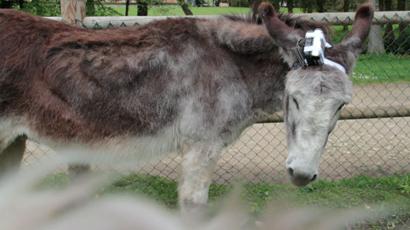 Campo, Contra, Campo, Pauline Bastard, 2009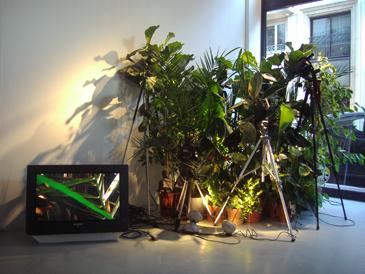 Jungle Studio, Pauline Bastard, 2009

---
18 Street Art Center's mission is to provoke public dialogue through contemporary art making. We value art-making as an essential component of a vibrant, just and healthy society. 18th Street provides a hub for contemporary art through two program areas : 1) A three-tiered Residency Program that fosters inter-cultural collaboration and dialogue and 2) A Public Events and Presenting Program that focuses on engaging the public and revealing the art-making process through exhibitions, events, talks, publications and other opportunities. Our Residency Program supports artists in three ways : Short-term residencies, for national and international visiting artists who live at 18th Street for 1-6 months ; Medium-term residencies, of 3 years to advance California artists' careers ; and Long-term residencies that mentor Californian artists and 'anchor' organizations.
Gallery hours : Monday - Friday, 11 am - 5:30 pm 18th Street Arts Center, 1639 18th Street, Santa Monica, CA 90404
Ceci n'est pas… is a project initiated by the Cultural Services of the French Embassy in the United States in association with the Institut Français, with the support of the Alliance Française of Los Angeles, the French Ministry of Culture and Communication and the participation of many local institutions. Ceci n'est pas… will begin on December 1, 2012 with the opening of the exhibition LOST IN LA, organized by the FLAX Foundation and will continue for 5 months, ending in April 2013. It will gather more than 30 Franco-American collaborations that are being prepared by art centers, museums, art schools and non-profit organizations in Los Angeles, covering a large spectrum of contemporary creation, from sculpture to performance, and from architecture to video.
In 2006, The Centre Pompidou proposed the exhibition, "Los Angeles, 1955-1985, Birth of an artistic capital". Building on this large exhibition, through the existing references to French art and culture in the Los Angeles art scene, it became pertinent to highlight the ties between France and the City of Angels, which has since become a true cultural capital of the world.