I did it!
You all know I fell in love with the Vlieger & Vandam 3D-printed (embossed) leather purses and I recently ordered one for my birthday.
I found a DIY on the internet (
click here
) from a Danish girl who made a purse based on the Vlieger & Vandam handbags. She did it with scissors and other tools and it looked really cool so I decided to try it.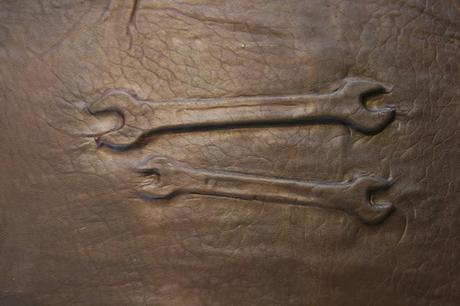 This weekend I went on a short trip in Hasselt and not very far from Hasselt, there is a big leatherstore (you can't buy leather just anywhere) in Zonhoven, called
Berten - Seijnhave
.
I bought a piece of sheepleather, about 0,75m x 0,75m,  and a piece of approximately 1m x 1m in Buffalo-leather. I didn't know which one was going to be best for this DIY but I chose the
sheepleather
and it worked out fine!!
What do you need ? Checklist
1. Sheep leather or any soft, flexible leather
2. A pair of scissors
3. Flexible Polyfilla (I got mine at Hubo in Belgium but you can find it at any do-it-yourself store)
4. Polyfilla-pistol
5. A solid (best would be metal) object to print onto your leather
6. A (blunt) kitchen knife
7. Baking soda
8. A bucket or plastic box
9. Rubber gloves
10. Clothes you don't mind getting dirty
11. An old plastic tablecloth.. It will get dirty so get an old one or a cheap one :)
12. A blow-dryer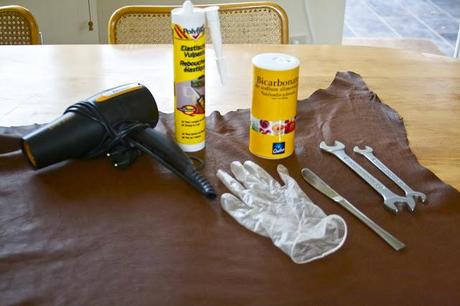 Follow these steps:
1. First of all, cut the leather in the size you want it to be.. but be careful because you need to get all of your leather under water in the bucket later on, so don't go too big or choose a plastic box to put your leather in (in one of the next steps).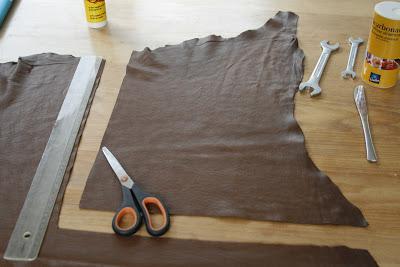 2. Boil (a lot of) water and pour it into your plastic box or bucket
3. Add five teaspoons of baking soda and stir until the baking soda dissolves
4. Let the water cool down a bit, about 4-5 minutes. Make sure the steam is gone.
5. Place your leather in the water and let it soak for 30 minutes, so it gets more flexible
    The leather's pigment/color paint will dissolve (don't worry your leather will change color, it won't)
    so make sure you wear gloves.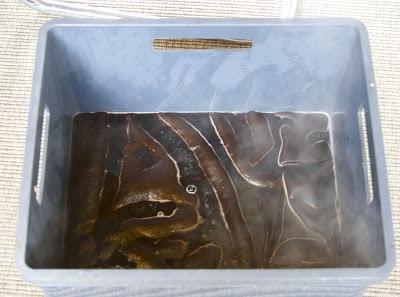 6. After 30 minutes, shake off the water and squeeze your leather until you can place it on the table
    without making too much of a mess. Then lay it onto your plastic tablecloth and place your object
    underneath, where you want it to go.
7. Start shaping the form with your fingers (in rubber gloves) and for the edges, use the blunt side of
    your knife.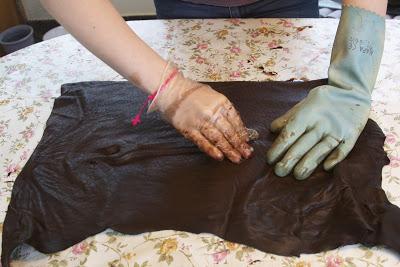 8. Start blow-drying your leather and keep on shaping the form of the object with your fingers. Your
    leather starts getting a little dryer again, this is when your leather forms firmly around the object.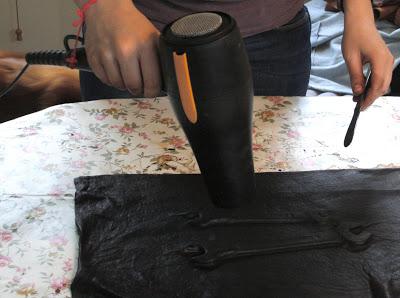 9. When your leather is dry enough, turn the leather around and fill in the gap with Polyfilla flexible
    filler (Work carefully). Level off the excess with the knife.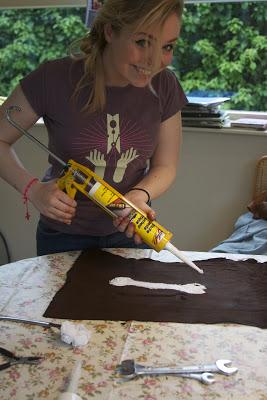 Don't mind my outfit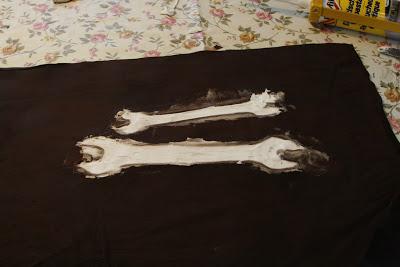 10. Let the Polyfilla dry for approximately 1 hour.
11. Aaaaand you're ready!!
Now all you have to do is make a bag of it, I'll show you mine when it's all done!
What do you think? Is this a good DIY? 
Are you going to try it ?
Do you like it ? 
Leave a comment ! :)