Posted by The Village Whore on août 19, 2013 in Critiques / Reviews | commentaires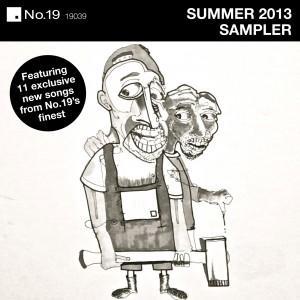 La compilation "Summer 2013 Sampler" du label No.19 Music vous invite à embarquer dans une épopée galactique en compagnie des artistes de la maison et de leur production aux grooves colorés. Les mélodies à la fois angéliques et terrifiantes, parsemées de solos instrumentaux épiques et de vocaux aériens, mènent ces 11 titres à la manière de 11 danses macabres au clair de lune, le temps d'un voyage onirique au souffle chaleureux. Merci de réserver un accueil tout aussi chaleureux à Ahmed aka The Village Whore pour cette excellente critique et ce premier article pour notre blog. Thanks Ahmed! 
The First 3 Seconds. That's all it took to lay down the theme for the next 70 minutes and 51 seconds of No.19 "Summer 2013 Sampler". The theme is simple and has been the Holy Grail of many compilation conquests over the better part of this decade. Warmth. That elusive feeling that so much digital wizardry has pushed to the back of our minds and away from our bodies in mechanical rhythms spat out in all their four-to-the-floor glory. Don't worry though, I'm no purist – just an admirer with many hats. But I digress. In this quest for warmth, few succeed, most tend to fail. Still, others adapt their understanding of warmth's mechanisms to suit their own twisted needs…
Cue No.19′s one-way ticket to a Distant Origin. Their "Summer 2013 Sampler" weaves a groovy wave designed to deliver that very elusive element of warmth soaked with the deep flow No.19 has pumped up from the depths below our House over the past few years. Instructions on the Sampler read simply enough:
Blend 22 bowls of colorful grooves and 44 measures of serene/haunting melodies – when possible, combine the two for a true treat. Stir in the occasional epic instrumental solo. Sprinkle vocals to taste. Serving size: 11 moonlit dances across a Summer wonderland.
01 BLUD – Memories
First up is "Memories" with its 3 second locked groove etched off some dusty, old piece of wax. One of many No.19 collaborators on the seminal Robot Heart release of yesteryear, BLUD's No.19 Sampler debut sets the tone right away with a heavy forward-thinking classic house beat. Atmospheric pads put you through the paces, making you rest your shuffle for the occasional graze before the bass drums comes right back to finish the job they started with after the 3 second marker. A classic sounding stomper that leaves a ring in your ears once its done leaving you only with the following message: "Welcome, warmth lives here." 4/5
02 Kenny Glasgow – Sickness feat. Deniz Kurtel
Following that introduction, Jonny White's right hand man Kenny Glasgow takes over with support from Deniz Kurtel on the true welcoming number – "Sickness," a type of old school and funk-laden ensemble only Kenny could provide. Deniz also shines with charming melodies infused with technical stabs only she seems able to conjure on tracks of this depth, especially in her remix work and past collaborative efforts with Kenny (see: Deniz Kurtel "Best Of feat. Mykle Anthony (Deniz's Freestyle Version)" – She rips it. Also see: Deniz Kurtel "Don't Wanna Be feat. Kenny Glasgow" – They rip it). I recently had the pleasure of seeing her open up for Art Department's closing set during No.19′s night at OFF Sonar 2013 in Barcelona. She delivered a mean slice of groove to bring the label's stars in for the journey's end. I didn't expect them to have her lead the charge, but she did a brilliant job at serving us up for the final count. As soon as you push play an airy earthiness sits behind the track, and you're enveloped in a stream of warmth. A favorite of this compilation with its seemingly simple elements combined in complex rhythms to devastating effect. Impeccably placed synth solos make beautiful work of your head. A classic bass line rounds the track out at either end. Yeah, I came a little just talking about it. 5/5
03 Nitin & Anthony Middleton – How's That
No.19 co-owner Nitin along with Audiofly's Anthony Middleton waste no time in reminding us that Summer is a season of movement, a time for us to take time off, come together and synchronize our steps to their slice of tech-tinged Deep-House. Distortion is the flavor of the day as it's used to subtle effect on selected sounds to throw things off balance and keep us on our feet. 4/5
04 Eric Volta – The Very End Of Your Days feat. Gaika
New kid on the block from Great Britain, Eric Volta, shows us what the label's scouting team was able to unearth from across the pond. His introduction quickly dials up the pressure with a heavy guitar riff. Well placed drums keep your hips in a firm sway as the Sampler's first anthemic vocals come to the fore courtesy of Gaika. Droning "10,000 feet underground" into your eardrums; this actually does sound like music made to be played in a cavernous club teeming with lost souls. A downward spiraling tune placed against abstract and eerie lyrics – the effect sounds almost like a band of machines playing us a devilish twist of rock and roll. A rather haunting sentiment. 5/5
05 My Favorite Robot – The Return
On level terms with their label counterparts, No.19′s traditionally vocal outfit from Toronto, My Favorite Robot, deliver a deep lullaby fresh off the heels of completing a debut artist album. "The Return" clearly shows No.19′s affinity to the lighter head nodders with the fifth track. 80s-sounding arpeggios back sweet vocals, guiding our bodies as we drift off into the horizon and the moon sets behind us. 3/5
06 Tone Of Arc – White Spy
Anyone that has seen Tone of Arc live can attest to their electrifying manipulation of sound. "White Spy" unashamedly reveals a very healthy obsession with technicalities. Abusing the filter to astounding effect, every sound is carefully sculpted to occupy its spot on the sonic spectrum. Hazy vocals and a wistful hum build a beautiful hymn for you to listen to as the tribal beat makes quick and hard work of your body. 4/5
07 Clayton Steele – Lost Sometimes
New faces are aplenty in this compilation. Choosing to feature equal doses of the old with the new likes of Miami's Clayton Steele. On "Lost Sometimes," he lays off the groove for a minute and takes No.19′s foot off the pedal – choosing to instead usher you in with a melody of bells. The beat is carefully slipped in for a few seconds before the true leaders emerge. Another heavily vocoded vocal takes over, keeping things in line with the eerie approach of every ballad on this compilation. An infectious bass line tracks the vocals to really carry us into uncharted territory. A pretty chugger of a tune. 3/5
08 Jakkin Rabbit – Kruell Summer
Recently featured No.19 stalwart Jakkin Rabbit has shown us an ability to produce anthemic deep burners like "Full Of Dreams" with Robert Owens on the vocals. On this Sampler, the Birmingham fella takes a different approach by shying away from the signature forward bassline and opting to move it to the back of this tune – allowing it to casually syncopate against the kick for a laid-back groove. The Rabbit creates a hopper of a deep tech number (I had to…I really did). 2/5
09 Teeloo – Private Life
No.19 regular Teeloo delivers a still deeper slice of Tech-House complete with pitched down vocals to track its arpeggiated progressions and evolving atmospheres. The perfect tune to take the listener just one notch deeper into the mix. 2/5
10 Jade – Love Heart feat. Venus
After giving the label's veterans a two-track drip into the more minimal groove-laden sound of No.19, Jade slips into something a little perkier. Continuing the relegation of basslines to the background, "Love Heart" couples a swaying set of sounds with a straight to the dancefloor oriented groove. Beautiful and almost Bjork-like vocals emerge to really move the simple beat forward as the tiny melody lightly waltzes across the track gently caressing the mind. A seriously beautiful late night number. This track can never tire an ear out – yeah, he's a sucker for touchy feely female vocals. What?! 5/5
11 Jonathan Lee – Distant Origin
Leading us off is Jonathan Lee with the true purpose of this compilation – taking the listener to a "Distant Origin" only No.19 and its cohorts know how to find. A tune that seems to combine everything from the journey so far. A straight to the floor House rhythm, huge bass lines playing right in front of the tune, a subtle bass line giving the mechanical rhythm groove, eerie vocals and screeching top notes – filtered and otherwise. A really good tune to round everything out on the compilation. 3.5/5
And there you have it. I know it took a little while to guide you through my thoughts as I listened to the album, but I hope it was well worth the read and that you shared some of my sentiments. Final recommendation? Find it. Buy it. Dance/sway/nod/shuffle/step/do whatever the fuck feels right to it – fucking to it aint such a bad idea either, really. You'll find it plastered across the musical webs a week from today, on August 26th, 2013 – DIGITAL ONLY.
Final Note: 4/5