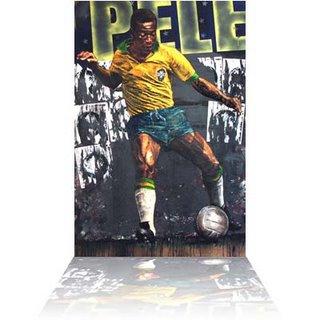 Born

Edson Arantes Do Nascimento

(better known as Pelé) is known as a legend and the best soccer player to ever play

the game. He was raised in a very poor family in Tres Coracos, Brazil and his parents, Dondinho and Celeste Nascimento called Edson "Dico," growing u

p.

He first learned the game of soccer from his father, Dondinho, who was a decent center forward until his career was halted by a fractured leg.

Pelé began playing soccer for a local minor-league club when he was a teenager. When he wasn't playing soccer he shined shoes for pennies. He was discovered at the age of 11 by one of the country's premier players, Waldemar de Brito. When Brito brought Pelé to Sao Paulo he declared to the disbelieving directors of the professional team in Santos, "This boy will be the greatest soccer player in the world."

He was right! Pelé's impact was immediate! On his first appearance for the team, against Corinthians F.C., he scored a goal right away. He was only 16.

Pelé went on to play in four World Cups with Brazil's National Team. At the 1958 World Cup in Sweden -- one he nearly missed because of a knee injury -- Pelé stunned the world scoring six goals, including two in the championship game to help Brazil win its first World Cup 5-2 over Sweden. He was only 17 years-old, but a legend was born.

An average-sized man, he was blessed with speed, great balance, tremendous vision, the ability to control the ball superbly, and the ability to shoot powerfully and accurately with either foot and with his head.
Four years later he played on Brazil's World Cup team at in the finals in Chile, but an injury suffered in the first game of the tournament prevented him from helping Brazil win its second title.
Wealthy European clubs offered massive fees to sign the young player, but the government of Brazil declared Pelé an official national treasure to prevent him from being transferred out of the country.
At the 1966 World Cup in England, Pelé was the victim of some brutal tackles from Bulgarian and Portuguese defenders and left the finals injured and in tears. But the best of Pelé was still to come.

At the 1970 finals in Mexico, the 29-year-old Pelé, led one of the greatest teams ever assembled to win Brazil's third World Cup. In the 4-1 title triumph over Italy, Pelé, scored a glorious goal. It was Brazil's 100th World Cup goal, and the one he remembers the most.
"I have a special feeling for that goal because I scored it with my head," he said. "My father was a soccer player and once scored five goals in a game, all with his head. That was one record I was never able to break."
Pelé's statistics are staggering. During his career he scored 1,280 goals in 1,360 games, second only to another Brazilian, Arthur Friedenreich, who recorded 1,329 goals. He scored an average of a goal in every international game he played--the equivalent of a baseball player's hitting a home run in every World Series game over 15 years.

At the club level he shattered records in Brazil. He scored 127 goals for Santos F.C. in 1959, 110 in 1961 and 101 goals in 1965, and led the club to two World Club championships.
Pelé also holds the world record for hat tricks (92) and the number of goals scored on the international level (97). His statistics are all the more amazing when compared to today's top players who can barely score more that 30 goals in a season.
He retired from the game in 1974, but came out of retirement the following year to play in the North American Soccer League for the New York Cosmos for just over two seasons. A reported 7-million-dollar contract for three years made him the highest paid soccer player of the North American Soccer League.

His appearance in the NASL gave the American League instant credibility and made millions of Americans aware of the sport, he dubbed the "beautiful game." He said he came out of retirement, not for the money, but to "make soccer truly popular in the United States."

During his career he played in 93 full internationals for Brazil and in all first class matches scored a remarkable 1,280 goals, second only to Artur Friedenreich, another Brazilian, who holds the world record with 1,329.
In many ways, Pelé was the complete athlete. With his skill and agility, he could have played in any position on the field, but he chose on wearing the number-10 shirt as an inside-left forward. He had great balance, which enabled him to dribble effortlessly around defenders, and his heading ability was remarkable.

On Oct. 1, 1977, Pelé's mission in the NASL ended. His last match, an exhibition game between the Cosmos and Santos, was sold out six weeks beforehand, covered by 650 journalists and broadcast in 38 nations.
Muhammad Ali embraced him in the locker room before the match and said, "Now there are two of the greatest." In a speech to dignitaries, celebrities and more than 75,000 fans, Pelé urged his audience to pay attention to the children of the world. At his request, the assemblage shouted, "Love! Love! Love!"
Then he went out and played the first half for the Cosmos -- scoring a goal on a rocket from 30 yards out -- and the second half for Santos.

On Pelé's retirement, J.B. Pinheiro, Brazil's ambassador to the U.N., said Pelé had "spent 22 years playing soccer, and in that time he has done more for goodwill and friendship than all of the ambassadors ever appointed."

In addition to his great accomplishments in soccer, he published several best-selling autobiographies, starred in several documentary and semi-documentary films, and composed numerous musical pieces, including the entire sound track for the film 'Pelé' (1977). He was the 1978 recipient of the International Peace Award, and in 1980 he was named athlete of the century.

In 1993, Pelé was inducted into the National Soccer Hall of Fame and is the former ambassador of sports in Brazil. He has also done extensive work for children's causes through UNICEF.
In 2000, Pelé was named second for the "Sportsman of the Century" award. The legendary Muhammad Ali got the honors.