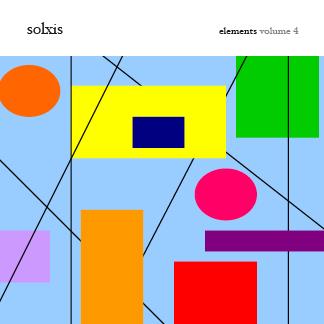 Solxis produit 4 disques de musique d'ambiance chimique
Drôle de question que je me suis posé en écoutant le génialissime "Lithium" de Nirvana : existe-t-il un morceau de musique portant le nom de chaque élément du tableau périodique ?
En anglais, presque ! Après recherche sur Spotify, voici ma playliste "Periodic Table of Rock", dans laquelle j'ai préféré la francophonie, le rock voire le rap à la house/dance lorsque des alternatives existaient:
He­lium (Feeder) He
Lith­ium (Nirvana  ♥) Li
Beryl­lium (The Jellybricks) Be
Boron (Stabilizer) B
Carbon (VNV Nation) C
Nitro­gen (Zero Cult) N
Oxygène (Part 4, Jean-Michel Jarre  ♥) O
Fluor­ (Manuel Mucua) F
Neon (Jay Sean) Ne
So­dium (Malda) Na
Magne­sium (Tobia Coffa) Mg
Alumin­ium (Sundown) Al
Sili­con (Sound of Guns) Si
Phos­phorus (Mencea) P
Sulfur (Slipknot) S
Chlor­ine (Truly) Cl
Argon (Madaski) Ar
Potas­sium (Franto) K
Cal­cium (Pontius Copilot) Ca
Scan­dium (Solxis) Sc
Tita­nium (David Guetta + Sia) Ti
Vana­dium (Rustless) V
Chrom­ium (John Rolodex) Cr
Manga­nese (Simon Phillips) Mn
Iron (Within Temptation ♥) Fe
Cobalt (HUVA Network) Co
Nickel (Robert ♥) Ni
Copper (Tones on Tail) Cu
Zinc (Aydio) Zn
Gallium (Grewp) Ga
Germanium (Foog) Ge
Arsenic (The Loved Ones) The Loved Ones
Sele­nium (John Powell) Se
Bromine (Solxis) Br
Krypton (Mister Nostyle) Kr
Rubid­ium (Maschine) Rb
Stront­ium (TrinEye) Sr
Yttrium (Magnetrixx) Y
Zirconium (Nanophonyk) Zr
Nio­bium (Bob Familiar) Nb
Molyb­denum (J Moir) Mo
Tech­netium (Reso) Tc
Ruthe­nium (???) Ru
Rho­dium (Joseph Brittanny) Rh
Pallad­ium (Klear) Pd
Silver (Pixies) Ag
Cadmium (The Chemical Project feat. Monohead) Cd
Indium (Mike Jung) In
Tin Angel (Bob Dylan) Sn
Antimony (Skepticism) Sb
Tellurium (Geomatic) Te
Iodine (Icon for HIre) I
Xenon (Milkman) Xe
Caesium (Aircrash Bureau) Cs
Barium (Christopher Manik) Ba
Lanthanum (Martin Wilkinson) La
A Cerium Spark (Noize Index) Ce
Praseodymium (Mika Vainio) Pr
Néodyme - En Fusion : 1297 K (Neodyme) Nd
Promethium (Ram's Head Lady Slipper) Pm
Sama­rium (???) Sm
Europium (Professor Kazkaz) Eu
Gadolinium (The Chemical Project feat. Monohead) Gd
Terbium ( Kevin Crafts) Tb
Dysprosium (Solxis) Dy
Holmium (Taheem Jamaal) Ho
Erbium (Solxis) Er
Thulium (???) Tm
Ytterbium minus (Ytterbium) Yb
Lutetium (Dawn Of Valor) Lu
Hafnium (Slik Helvetika) Hf
Tantalum (Williams) Ta
Tungsten (Vaganza Trailerpark) W
Rhe­nium (???) Re
Osmium (Igneous Flame) Os
Iridium (Dark Tranquillity) Ir
Platinum Chains (Michael Woods) Pt
Gold (Sir Sly) Au
Mercury (Moon Taxi) Hg
Thallium (Tomohiko Sagae) Tl
Lead Paint (Acid King) Pb
Bismuth (FolloBane) Bi (trouvé par Alan)
Polonium (Madee) Po
Asta­tine (Becidel) At
Radon (Radon) Rn
Francium (Decedy) Fr
Radium (Triage) Ra
Actinium (Miche) Ac
Thorium (Danny Scrilla) Th
Protac­tinium (???)  Pa
Uranium (Emily Grogan) U
Neptunium (Sean Deason) Np
Plutonium (Seigmen) Pu
Americium 241 (Atomic Bride) Am
Curium 2013 ( Martin Tungevaag) Cm
Berkelium (Fishsticks) Bk
Californium (O Yuki Conjugate) Cf
Einsteinium (Accustomed To Nothing) Es
Fer­mium (Autechre) Fm
Mende­levium (Ramorae) Md
Nobelium (Noxious Emotion) No
Lawren­cium (???) Lr
Ruther­fordium (???) Rf
Dubnium (Aldubb) Db
Sea­borgium (???) Sg
Bohr­ium (???) Bh
Hassium  (Ramorae) Hs
Meit­nerium (???) Mt
Darmstadtium (Richard Barrett) Ds
Roent­genium (???) Rg
Copernicium (Systemerror) Cn
Unun­trium (???) Uut
Flerov­ium (???) Fl
Unun­pentium (???) Uup
Liver­morium (???) Lv
Ununseptium (STA$D400) Uus
Unun­octium (Fairmont) Uuo
Étonnamment complète, n'est-il pas ? Seuls 5 noms d'éléments inférieurs à 100 n'ont pas encore inspiré d'artistes !
Avez vous lu:
Comment marche Shazam

Molécules d'été et divers

Stockage du CO2 : rêve et réalité

Comment transformer le plomb en or ?

Magnifique caféine