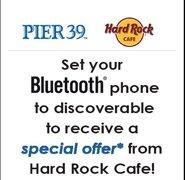 Hard Rock Café San Francisco has been running a Bluetooth mobile campaign to draw visitors to its restaurant in an exercise watched closely by the chain's corporate headquarters.
The restaurant is working with Intera Group Inc. to deliver mobile coupons and a video to visitors with Bluetooth-enabled phones at San Francisco's Pier 39. The Hard Rock Café, with its food and music memorabilia and merchandise, is a key attraction at the famed pier.
"Not only does it get a lot of pedestrian traffic, but also a diverse group," said Kevin Thornton, CEO of Intera, Pleasanton, CA.
San Francisco's Pier 39 is said to attract an estimated 12 million visitors a year. About 50 percent of the traffic is tourists from overseas and the rest split evenly between visitors from the Bay Area and nationwide.
Relying on Intera's Proximity Marketing network, Hard Rock Café San Francisco is running the offers in Bluetooth zones that are 200 feet in diameter at key locations on Pier 39.
Once the Bluetooth is turned on and set to discoverable on mobile phones, the consumer is asked if he or she would like to accept an offer. If the answer is yes, the offer is sent in seconds. The discount or coupon can be shown on the device to the Hard Rock Café San Francisco waiter or cashier.
For example, one offer includes a coveted souvenir pin for buying a meal at the restaurant. Another is a discount for buying a meal or merchandise above a certain value.
Interestingly, an offer to watch a 20-second promotional video is also said to have been well-received.
"We found that a number of people downloaded both the offer and the video," Mr. Thornton said. "Honestly, the Hard Rock Café brand has cachet."
Seminal effort
The Bluetooth campaign has been running since fourth-quarter 2007. The restaurant has run Bluetooth promos around Fleet Week – a major attraction for the Bay Area – and also sent out a video on Blue Angels.
"Hard Rock Café corporate is aware of this and we're having some discussions," Mr. Thornton said.
Hard Rock International Inc. is owned by Seminole Hard Rock Entertainment Inc. The chain has 127 cafes and nine hotels and casinos worldwide, all of them boasting fashion and music memorabilia and merchandise.
Bluetooth's charm to marketers is that it's free to the consumer and all offers are opt-in. Plus, there is no wireless carrier or usage fees involved, both major advantages for local retailers.
Most recently, a BBC America Bluetooth promotion in New York and Los Angeles for its new Robin Hood television series generated more than 6,000 downloads (see story).
The effort resulted in an average 40 percent opt-in rate, meaning that four out of 10 mobile consumers actually downloaded the 90-second trailer once the link was sent to them. The series and the Bluetooth call to action were publicized on windows of two vacant retail stores in high-traffic areas in New York and Los Angeles.
The BBC America Bluetooth effort was handled by Inwindow Outdoor LLC, a New York-based outdoor advertising firm that uses windows on vacant stores to promote advertiser messages.
Brand stand
In existence for 20 years, Intera offers media and out-of-home advertising and telecommunications services to more than 4,000 customers. Clients include shopping mall owners and operators, big box retailers, theatre chains, transportation companies, gas stations and convenience stores.
Intera's Bluetooth Proximity Marketing network will cover more than 1,000 locations in the nation's top 10 metros by the end of the year. The company places signage near all Bluetooth hotspots.
But here's another paradox that Intera has discovered with its Bluetooth efforts for Hard Rock Café San Francisco.
"Most of the fantastic response that Hard Rock Café has had has been with no signage," Mr. Thornton said.
"We get enough devices that we see are turned on and discoverable that the results are very positive," he said. "However, when call-to-action signage is in place, we see a 3 to 4x improvement.
"I think probably the most important thing is that if you send a Bluetooth message to consumers with a brand they recognize, the response is very high.
"The number of people opting out relative to the number of people opting in is very small – less than 5 percent."
Mr. Thornton would not disclose results of the Bluetooth campaign.
Bob Boemer, sales and marketing manager at Hard Rock Café San Francisco, didn't respond by press deadline.
"Bob absolutely wants to bring us into Hard Rock corporate," Mr. Thornton said. "We have other advertisers who want to advertise in the pier and one of those we'll be launching in the next couple of weeks.
"We're proceeding with the build-out of our network," he said. "We expect to have 150 locations live in California in the next 90 days."
Editor in Chief Mickey Alam Khan covers advertising agencies, associations, research, and column submissions. Reach him at mickey@mobilemarketer.com.