From the New York Times' Frugal Traveler, Matt Gross:
May, 28, 2008.
Paris—city of light! capital of romance! home to epicures and bon vivants!—has always been, for me, something of a lonely city. I've visited several times before, and though I wasn't always solo (one trip was with my family, another was to visit the woman who would eventually become my wife), I would end up pacing the streets by myself for hours, unsure of what to do and where to go and how to find someone, anyone, to connect with.
I'm not exactly shy, and my French, though rusty, is enough to get by. But this insecurity is what I imagine many visitors to New York City feel — the unshakable feeling that they simply don't belong.
Last Wednesday, as I rode the train from Calais to Paris, the prospect of loneliness filled me with dread, even though I had a dozen friends and friends of friends to contact. Worse, I had a new worry: my budget. I'd spent 49.90 euros, or $80.34 at $1.61 to the euro, on this leg of the voyage, 8 euros more than if I'd booked the train ticket on www.voyages-sncf.com in advance. (Not much, but hey, that's lunch.) And Paris itself would be unforgiving when it came to extricating every last centime from my wallet. Those Michelin-starred restaurants, exquisite couturiers and lushly glamorous hotels would not be particularly friendly to a frugal traveler attempting the Grand Tour of Europe on less than 100 euros a day.
Still, I had a few tips to my name. Instead of a hotel, where rooms that week were going for no less than 80 euros a night (even on EuroCheapo.com, a smartly written guide and booking site), I rented an apartment. And rather than Craigslist's Paris site, which features hundreds of vacation rentals, I searched VivaStreet.fr and pap.fr, which do the same thing, but for a French-speaking audience. There, I hoped, I'd find a nicer place, offered by someone who wasn't scheming to rip off American tourists.
But where in Paris to stay? I polled friends who knew the city, asking where I might find the new, hip quarter. There was no consensus. Artists, they said, were moving east, to parts of the 20th Arrondissement near Père-Lachaise cemetery, while the Faubourg St.-Denis, a seedy zone near the Gare du Nord, was sprucing itself up.
In the end, I settled on a studio on the edge of the 10th Arrondissement, because it was within relatively easy reach of all those other neighborhoods — and because I found a great apartment. The place, a ground-floor studio around the corner from the Goncourt Métro, was about 250 square feet, with a decent kitchen and Internet access, and it opened onto a light-filled courtyard. And it cost just 350 euros a week, no deposit necessary. I e-mailed a scan of my passport to the owner, and apartment B at 8, rue Jacques Louvel Tessier was mine. When I arrived Wednesday afternoon, I traded cash for the key, and began my life as a Parisian.
Instead of using it as base to explore the rest of Paris, I ended up falling in love with this nameless neighborhood, and spent the week mostly within a mile or so of my new home. One block to the east lay the Rue du Faubourg du Temple, an immigrant entrepreneurial zone where halal butchers hacked lamb shanks and West African restaurants were almost indistinguishable from the traditional French brasseries next door. Folk music warbled from Turkish cafes, and at night hipster bars like
Au Baron Samedi (12, rue des Goncourt; 33-1-43-57-31-58; www.aubaronsamedi.fr) catered to a different breed of newcomer — people like Gabriela Giacoman, the glamorous, platinum-coiffed director of advertising for Gawker Media, who's lived in the neighborhood for five years.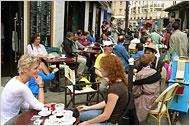 "It's funky but getting gentrified," she explained, "and everyone moans about it but admits it's good to have nice restaurants."
The same applies even more to the neighborhood's western side, which encompasses the Canal St.-Martin. Ten years ago, friends told me, this was Crack City, a run-down, dangerous place no one visited. Today, the canal has been spruced up—to the point that some people deride it as a bit too "bobo" (bourgeois bohemian). Me, I didn't care. In the mornings, I'd go jogging here, pausing to ogle the huge steel pulleys used to open and close the locks of the canal, or to watch Ping-Pong or pétanque in the quayside parks, or to observe the firefighters running drills in their "Battlestar Galactica"-style chrome helmets. Couples, young and old, snuggled at the edge of the water, and city workers deftly trimmed the low branches of trees with telescoping scythes.
Bobo or not, the neighborhood still had great bargains, and a youthful, artistic energy that felt apropos to the Grand Tour. In the afternoons, I'd browse the photography and design books at Artazart (83, quai de Valmy; 33-1-40-40-24-00; www.artazart.com), contemplate the movie selection at mk2 cinema (www.mk2.com) and buy my wife a cute, heart-shaped hot water bottle (just 6 euros!) at the Antoine & Lili boutique (multiple locations; see www.antoineetlili.com for details). And for lunch, I ate a South Indian thali of dosas and iddlys (7 euros) at Passage de Pondichéry (84, passage Brady; 33-1-53-34-63-10).
In the evenings, after my friends would finish work, we would meet for drinks and dinner. At Point Éphémère (200, quai de Valmy; 33-1-40-34-02-48; www.pointephemere.org), a ramshackle bar-resto-concert-hall-art-space next to a fire station, I ate an excellent steak tartare and a maliciously rich chocolate tart and drank plenty of wine for a very reasonable 20 euros, then had 3-euro beers at Chez Prune (71, quai de Valmy; 33-1-42-41-30-47), right next to a bridge made famous by Marcel Carné's 1938 movie "Hôtel du Nord."
Another night, I met up with Christine, a good friend who splits her time between Paris, New York, Florida, Los Angeles and Vietnam, and squeezed into the banquette at one of two locations of Au Pied de Fouet (96, rue Oberkampf; 33-1-48-06-46-98 www.aupieddefouet.com), recommended by Anne-Sophie Bisschop, the owner of my Calais bed-and-breakfast, as the kind of place where they not only serve you hearty food from the Auvergne region — like braised hake with lentils and lardons — but also throw in free extras, like glasses of rosé as soon as we sat down. Our unstinting feast cost 56 euros.
By the weekend, I was so enthused about the area that I decided to give a housewarming party — both as a test of my frugal shopping skills and as a way to claim the neighborhood as my own. Could I provide a fancy dinner for 20 on a budget? (Not including wine, of course — this would be strictly B.Y.O.B.)
On Sunday, the local markets were closed, so I left the 10th Arrondissement to shop at the Marché d'Aligre (Place d'Aligre; marchedaligre.free.fr), in the 12th, which had been recommended by a reader, Shira, for its bountiful produce and by my friends for its low prices. After taking in the scene — hurdy-gurdy men, balloon vendors, tuba players — I got down to business, buying kilo upon kilo of melons, tomatoes, radishes, zucchini, lettuces, peaches, apricots, raspberries and more. Sagging under the weight of my purchases, I'd spent less than 20 euros.
I needed a few more items, which I found in my neighborhood. The nearby Franprix supermarket had wild-boar terrine for 1 euro, oak-aged wine vinegar for 65 centimes and a huge can of duck confit for a ridiculous 7 euros. (All were Leader Price brand, which my friend Vincent calls "a treasure trove of cheap foodstuffs.") Finally, I bought two rotisserie chickens and a container of schmaltz-roasted potatoes from the closest halal butcher—just 10 euros.
The guests — everyone I know in Paris and their friends — began arriving at 5, bringing bottles of wine, their own friends and even a baby. All seemed impressed by the apartment ("It's brilliant!" said Steve, a friend's boyfriend) and even my cooking (the zucchini soup and confit disappeared fast).
As the sun set and the courtyard darkened, people swayed to Bebel Gilberto, Stereolab and the "Last Tango in Paris" soundtrack, and I mentioned to my friend Seth how Parisian this all felt.
Not so, he countered. There were, he said, no real Parisians here — everyone had roots, or ties, to somewhere else. Sara to Romania, Isis to Denmark, Francesco to Puglia, Philippe to South Africa. All might be Parisians — some were even lifelong ones — but all were also, to some degree, outsiders, exiles.
True enough, I thought, but for at least one night, we'd found each other in this corner of the 10th, a place I could think of now only as "chez moi."
Full article here.