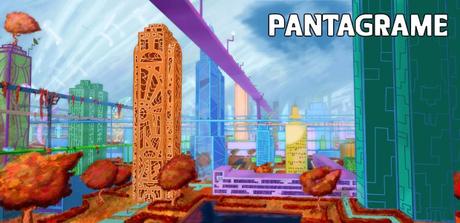 PANTAGRAME is a pixel art webcomic containing video game stages. The setting, rich and consistent, contains a number of touches of humour and colorful characters. These elements contribute to make the narration light. The games are full of twists and action. Since it is a quest, you'll be lead to find a lot of secrets in these interactive sequences. This exciting trip will delight the players, for the environments and animations throw us in a surprising universe, full of obstacles, inhabited by strange, fantastic creatures.
These aspects are completed by expertly orchestrated musical themes. The soundtrack immerses the player in a sometimes tense but always entertaining atmosphere.
Once upon a time there was a Pantagrame
The story depicts the life of a young satanic fanatic, Vitriol. His vulgarity and difficulties in spelling are matched only by his thoughtlessness, and his unique goal is to find a legendary artifact, the Pantagrame, to destroy the world. He's not the brightest bulb on the porch!
Every character has corallian powers, and Vitriol's corallian power makes him a dangerous fool : he can animate lifeless matter. Soon he's leading an army of strong, grotesque monsters. Can anything get in his way?
A group of heroes start gathering to stop Vitriol. They gain victories and suffer defeats, and during their thrilling adventures, we discover Vitriol is the puppet of a much larger threat...
The characters
YKLEN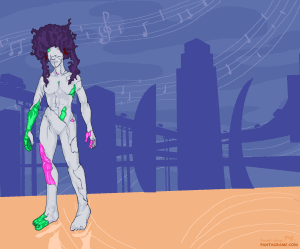 One of the Malazeik, creepy porcelain creatures.
Comics strips and interactivity
The strips use classical retrogaming visuals, containing most of the dialogue and action. Flash video games are interleaved with these comic strip parts, so the reader/player can have long runs through this rich universe. Fateful fights are integrated to the progression, meant to be lived rather than read!
After each game the reader/player is lead to the following page and gets back to reading the comic. This rhythm combined with strong visuals create a proper identity to the website.

This strip shows us the humour and self-derision of the characters. Vitriol appears as a particularly colorful character.

Free to read on the website
In this strip one can see Klow and Jovy testing their powers. The design is especially refined.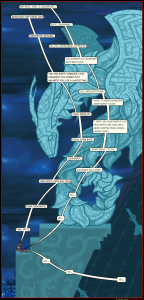 Beautiful graphic novel work, its scale sublimed by diligent work on details and harnessed drawing technique.
The big panels reveal a delicate approach, hard work and meticulousness. The curves enhance the characters' movements.
Video games
Pantagrame offers platformers enriched in action and exploration.
Since every character has their unique power, they play differently, they interact in a specific way with their environment.
The team
From a talented four-people team comes Pantagrame:
* Cauchemar (Raphaël Lafarge)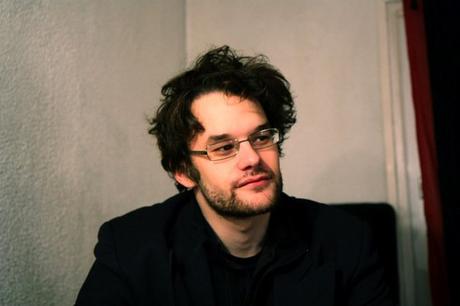 Photography of Cauchemar: project leader, visual artist and writer
He deals with the story and design of the webcomic/game. In love with science-fiction and fantasy, he headed instinctively towars a literary career. Co-writer with Vincent Mondiot of the novel Teliam Vore (published in the Pygmalion collection of Flammarion, French collection of Game of Thrones and Robin Hobb novels) and writer of the short story Values (published by Rivière blanche).
Cauchemar also directed two short movies: Ordalie and Dedans le monstre.
* Bica
Webmaster, he deals with the technical aspect of the website and with marketing considerations. Particular sign : he loves tigers
To present the project, the team goes to conventions and meet with the audience.
Pantagrame events
The Pantagrame creators welcome you in joy and good humour. Don't hesitate to meet, maybe you'll be lucky enough to get a signed drawing and to beta-test the next games under the sharp eye of the staff.
Nice autographs are in order! Drawing, drawing, drawing, a little break sometimes and it's back to drawing. The convention days are always full of beautiful encounters and emotion. To get back home with a signed drawing is heartwarming, and from the creators' side, feedback on the games is very useful! These events are a moment of sharing for both the team and visitors.
Numerous projects in the works and other ones to come...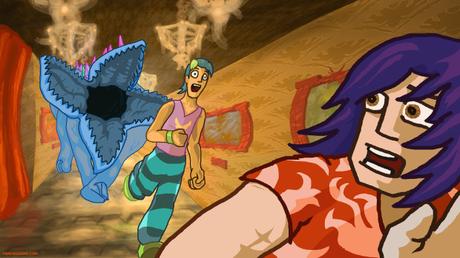 You can already access the entirety of the Pantagrame website for free. In true serial fashion, it's updated regularly (Tuesday is the regular day!) on pantagrame.com.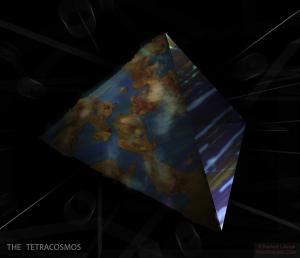 The vast Tetracosmos setting was designed from the beginning to welcome a lot of stories in multiple media. Multiple comics, short stories are currently being developed, and also a spin off, a Secret Project.
"We are also looking for richer, more exhaustive games", says Cauchemar. "With more autonomy, with innovative, fluid gameplay. The adventure of Pantagrame is only beginning and it will grow tremendously!"
Jessica Staffe