English will follow
Un peu de tout aujourd'hui dans cet article. Pour écrire sur tout ce qui se passe présentement, il faudrait que je sorte plus d'un article par jour et jusqu'à maintenant, il y a encore seulement 24hrs dans une journée :)
Je vais commencer avec Esthoria Box :)
English translationA bit of everything in this article. To write about everything that is happening right now, I would need to post more than one article a day, and there are only 24 hrs in one day :)
I will start with Esthoria Box :)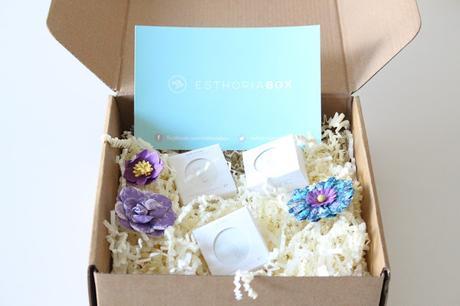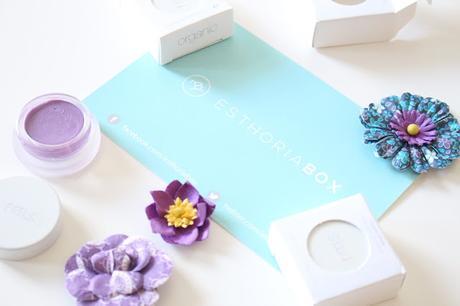 Esthoria Box *
Voilà la boite Esthoria est lancée! Les abonnements sont très limités. Ce mois-ci la boite contient 3 produits RMS beauty format régulier! Oui oui! C'est une boite bimensuelle (vous la recevez une fois toute les 2 mois). Vous pouvez utiliser le code :
letstalkgreen16
pour avoir droit à un
rabais de 10%
sur votre première boite.
Esthoria Box *
Voilà, Esthoria box has been launched! The subscriptions are very limited. This month's box contains 3 RMS Beauty full size products! Yes yes! It is a bi-monthly box (you will receive it every 2 months). You can use this
code
:
letstalkgreen16
to get a
10% discount
on your first box.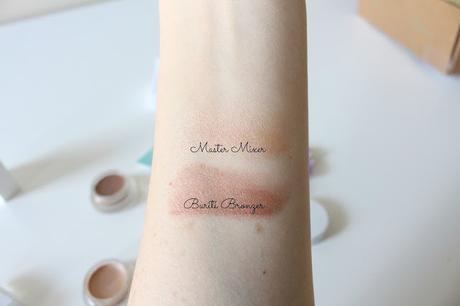 Master Mixer
*
Ce petit dernier de
RMS beauty
est juste sublime! Je l'utilise chaque jour depuis que je l'ai reçu! Il a remplacé mon
Kjaer Weis Radiance
et est un de mes illuminateurs favoris (il est presque terminé d'ailleurs). Quelqu'un se rappelle avoir fini un illuminateur pour le visage ? Tk dans mon cas c'est une première! Le master Mixer et vraiment le produit idéal multitâche qui apporte de la lumière au visage, mais aussi un peu de couleur au visage. Les jours gris achèvent et je suis impatiente de voir le soleil à nouveau. Ce Master Mixer apporte de l'éclat au visage et je ne vous cacherai pas que j'en ai vraiment besoin ;) Je le porte sur les lèvres aussi. Je sais qu'on peut le mélanger à des rouges à lèvres ou des Lipshine ou Lip & cheek. C'est un produit multifonctions.
Master Mixer*
This little last one from
RMS beauty
is just sublime! It has replaced my
Kjaer Weis Radiance
and it's actually one of the best illuminators, one of my favourites (which I have almost finished by the way). Does anybody remember having finished a face illuminator? Well, in my case, it's the first time! The master Mixer is really the ideal multi-task product that brings not only light to the face, but also a bit of color to the face. The dark days are coming to an end, and I am so impatient of seeing the sun again. This Master Mixer enlightens that face and I am not hiding that I really need it ;) I wear it on my lips too. I know that it can be mixed to lipsticks or Lipshines or Lip & Cheek. This is a multi-fonction product.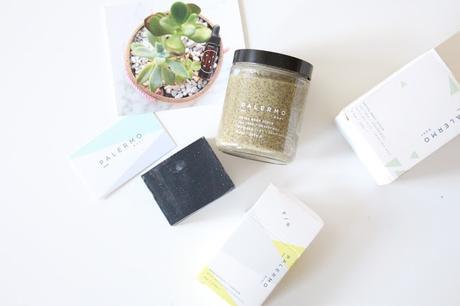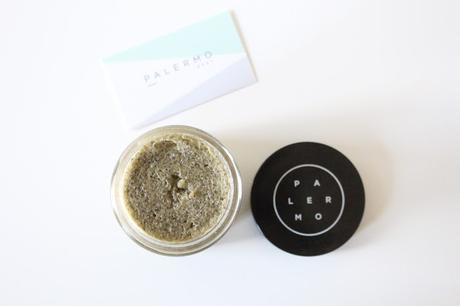 Palermo body*J'étais très excitée d'essayer cette marque New Yorkais fondée par Jessica Morelli. Il y a de plus en plus de marque Indie et je peux vous dire que celle-ci m'a vraiment impressionnée. J'ai essayé seulement 2 produits, mais les 2 sont superbes! Le savon au charbon Grapefruit + Juniper with Activated charcoal* sent incroyablement bon! Moi je l'utilise pour mon corps, car il contient du coconut et je suis sensible au coconut pour mon visage (bloque les pores), mais mon mari l'utilise pour visage et corps sans problème. L'odeur est ultra rafraichissante! Et que dire de cet exfoliant pour le corps digne d'un spa Detox Body Scrub - Tea Tree + Grapefruit*, l'odeur est énergisante et cet exfoliant nous laisse la peau ultra douce. Je suis une fan des exfoliants aux sels, je trouve que c'est les meilleurs. Le sel est excellent pour hydrater la peau, contrairement à ce qu'on peut penser. Avant, je faisais un peu de kératose pilaire sur les bras et les cuisses, mais depuis que j'utilise des exfoliants aux sels (3ans), je n'ai plus ce problème!
Palermo body*
I was very excited about trying this New York brand founded by Jessica Morelli. The are more and more Indie brands out there and I can assure you that this one really impressed me. I've tried only 2 products, and both of them were superb! The charcoal Grapefruit soap + Juniper with Activated charcoal* smells incredibly good! I use it on my body, because it contains coconut and I am sensitive about coconut on my face (block the pores), but my husband uses it on his face and body without any problem. The odor is ultra refreshing! And what can I say about the spa-quality body exfoliant Detox Body Scrub - Tea Tree + Grapefruit*, the smell is energizing and this exfoliant leaves you with an ultra soft skin. I am a fan of salt-based exfoliants, I find they are the best ones. Salt is excellent to hydrate the skin, contrary to what we might think. Before, I used to have a bit of keratosis on the arms and thighs, but since I've been using salt exfoliants (3 years), I don't have this problem!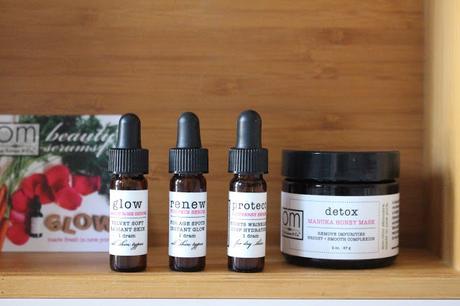 om aroma co
*
J'ai eu la chance de recevoir ce trio de sérum pour le visage :
Carrot - Raspberry - Pumpkin
. Je suis très excitée de les essayer! En ce moment j'utilise Rasberry tout les matins. Curieux de l'odeur ? Ça sent vraiment les framboises (pas l'odeur sucrée de framboise artificielle là), une odeur un peu boisée et surette de la framboise. Je suis tellllllllement nul pour décrire les odeurs! Je vous en dirai plus long bientôt! Je vous parle du 
Manuka Honey Masque
très bientôt!
om aroma co*I had the chance to receive this face trio : Carrot - Raspberry - Pumpkin. I am very excited about using them! Right now, I am using Raspberry every morning. Curious about the smell? It really smells raspberries (not the artificial-like sugary raspberry flavour), the light wood and sour scent of raspberry. I am sooooo bad at describing odours! I would tell you more about it very soon! And I will talk also about the Manuka Honey Mask pretty soon!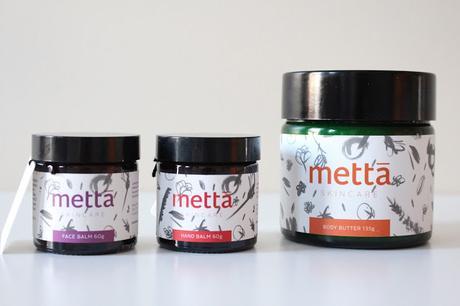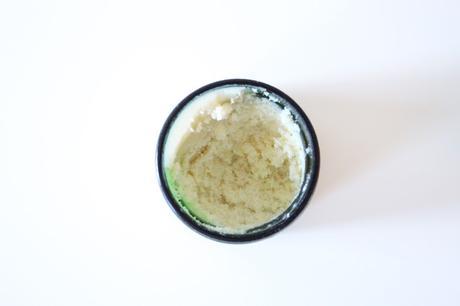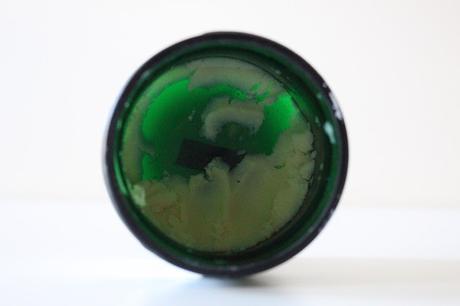 Metta - Body Butter*J'ai utilisé ce baume à une vitesse incroyable! Premièrement sa texture fouettée est vraiment exceptionnelle et très agréable à utiliser. J'avais la version de ce beurre à la lavande, mais il existe aussi à la vanille!! Je vais me laisser tenter pour la vanille maintenant que celui-ci est terminé! Il est très hydratant, parfait pour les hivers ici au Québec. Je l'ai utilisé le soir pour me masser le ventre, car il est trop gras à mon goût pour utiliser le jour.
Metta - Body Butter*
I have used this balm incredibly quickly! First of all, its whipped texture is exceptional and lovely to use. I had the lavender version of this butter, but there is also a vanilla version!! I will get tempted by the vanilla butter now that this one is finished! Very hydrating, perfect for the winter here in Quebec. I've used it at night to massage my belly, because it is too oily in my opinion to be used during the day.
Ingredients : Butyrospermum Parkii (Shea) Butter*, Vitis Vinifera (Grapeseed) Seed Oil*, Simmondsia Chinensis (Jojoba) Seed Oil, Theobroma Cacao (Cocoa) Seed Butter*, Cocos Nucifera (Coconut) Oil*, Lavandula Angustifolia (Lavender) Essential Oil* (contains linalyl acetate, linalool and limonene as naturally occurring components of lavender essential oil) * denotes certified organic ingredient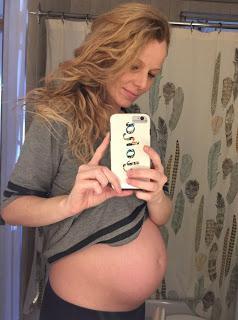 #30weekspregnant



Dernière nouvelle pour aujourd'hui, mais non la moindre. Le lancement du magazine web The Peridot Mag. Un magazine fondé par 4 femmes que j'adore et qui m'inspire au quotidien, Liz, du blog Smell like green spirit, Nic du blog Organic Obsessions , Jana du blog Small bit of loveliness & Tamara du blog Rainbow feet.
Suivez ce magazine si vous voulez vous tenir au courant des nouveautés dans le monde de la Green Beauty.
Twitter @theperidotmag Instagram theperidotmagFacebook The Peridot Mag
Voici quelques-uns de leurs derniers articles à lire, commençons par une revue du célèbre Mask Mermaid Mask de Leahlani Skincare. Une série d'articles qui s'annonce fort intéressante, car on a l'opinion des 4 blogueuses sur le même produit et je peux vous assurer que c'est l'endroit pour retrouver des opinions honnêtes avec un gros H. 
Ensuite, un article sur la fondatrice de Rachel's Plan Bee : Rachel. Une femme extraordinaire. Lire l'article
Finalement, j'ai eu l'honneur de répondre aux questions de Liz et pour lire cet article cliquer ici




Last news for today

, but not the least. The Peridot Mag web magazine launch. This is a magazine founded by 4 women who inspire me on a daily basis : Liz, from the blog Smell like green spirit, Nic from the blog Organic Obsessions , Jana from the blog Small bit of loveliness & Tamara from blog Rainbow feet.
Follow this magazine if you want to be up to date with the news from the Green Beauty world.
Twitter @theperidotmag
Instagram theperidotmag
Facebook The Peridot Mag
Here are some of theor latest articles to read, let's start with a review of the famous Mermaid Mask from Leahlani Skincare. A series of articles that looks very interesting, because you can get the opinions of 4 bloggers about the same product and I can assure you that this is the place to find honest reviews with a capital H.
Then, an article about founder Rachel from Rachel's Plan Bee. An extraordinary woman. Read the article
Finally, I had the honour of answering to Liz's questions. Click here to read this article.





Alors voilà, terminé pour aujourd'hui! Quoi de neuf de votre côté ? Passez une belle semaine :)


So voilà, that's it for today! What's new on your side? Have a great week :)


Julie xo
*PR sample