During AW20/21 Paris Menswear Fashion Week, ASICS celebrated its latest offerings, with the much-anticipated gathering of local and world-renowned creatives, live music, and immersive art installations with a return to the historic la Gaîté Lyrique.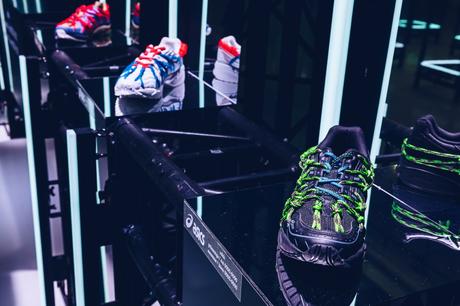 With an ode to the classics and the innovations, ASICS tapped London based fashion house, rokh, to showcase their unmatched craftsmanship with a limited capsule. The limited edition unisex capsule collection of 100 pairs will be sold exclusively at Dover Street Market London.
" We started this collaboration and communication very organically and genuinely for the love of technology and innovation. Asics is a company with strong vision and technology; rokh's artisan craft and innnovation has come together to build this story and collaboration. " - Rok Hwang
After the explosive event last year, that had guests lined up around the block, ASICS took over more space within the iconic Parisian core for digital art and modern music, la Gaîté Lyrique. Led by digital art studio ExperiensS, a never-before-seen immersive, 360-degree mapping experience enveloped the main room, with an array of interactive installations for attendees to marvel at. A reflection of ASICS' global presence, the musical lineup was a collection of heavy-hitters from around the world including Bambz, Bolémvn, Zoovie Kazuyoshi, Poté and Tommy Genesis.