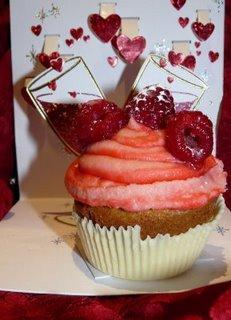 When I heard the challenge this month was "wine," I figured it was a happy coincidence as I happen to live in the wine capital of the world! My immediate thoughts turned to champagne as we have several bottles on-hand leftover from New Year's. A classic champagne cocktail, the Kir Royale, mixes champagne and Creme de Cassis. Fairly straight-forward, though I know flavor-pairings are key in this contest. So, to make it a little more exotic, I added the secret ingredient of confit de violette to the cupcakes, and I gotta tell you these are out of this world delicious!
I've recently been seeing and smelling a lot of violet; our latest discovery is Hediard's Raspberry Jelly with Violet, and last week Sephora on the Champs Elysees gave me samples of Van Cleef & Arpel's Féerie perfume which they say is a "bright, woody-floral fragrance sparkling with violet, iris and rose accents." Perhaps it's this season's new black! :)
Here are my UltraViolette Kir Royale Cupcakes: a pink champagne cupcake infused with violet, topped with a kir royale buttercream, fresh raspberries and served in a white chocolate cup. This is more than decadent...it's a champagne lovers' sweet dream!
Makes about 16 cupcakes


For white chocolate cups:


4 bars white chocolate
2 tbsp. shortening
16 cupcake liners


For pink champagne cupcakes:


2 cups all-purpose flour
2 tsps. baking powder
½ teaspoon salt
4 ozs. unsalted butter, softened
1 ½ cups sugar
¾ cup pink champagne
6 egg whites
2 tbsps. Confit de Violette (or you could use a syrup like Monin), optional
Pinch salt


Kir Royale Frosting:


4 ozs. unsalted butter, softened
4-6 cups powdered sugar
2 tsps. Sirop de Grenadine (or for extra punch, you could use Crème de Cassis or Chambord)
2 tsps. champagne


Garnish:


Raspberries sprinkled with powdered sugar
To make chocolate cups: Melt chocolate and shortening in a double boiler. Stir until smooth. Slowly pour about 1 tbsp. chocolate into cupcake liners and swirl around so that chocolate coats bottom and 2/3 sides of the liner. Place on flat surface and allow to cool. To speed the cooling process, place in fridge. Once cups have hardened, repeat process to coat with a second layer of chocolate. Once the chocolate has hardened, peel off paper wrapper. Keep cool until you are ready to assemble cupcakes.
1) Pre-heat oven to 350/180 degrees. Grease 1 12-cup cupcake tin and 4 cups of second tin.
2) Sift baking powder, salt and flour in medium-sized bowl and set aside
3) Cream butter and sugar until light and fluffy. Alternately beat in flour mixture and champagne, blending well after each addition. Briefly warm confit de violette in microwave to get it to a thick liquid consistency and stir in to combine.
4) Beat egg whites with a pinch of salt until stiff and fold into batter, mixing just to combine.
5) Fill cupcake tins 2/3 full. Do not overfill as the batter really rises - must be the champagne! Fill unused cup molds halfway full with water. Bake for 20-25 minutes until a toothpick inserted in center comes out clean. Once cool, remove cupcakes from tin and continue to cool on a wire rack.
6) For the frosting, beat 4 cups butter and sugar until creamy and soft. Slowly add champagne and Chambord and continue beating until frosting is of good spreading consistency. If too thin, progressively add more sugar. If too thick, add more champagne.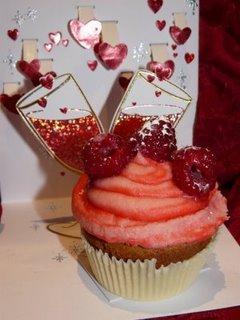 7) Frost cooled cupcakes and place in individual chocolate cups. Top with raspberries.
Tchin tchin, mes amis, a votre santé!
Here's more about this month's challenge:
The IronCupcake:Earth challenge for January is Wine! Red or White, Sweet or Dry, Bubbly or Still. What can you do with a bottle of wine and a sweet little cupcake?
I am competing to win the January ETSY PRIZE-PACK from artists:
* DOGBONE ART - http://www.etsy.com/shop.php?user_id=22042
* as well as a pair of cupcake earrings from LOTS OF SPRINKLES at http://www.etsy.com/shop.php?user_id=6057281.
* PLUS, IronCupcake:Earth can not forget our good friend, CAKESPY, http://www.etsy.com/shop.php?user_id=5243382, who is now going to be doing a piece for our winner each month until further notice - sweet!
As an added bonus for January, our friend at SWEET CUPPIN CAKES BAKERY AND CUPCAKERY SUPPLY will be tossing in another treat as well, http://www.acupcakery.com/index.html.
Last and certainly not least, don't forget our corporate prize providers: HEAD CHEFS by FIESTA PRODUCTS, http://www.fiestaproducts.com, HELLO CUPCAKE by Karen Tack and Alan Richardson, http://blog.hellocupcakebook.com, JESSIE STEELE APRONS http://www.jessiesteele.com; the CUPCAKE COURIER http://www.cupcakecourier.com; TASTE OF HOME books, http://www.tasteofhome.com. NEW, BEGINNING IN JANUARY; our new friends at UPWITHCUPCAKES.COM http://www.upwithcupcakes.com/ will be providing our winner with one of their cute cupcake attitue t's! Iron Cupcake:Earth is sponsored in part by 1-800-Flowers, http://www.1800flowers.com.
Voting will begin no later than Thursday, January 29 at 8 p.m. at NO ONE PUTS CUPCAKE IN A CORNER and will be open through Wednesday, February 4 at 12 noon.