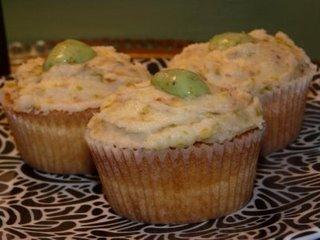 The last NYC apartment my husband and I lived in was on the corner of Jane Street & Hudson. In an area known as the Meatpacking District. When we first moved down there, we practically were giving out maps to friends and family showing our exact location cause so many of them never ventured below 14th Street, much less even knew that there were actually unnumbered streets in NYC. "Jane Street? Where the heck is Jane Street? Are you still in Manhattan or did you guys move out to Brooklyn?"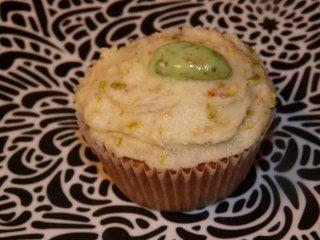 I haven't been back to the old 'hood in about 4 years now, but the last time I did, boy, had it changed. High-end designer fashion; hip boutiquey hotels; a Starbuck's where one of the local bodegas used to be and even a celebrity chef had opened a joint where there used to exist a popular um, uh, "gentleman's club," to put it politely. Ever see that Sex & the City episode where Samantha is arguing with the tranny hookers out her window? Well, we lived that...honest!
We thrived on the local flavor, not to mention the awesome dessert places we had to choose from. Brownies from the Fat Witch Bakery and beautifully decorated sugar cookies from Eleni's in Chelsea Market. On 14th, the Little Pie Company for some of the best New York Cheesecake and Sour Cream Apple Walnut pies around. Of course, Magnolia Bakery, grand-daddy of all the cupcake shops, was just around the corner -- and in those days, you could just walk right in and take a cupcake or two. No 30 minute waits and no 15$ order minimum.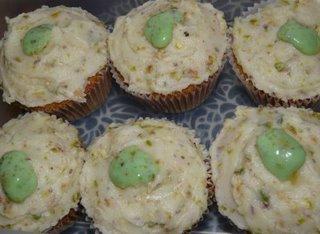 One of our favorite eating holes back then was Keith McNally's French-style brasserie Pastis which thanks to my husband's French roots, was where we could be found 2-3 nights a week. They made some great bistro favorites and their desserts - crepes suzette, a molten chocolate cake, creme brulée - one better than the other. Our all-time favorite though was their ice cream. Now I know what you are thinking -- why ice cream when you have all those delicious choices? Well, they got their ice cream from none other than il laboratorio del gelato which is IMHO, the best gelato you will eat outside of Italy. Period. We were addicted to this stuff, especially the heavenly pistachio and could easily finish off a bowl of said pistachio, chocolate and vanilla in minutes. Both of us jockeying our spoons for the last creamy morsel. I am actually salivating while I write this.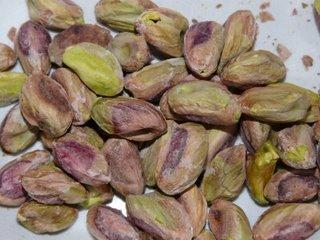 Suffice it to say, I came across a surplus of pistachios in my kitchen cabinet the other day and it made me think of this to-die-for gelato. I used them to bake up some vanilla cupcakes (next time I will make lemon) with pistachio buttercream and a dollop of pistachio-infused white chocolate ganache on the top. They are a very, very humble tribute to my long-lost pistachio gelato. It has been too long since I tasted this stuff! I don't know if Pastis still gets their gelato from il laboratorio di gelato but if they do, and you happen to be in NYC while reading this, trust me....run down there ASAP to Little W. 12th Street and order up a bowl. It's the best!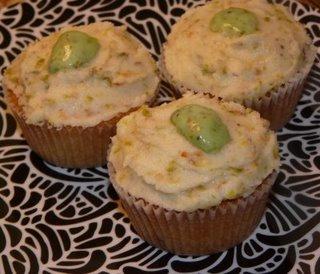 By the way, since I am totally this loving pistachio buttercream -- I honestly think it is one of the better toppings to come out of my home kitchen -- I wanted to share. I'll soon be adding it to the Little Miss Cupcake menu. Enjoy!


Pistachio Buttercream:


4 ozs. (1 stick) butter, room temperature
2-3 cups powdered sugar
6 Tbsp. heavy cream
1/2 Tsp. vanilla extract
1 cup shelled pistachios
1) Place pistachios in a ziploc bag and beat with a rolling pin until they are well pulverized. Alternatively, you can put them in a food processor but I find the rolling pin method easier to clean up after and a great way to let off some steam!
2) Beat butter until creamy.
3) Add sugar a 1/2 cup at a time. As the mixture stiffens, add the cream and vanilla. You want it to reach a spreading consistency. I don't like my buttercream to have an overly buttery taste, so I usually add all the sugar called for but you may not want to add all.
4) Whip in powdered pistachios and mix until well-incorporated. If the mixture is too stiff, add a little more cream. If too soft, add some more sugar.
I topped these with a dollop of ganache made from white chocolate, cream and powdered pistachio.