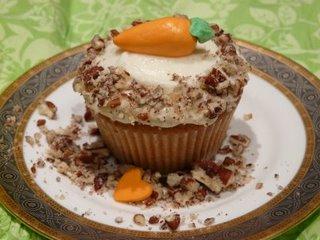 Many years ago, a friend gave me a wonderful carrot cake recipe from her grandmother that was passed down from her grandmother and so on. I've tweaked it a bit so it yields a moist, deliciously rich cake stuffed with nuts, carrots and cinnamon. Like all good Americans, I really LOVE carrot cake - though am mostly prone to the cream cheese frosting the cake serves as a vehicle to consume. Last time I was in the US visiting my mom, I made an almost daily trip to her local Publix to get a slice of their yummy carrot cake. It's no wonder I put on about 5 pounds in the 10 days I was there!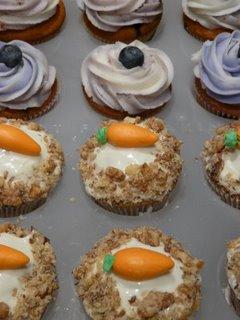 When I had an order recently for a New York-themed breakfast meeting, I was delighted when the customer asked for one of the flavors to be carrot cake. It had been a while since I had an opportunity to use this recipe. For the other half of the order, we bandied about a take on the Black & White, mini cheesecakes with a cherry or blueberry topping, coffee cakes and a few other inspired combinations but apparently the mention of blueberry got a wide round of approval from her colleagues so that was that. The Broadway Blueberry Swirl was born : a blueberry studded vanilla cupcake with blueberry and light hints of lemon swirled buttercream.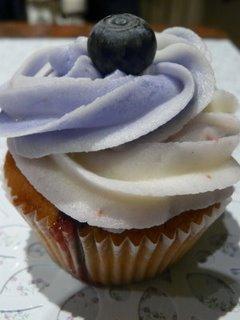 I had to go to a local Italian store for the Philadelphia cream cheese that goes in the carrot cake frosting 'cause it's not too easy to find here and I paid through the nose, but it was so worth it. I could eat this stuff straight from the bowl. I was so inspired that when asked to donate some recipes to an article being published about cupcakes in the weekly online edition of L'EXPRESS, I couldn't resist but contribute this one. (I'm going to repost the recipe below in English because truth be told I was under the gun with the publication deadline looming and rather than measure out the ingredients from American to French weights, I did some quick conversions with the help of some online sources and am fearful that they may be a bit funky).
The inspiration for the carrot cake name...well, I didn't need to look much further than one of my favorite action films. I'm sure I don't need to remind you of this scene:


The Young Woman scans the restaurant....She sees all the PATRONS eating, lost in conversations. The tires WAITRESS, taking orders. The BUSBOYS going through the motions, collecting dishes....A smiles breaks out on the Young Woman's face.




YOUNG WOMAN


Pretty smart.
(into it)
I'm ready, let's go, right here,
right now.


YOUNG MAN


Remember, same as before, you're
crowd control, I handle the
employees.


YOUNG WOMAN


Got it.
They both take out their .32-caliber pistols and lay them on
the table. He looks at her and she back at him.


YOUNG WOMAN


I love you, Pumpkin.


YOUNG MAN


I love you, Honey Bunny.
And with that, Pumpkin and Honey Bunny grab their weapons,
stand up and rob the restaurant....


PUMPKIN


(yelling to all)
Everybody be cool this is a
robbery!


HONEY BUNNY

(I'm deleting the line cause it's fraught with expletives and really not appropriate for a cupcake blog!)
(okay, cue music: Misirlou by Dick Dale)



I Love You Honey Bunny Carrot Cake Cupcakes
Makes 14-16 cupcakes
1 1/2 cups sugar
4 eggs
1/2 cup vegetable oil
2 tsp. vanilla
2 cups flour
2 tsp. cinnamon
1 tsp. ginger
2 tsp. baking soda
1/2 tsp. salt
2 cups carrots (about 3 medium-sized)
1 cup walnuts or pecans
1/2 cup shredded coconut (optional)
1/2 cup raisins (optional)
- Mix the sugar, eggs, oil and vanilla in a bowl.
- Add flour that has been pre-sifted with salt, cinnamon, ginger, salt and baking soda.
- Mix in one at a time, carrots, nuts, coconut and raisins until well-incorporated.
- Fill cupcake papers about 2-3rds full and bake for 20 minutes in a 350/180 degree oven. Cupcakes may take up to 35 minutes to bake but you want to start checking for doneness around 20 minutes by inserting a toothpick in the center of the cupcakes. They are ready when the toothpick comes out clean.
- Remove from tins and leave to cool on a wire rack.


Cream Cheese Frosting

:
8 ounces Philadelphia cream cheese (or a "fromage frais a tartiner" that is low in salt - I like the Monoprix brand for its taste and consistency)
1/2 stick unsalted butter
5-6 cups powdered sugar
half a vanilla bean
- Let the butter and cream cheese warm to room temperature (this is important - otherwise, the frosting will not be smooth.
- Whip with an electric mixer and add in the vanilla (separate the bean using a sharp knife and then lift them out with the point).
- Mix in sugar 1/2 cup at a time until you reach the desired consistency and taste.
- Frost and enjoy!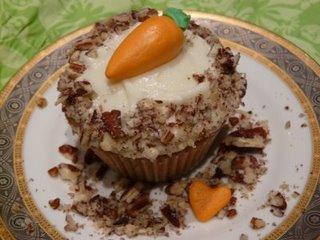 RELATED LINKS:
L'EXPRESS: Cupcakes : dévorez-les tous!
I Love You Honey Bunny, une recette adaptée par Little Miss Cupcake