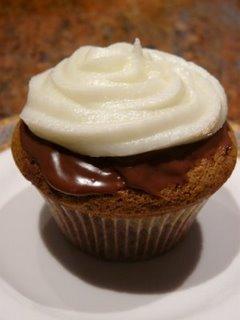 ..said my husband as he bit into one of the cocoa matcha cupcakes I just whipped up. I had been intrigued with this flavor combination ever since Jamieanne of The Cupcake Review took home the goods as the winner of the Iron Cupcake : Earth Chocolate with a Twist challenge back in December.
Visions of her marbelized chocolate and matcha (that's powdered green tea for all you coffee drinkers) cupcake haven been dancing in my head for quite some time and it's topped the list of "recipes I want to try" when I had a free moment. Well, that free moment came today as my in-laws unexpectedly swept in and trotted our son off to the Louvre for the afternoon. And luckily for me, Mariage Freres, the mecca of tea and all related accessories is open today...on a Sunday...in France (which is practically unheard of)!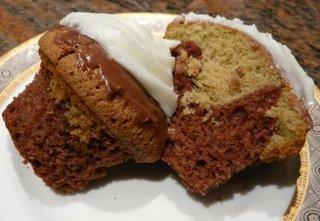 So no sooner had my in-laws left that I dashed over to Mariage Freres to pick up some of their matcha powder.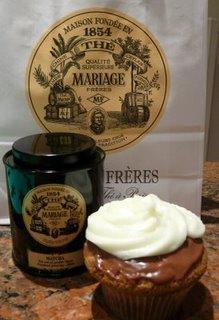 Since it was almost 3 by the time I got in and nearing the gouter (that's snack for you Anglophones) hour, which is traditionally 4PM, I was under the gun and had less than an hour to whip up the whole shebang before my husband started groveling. I decided to forgo Jamieanne's Swiss Meringue Buttercream, although I gotta admit that hers does look lovely, but it would have taken too much time. Truth be told, I used her creation as a guide but modified my own standard cupcake batter and buttercream recipes to suit my needs.
The result : a beautifully marbled cake -- the matcha half cooked up much lighter and fluffier than usual due to the added matcha powder, combined with a luscious chocolate ganache (this was really a nice touch that perfectly complemented the green tea flavor) and topped with a creamy, delicate buttercream that dialed up the flavor just a notch. Thanks Jamieanne for inspiring this delicious afternoon treat (

and I gotta tell you my husband, the French food snob, LOVED these! The "Oh la Vache" comment is really the highest form of flattery

.). For those of you who may feel equally inspired, here's Jamieanne's recipe from The Cupcake Review: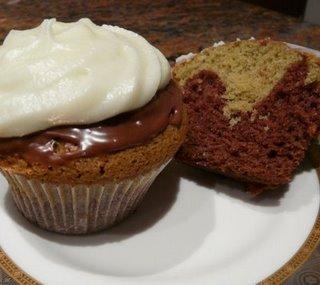 Chocolate & Matcha Marbled Cupcakes


(adapted from La Tartine Gourmande)
makes 10-12 regular sized cupcakes
Ingredients
8 Tbsp butter, melted (1 stick)
3 oz dark chocolate, melted
3 eggs, large
3/4 cup sugar
3/4 teaspoon vanilla extract
3/4 + 2/3 cups flour, sifted
1 tsp baking powder
Pinch of salt
1.5 tsp sifted unsweetened cocoa, diluted with 2 Tbsp whole milk
1.5 tsp Matcha powder
Method
Preheat oven to 350 degrees.
Melt the butter and set aside. Melt the chocolate using a double-boiler.
Beat the eggs with the sugar until blended. Add the melted the butter and vanill extract and mix well.
In a separate bowl, sift together the flour, baking powder and salt and add to the butter/egg mixture. Beat until blended, but do not overbeat.
Divide the batter in two halves. In the first half, add the Matcha tea, in the second the chocolate and cocoa diluted in milk. Stir each half until thorougly incorporated.
Spoon chocolate mixture into cupcake liners, and spoon matcha mixture on top of the chocolate. Fill liners about 1/2 - 2/3 full. You can use a toothpick or knife to gently stir the colors together for a marbled effect, or you can leave as is.
Bake in a preheated oven for 20-22 minutes. Test with a toothpick to make sure they are done.


Chocolate Ganache


Ingredients
3oz dark chocolate
3oz heavy whipping cream
Method
Heat the whipping cream and chocolate in a small pan over low heat unti melted. Do not boil. Remove from heat and sit aside until cooler. Dip tops of cupcakes into the ganache and sit aside to let ganache harden, or put into the refrigerator to harden it quicker!


Matcha Swiss Meringue Buttercream


(method adapte from How To Eat A Cupcake)
2.4oz egg whites
4.8oz sugar
5.3oz unsalted butter, room temperature
1.5 tablespoons matcha (use more or less to suit your taste)
Method
Put egg whites and sugar into the top of a double boiler over a pan of simmering water. Whisking constantly, cook until sugar has dissolved and mixture is warm (about 160 degrees).
Pour heated egg whites into the bowl of an electric mixer fitted with the whisk attachment. Beat egg white mixture on high speed until it forms stiff (but not dry) peaks. Continue beating until fluffy and cooled, about 7 minutes.
Switch to the paddle attachment. With mixer on medium-low, add butter two tablespoons at a time, beating well after each addition. Increase speed to medium-high; continue beating until frosting appears thick, about 3 minutes. Reduce speed to low; add matcha powder and continue beating 2 minutes to eliminate air bubbles.