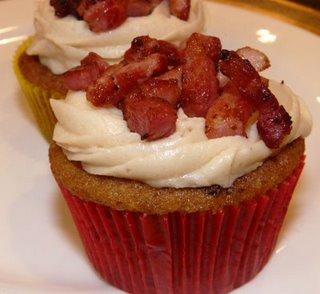 A few months back, my mom sent me a cut-out from the NY Times of a bacon-topped cupcake recipe by Pichet Ong, owner of Batch bakery in Manhattan. Yes, you heard right. I said "bacon." At the time, I personally couldn't think of anything more disgusting than a bacon-topped cupcake. Though I had been seeing a lot of these in the blogosphere as more and more bakers offered up their version of this savory cupcake. If my mom had heard about them, then I figured they must really be mainstream.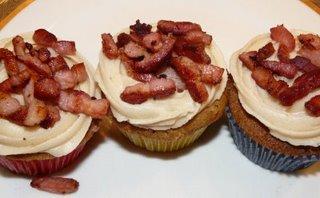 Since then, my mom inquired on a fairly frequent basis if I had tried the recipe. Each time, my response was "Ick, no!" But recently I saw this video tasting done by Keavy Landreth, owner of Kumquat Bakery in Brooklyn. She and her friend taped themselves while trying several variations on the bacon cupcake theme and whether it was their pairing of the cupcakes with a "strong" cup of coffee, or their giggles and charm, I was sold hook, line and sinker.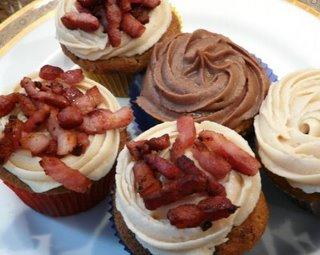 Since my mom is in-town visiting this week, I figured I would bake a batch of bacon-topped cupcakes for Mother's Day. Which is celebrated in the US today but not in France...or the UK for that matter, but it's a complicated story. I wasn't too hot on Pichet's recipe - the oatmeal muffin base seemed a little too healthy for me -- so I whipped up a cinnamon pecan cupcake and topped that with a frosting made from a mix of caramel buttercream I had left-over from this morning's order for Dylan's 2nd birthday....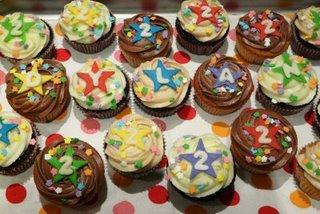 and pure maple syrup. Yum, yum, yum! I topped them with large pieces of bacon (the Herta Nature brand we get here in France.).
The verdict? I could take or leave the bacon. I almost felt like the contrast wasn't salty enough but the buttercream was divine! (Luckily I have some frosted ones without bacon left for later!). I noticed my mom ate half the cupcake with the bacon and she scraped it off of the second half. But I wasn't too offended. We ate them on the heels of a BIG French-style lunch that included a starter of prosciutto and melon, a beef roast with potatoes and salad, several pieces of comte cheese, wedges of country-style bread, and a bottle of red wine.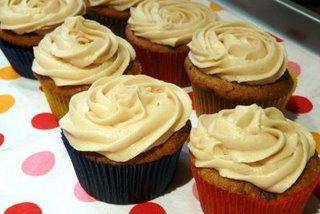 Okay, gotta go now and veg out while I digest all this food. Here's the recipe for my bacon-topped cupcakes if you are interested. Give them a whirl if you are looking for something a little different and savory. Though perhaps it's best if you pig out on these (pun intended) on an empty stomach! :) Happy Mother's Day, all!


Little Miss Cupcake Pecan Cinnamon Cupcakes:


Makes 14-16 cupcakes
4 ozs. unsalted butter, softened
1 cup sugar
1 large egg
1 tsp. baking soda
1 tsp. vanilla
1 tsp. cinnamon
½ tsp. salt
1 ½ cups flour
1/2 cup buttermilk
¼ cup hot water
1 cup crushed pecans
- Pre-heat oven to 350F/180C. Grease or place cupcake liners into cupcake tins.
- To make cupcakes, cream together sugar and butter until smooth. Add egg, vanilla, baking soda, cinnamon, salt and mix until well-combined. Alternate adding flour and buttermilk in 3 batches, mix well until smooth. Add hot water last and mix to combine.
- Stir in pecans and fill cupcake pans 2/3rds full.
- Bake for 17-20 minutes or until a toothpick inserted in center comes out clean. Remove cupcakes from tin and let cool on wire rack.


Caramel/Maple Syrup Buttercream:


4 ozs. unsalted butter
3 tbsps. milk
4-6 cups powdered sugar
4 tsps. maple syrup
2 tbsps. caramel
- Beat butter, milk and 4 cups sugar until creamy and soft. Slowly add maple syrup and caramel and continue beating until frosting is of good spreading consistency. If too thin, progressively add more sugar. If too thick, add more milk.
- Frost cupcakes and top with 200g. cooked and drained bacon pieces. Serve while bacon is still lukewarm.