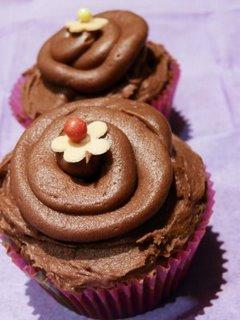 I have had this little Hall & Oates ditty circling 'round my brain for the past week as on several occasions I've realized just how far removed I am from my former life and native country. I've always considered myself to be a pretty savvy girl, so you can imagine my surprise when I found out waaaaaay after the fact that Jay Leno had taped his final Tonight Show. When did this happen? And why wasn't I told? And this wasn't the only incident!
I've been looking for an apartment to rent in my old neighborhood for a trip later this year, and wouldn't you know when I asked the owner of one potential place if she was down the street from x restaurant...you know the one...where all the celebs on Page 6 (the NY Post still exists doesn't it?) are photographed, there was just radio silence on the other end. Followed by a "Oh, I

think

I know which one you mean. Yeah, they closed a loooong time ago. There's a Starbuck's there now."
So, no, I don't know why everyone is gaga over Lady Gaga. Or who this Jon and Kate really are (except I gather they have lots of kids and he has some commitment issues!). I don't know who won American Idol or Dancing with the Stars, and has Izzie (whoever that is) been killed off of Grey's Anatomy yet?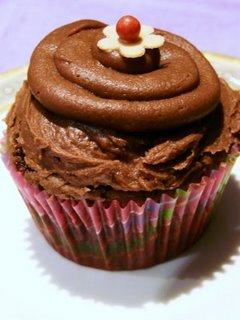 It's tough being an expat sometimes and being so far from where I came from. It's like living in a time warp or a parallel universe where the place I started at still exists but for me it's the NY/America of 2003 while for everyone else, time has moved on and life has continued.
This is a roundabout way to get to the cupcakes today but just wanted to get that off my chest. It's had me kind of down lately and guess I'm feeling a little "out of touch." Thankfully, I have expat friends here who can totally relate to the America of long, long ago that we all come from! Many of our conversations include the "Did you ever watch/see/go to/eat etc.?" and there will inevitably be lots of "Yes, I love those!" in response. One of these recent conversations centered on a good old American favorite - the Reese's Peanut Butter cup - which I gather is one of our most coveted and missed snack foods here (though being the savvy girl I am, know that these can be found at Monoprix from time to time on Ave des Ternes - pass it on!).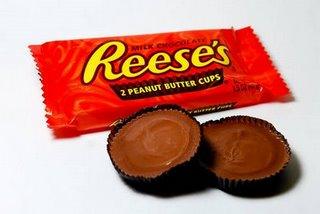 An expat friend (though she is Franco-American, so only half of her qualifies) invited us to a BBQ this weekend to which I offered to bring cupcakes. I know she loves peanut butter - in fact, security check took 2 jars off her mom at the airport recently cause apparently it's not allowed in your check-on - and was in on the Peanut Butter cup conversation. I headed to my "go to" site for recipes to find something suitable. The following comes from Chockylit who I wish with all my heart would come back to cupcake blogging. She truly knows how to work a cupcake! Maybe in a parallel universe she is hard at work, happy and blogging away, and one of these days, "out of touch" me will finally discover this!
This is the cupcake version of a Reese's Peanut Butter cup and is one of the most delicious cupcakes you will ever taste. It takes some time to bake, make and assemble but I guarantee it is worth the effort. Creamy peanut butter filling, rich chocolate ganache and a light, airy chocolate cake which balances it all out. I'm reposting the recipe but gotta give Chockylit 2 whisks up for this excellent recipe!

Peanut Butter Filled Chocolate Cupcakes with Chocolate Ganache


Chocolate Cupcakes


24 regular cupcakes / 350 degree oven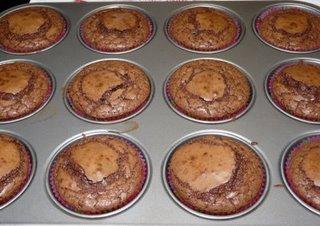 5.4 ounces dark chocolate or 3/4 of a 200 gram bar of Valrhona 61% cocao
22 tablespoons butter
1-3/4 cups plus 2 tablespoons sugar
6 eggs
1 cup plus 2 tablespoons flour
4-1/2 tablespoons cocoa powder, unsweetened
1-1/2 teaspoon baking powder
pinch of salt
1. Melt chocolate and butter over a water bath.
2. Add sugar and stir, let mixture cool for 10 minutes.
3. Beat in an electric mixer for 3 minutes.
4. Add one egg at a time, mixing for 30 seconds between each
5. Sift the flour, cocoa powder, baking powder, and a pinch of salt into the mixture and mix until blended.
6. Scoop into cupcake cups and bake at 350 F for 25 minutes or until a toothpick comes out clean.


Peanut Butter Filling


(note and update via Chockylit)

4 ounces or 1/2 package of Philly cream cheese
1 cup creamy peanut butter
2 cups sifted powdered sugar
1 tablespoon vanilla extract
2 tablespoons milk
1. Beat cream cheese and peanut butter until combined.
2. Add powdered sugar and vanilla and beat until combined.
3. Add the milk and beat until combined.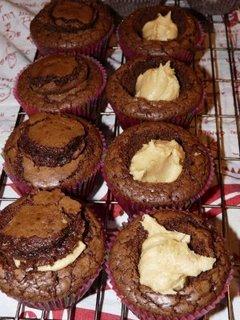 Note: This makes a pretty stiff mixture, like the center of a peanut butter cup. If you want something pipe-able, you could add more milk. I wanted to retain the strong peanut butter flavor, so I kept the milk to a minimum.
Update: I think that the filling was too thick. As I was eating a cupcake (I managed to resist them until late last night) the peanut butter filling fell out onto the plate. It wasn't too terribly hard to stick back on the cupcake, but if I were to do these again, I would add more milk to the filling.


Chocolate Ganache


4 ounces bittersweet chocolate
5 ounces semisweet chocolate
1 cup heavy cream
1 teaspoon vanilla
1 tablespoon butter, room temperature
2 cups powdered sugar
1. Chop chocolates and transfer into a heat proof bowl.
2. Heat cream until bubbles form around the edge of the pan, pour cream over the chocolate.
3. Let sit for 1 minute then stir until combined.
4. Add butter and vanilla and stir until combined.
5. Transfer to the bowl of an electric mixture and let cool for 10 minutes.
6. Sift powdered sugar into the mixture and beat until combined.
7. Continue to beat with an electric mixer until lighter in color and creamy.


Assembly


1. Using a small pairing knife, cut off the top of the cupcake in the shape of a cone. Flip the top over and cut off the cone.
2. Fill the cavity with a teaspoon or so of peanut butter filling.
3. Replace top.
4. Frost with ganache.
5. Decorate as you wish. I topped the cupcakes with fondant and peanut butter flowers.