Imagine a restaurant where you would have the choice between dozens of different cuisines, where the menu would be composed of more than any starters, main courses and desserts you have ever dreamt of.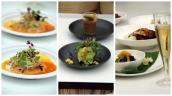 Imagine a place where you would have the chance to experience the finest tastes of London
and meet the teams who help the restaurants to get their Michelin stars.
For four days, Taste of London made your dream come true and created a unique culinary journey where, for once in your life,
you were the one asking all the best restaurants in London to create your dream menu:
What better start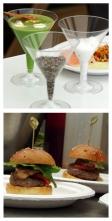 than a refreshing '
Chilled
pea velouté and ricotta scoop, crispy hazelnut bread'
from
Alain Ducasse
at The Dorchester or  a fine '
Fassone beef carpaccio with mash and rocket salad'
that only Ristorante Semplice has the secret of?
Then, as a fan of Thaï food, you would go for a 'Slow cooked lamb in yellow curry accompanied with cucumber relish' at Benja or try the delicious 'Burger au foie gras et poivrons verjutés' that L'Atelier de Joel Robuchon has added its unique French touch to.
Step in Rhodes Twenty Four and be seduced by the divine 'Lemon tart with English strawberries'. For a more Asian taste, the Cinnamon Kitchen would please you with its unique 'Strawberry and pepper corn jelly with cardamom shrikland'.
Of course, this extraordinary experience would not be complete without a glass of Champagne while listening to the amazing history of Laurent Perrier or enjoying a selection of Bordeaux wines while being explained all the intricacies of choosing the right wine for your oh-so refined palate.
Later in the afternoon, it's time to enjoy a 'Wimbledon Macaron with Strawberry and Crème Fraiche' that Bougie Macaron created especially for the tennis championship… which would go very well with a shot of Vodka from the luxurious U'Luvka to keep you in shape for the rest of the evening.

While enjoying this amazing endless-course experience, it's now time reveal the varying chef's favourite flavour and French dishes…
Ristorante semplice, Giovanni Baldino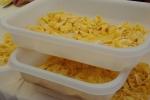 Flavour: "Chinese and French cuisine.
But London offers so many opportunities to try different things that it is hard to decide!"
French: "Foie gras… The baby burger foie gras from Atelier Robuchon is divine"

9/10 Blenheim Street, London – W1S 1LJ
www.ristorantesemplice.com
Hans Vandeputte, Oenologist for Laurent Perrier
Flavour: "I've grown up with Italian and French cuisine but I have to admit that I have a weak spot for the Asian cuisine which is a bit lighter."
French: "The freshness of French products but more particularly the Fine de Claire oyster and a fresh foie gras."
www.laurent-perrier.co.uk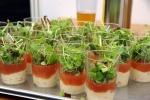 Jocelyn Herland, Alain Ducasse at the Dorcester
Flavour: "Cheese. We have so many cheeses in France that we can eat a different one every day."
French: "A 'Blanquette de veau' cooked in veal juice to accentuate the taste.
It's easy and complex to cook at the same time
and the quality of the meat is very important to give that softness to the dish.
And if I have a last meal to have it would be with my family with a plate of charcuterie and cheese."
Park Lane,  London – W1K 1QA
www.alainducasse-Dorchester.com
Laura Clay, Council of Bordeaux wine
Flavour: "Sauternes is definitely my favourite flavor
French: "I love everything that comes from Burgundy and especially 'Escargot de Bourgogne'"
www.bordeaux.com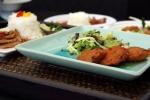 Kriangsak Vorakoondumrong, Benja
Flavour: "I love any savoury taste"
French: "Toulouse sausages get my favourite! "
17, Beak Street, London – W1F 9RW
www.benjarestaurant.com
Adam Gray, Rhodes24
Flavour: "The flavour of tomatoes, basil and olive oil"
French: "Not an easy question …. Well, I would say duck confit with cassoulet"
Tower 42, Level 24 – 25 Old Broad Street, London – EC2N 1HQ
www.rhodes24.co.uk
Vitor Kono, U'Luvka Vodka
Flavour: "The taste of oysters"
French: "The onion soup I made for the first time last January. Baked with cheese and bread, it was delicious."
www.uluvka.com
Jean Nedelec, Bougie Macaron
Flavour: "La fleur d'oranger"
French: "Le foie gras, sans aucun doute ! "
www.bougiemacaron.co.uk
Bon appétit!