Après l'interview de Carol Realini la semaine passée, voici en exclusivité un entretien avec Hannes van Rensburg le CEO de Fundamo, mais également l'auteur du fameux blog Mobile Banking que je vous conseille vivement de lire. Je vous laisse découvrir les révélations qu'il nous livre: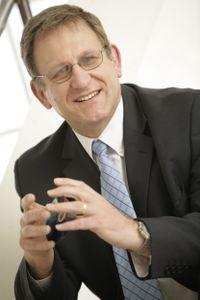 PL: Hannes, it was a real pleasure to meet you here in Paris during Mobile Payment Expo and thank you for the time you are spending to answer the questions for "le paiement mobile".
Fundamo belongs to the mobile banking's pioneer. What's Fundamo and how did you come to the idea to do this?
HV: Philippe it is great to speak to you as I respect your work and the insights that I have gained in your writings. Fundamo is the largest dedicated supplier of mobile banking solutions, globally. We supply a software platform to mobile operators and banks that can be configured to offer various solutions (including mobile wallets) to customers. We are based in Cape Town and have offices in six other countries, amongst others in Madrid.
I developed the Fundamo concept during 1999 as an experimental project in a large corporation. When management decided to discontinue the project, I raised some money and took the concept out of the corporation and established Fundamo. This was very visionary and possibly "before its time" as most mobile phones could not even send SMS's during those years. We managed to survive during extremely difficult times, but are now thankful to be growing very fast.
PL : It's now an evidence that some main criteria for the success of mobile financial services must be : easy user experience, all device compatibility, and all mobile operator. Is-it the case for Fundamo?
HV: Because Fundamo is a software platform, it can easily be configured to offer solutions in many different formats and delivery channels. The software supports many different devices and carriers (SIM Cards, SMS, USSD, Downloadable applications and Browsers). It can be configured to offer solutions to banks or mobile operators and can easily integrate to third party solutions and different banking clearing mechanisms. The flexibility (multi-language, multi-currency, multi- device and multi-bank) is one of the competitive advantages of the Fundamo solution. This is especially relevant as we know that almost no mobile payment solution having been implemented have remained static – but required multiple adaptations in order to be successful.
PL: According to my understanding, Fundamo is a technology brand, behind several projects promoted by operators and banks, how many users are currently doing banking with your technology? Do you have the ambition to make Fundamo a consumer brand out of it?
HV: Fundamo is not a consumer brand, but is deployed under many different consumer brands owned by our customers. This is in line with our strategy as we do not want to compete with our customers. The subscribers administrated on Fundamo platforms are a few million, running hundred's of million transactions a year. We have deployed customers or active projects in almost thirty countries.
PL: Did you estimate how many previously unbanked people can now use financial services due to your initiative?
HV: Yes, this is an important measurement for us, as it shows what the potential of our solution is if it is fully utilized. Currently Fundamo technology has made banking services accessible to more than a hundred million subscribers.
PL : You have signed recently a big deal with MTN, the amount announced is substantial, is-it a real kick off for you and more generally for the African and middle east markets?
HV: I believe that the MTN deal is the first time that a large multi-national group selected one technology supplier to deploy one solution in every country that the group is in operation. The intention is to deploy Mobile Money (the MTN brand) in each country that MTN is operational during the next three years. Almost halfway through the deployment, we are very much on track to meet all of the deployment milestones.
This achievement is made possible because of the flexibility of the platform, the standardization of our deployment methodology and the in-depth experience that we have in deploying solutions like these in many other countries.
PL: Will you participate on the newly announced initiative of Western Union for remittance program with mobile?
HV: We were the first supplier that participated on the program and will be an active participant. We welcome other suppliers also announcing their participation as we believe that an open integration and collaboration between vendors will benefit the industry as a whole. It is our opinion that the initiatives of Western Union should be applauded.
PL: The mobile banking and payment battle is probably concentrated in Africa for the moment. We see every day an impressive growing number of mobile payment initiatives in almost all African countries. Do you believe those have what you call a high rate of "announcement index" or do you believe we will assist to a big change in the coming months with actual delivery?
HV: We have a high rate of announcement index in the industry yes. More people announce deployments, than actually delivering them. Also many deployments are in cooperation with small and unknown companies and I do not believe that this is sustainable. It is the big brands (MTN, Orange, Vodafone, Standard Bank etc.) that will dictate the pace of penetration in Africa. Few suppliers are successfully deploying solutions to the big brands in Africa as many of the big brands (Vodafone, Zain etc.) have developed in-house solutions. We have now worked in many countries in Africa and have a keen understanding of the challenges and opportunities in these countries. I am doubtful of the likelihood of success of some of the solution providers (from the US and Europe) planning to offer their solutions in Africa.
PL: You said recently: "Mobile Money community is maturing. The fierce competitive spirit between different companies in the past has been replaced with a drive for open interfaces and creating networks of benefits for all connected parties". Do you believe that this will be a reality in the near future?
HV: Yes, the only way that we will win is if we work together to increase the market rather than using dubious tactics to fight over a smaller market.
PL: In Europe, while people are used to pay with plenty of payment methods, we see some NFC projects on a pilot stage, but most of the initiatives are focused on remote payments for small amount and mobile banking solutions linked to standard bank account. What's your perception of the mobile payment market in the mature countries?
HV: The value proposition of mobile payments in mature markets is not clear to me. While it is interesting to offer these types of solutions in first world countries, I have difficulty in figuring out a sustainable business model. Experience has taught me that it is folly to build a business on an assumption that is not sustainable. I also believe that, specifically in Europe, one is constrained by a too complex regulatory environment and an over-emphasis on standards. This is a very difficult environment to make headway.
PL: Do you have plans to launch something in Europe in the future? With which application would you do this, for example?
Having said this, we at Fundamo, with our vast experience in the deployment of mobile payment solutions and the patent portfolio that we have built up over ten years, have some product concepts and expertise that are specifically applicable in first world markets. I know that our experience in emerging markets have prepared us to launch winning products in Europe too. We are currently evaluating some of the best offers and will possibly be making some announcements before the end of the year. I would not like to say anything more at this stage, but you could expect something in the fourth quarter.
PL: As a conclusion. Every day, we observe new ventures, new startups emerging in this worldwide industry. Which advise can you provide to a mobile payment entrepreneur?
HV: Find something else to do. It is an extremely complex and tough environment and it is very difficult to make money. Deploying robust, production ready systems always take longer and cost more to get to market. If you still want to do it, then you should consider finding a niche application and develop a strategy to partner with the leading suppliers.
PL: Thank you again Hannes
HV: Thanks