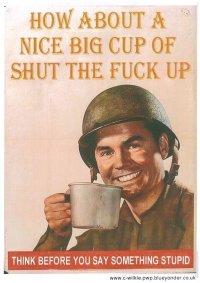 Oh nnnnnnnnnnnnnnnnno !!!!
Daniel a perdu son HU face au père de Shulman, futur November Nine du WSOP...
PAs de jeu mais beaucoup de café, le Kid a lutté mais perdu...
Un duel épique apparemment et DN n'a pas réussi à faire payé son adversaire super tight sur ses grosses mains.
Barry Shulman Wins the 2009 WSOPE Presented by Betfair Main Event (£801,603)
Good Lord, if there's anyone out there who still doesn't accept that poker is a sport, they should check out the stamina levels of these guys.
The uneven pace of this final table has been nothing short of gruelling for all involved, but none more so than Last Men Standing Barry Shulman and Daniel Negreanu. Their patience has been extraordinary, their caffeine consumption (at least Shulman's, anyway) verging on the legendary, and it has been a thoroughly deserved win for Mr. Shulman.
While two November Niners made the final table, it was another November Niner's dad who took it down -- Barry Shulman has proved today that the Shulman family are a force to be reckoned with at the felt, and his son Jeff can now get some inside information from him on how at least James Akenhead and Antoine Saout play to maybe help him out when he gets to the WSOP Main Event Final Table this November.
With the sun about to come up outside, the coveted bracelet has been placed on the wrist of the...
___________________________________________________________________________ 
Daniel Negreanu finishes as Runner Up (£495,589)
So, all in preflop, pair vs. pair, as one might expect, Daniel Negreanu, having come full circle back to short stack, had his tournament life on the line one more time.
Negreanu:  4 4 
Shulman: 10 10 
The 10 straight out on the flop brought a groan from the Negreanu supporters, and the rest of the board got him drawing dead by the turn: 2 K 3 Q . But both players were thoroughly applauded as the final hurdle was leaped.
Daniel Negreanu might have come so close only to miss out on the bracelet, but knowing that he's now topping the All-Time Money List must, surely, be some consolation for when he goes home and googles himself. That in itself is an achievement stretching beyond this one, admittedly highly prestigious, tournament.
___________________________________________________________________________
O. M. G.
Our final two saw a 5 8 J flop and Shulman bet 300,000. Negreanu responded by raising to 900,000. And Shulman responded to that by moving all in.
Negreanu turned to the rail in the hope that they might help him with his decision. "So you all wanna go home, right?" he asked them. "I'm not saying I'm gonna lose..."
"Ah, I shouldn't listen to the rail. I call."
On their backs.
Negreanu: A J 
Shulman: A A 
Oh dear.
But wait!
Turn: to massive screaming from the suddenly very awake crowd -- J