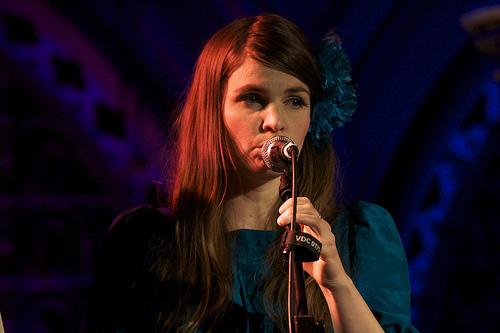 Focus on
Jennie Abrahamson
today.
I met her at the Sweedish Institut in Paris for Ane Brun's show. She was on stage as a chorus singer, and I've found her voice totally amazing... That's why during the after show I asked her if she would be ok for a little interview for Streetkiss Music
The next day she performed for the first time as a solo singer at Le Point Ephémère for a really great show !
Her second album, While The Sun's Still Up And The Sky Is Bright is out now !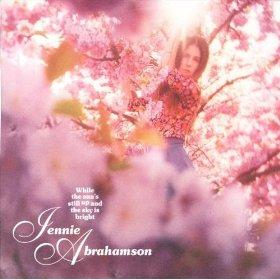 Jennie I love your music !
Interview !!
For people who don't know you, could you introduce yourself ?
I write songs and sing them. I come from northern Sweden, but I live in
Stockholm
. I was involved in releasing albums with different bands before I did my solo debut in 2007, with an album called "Lights". I've just recently released my second album in Sweden, "While the sun's still up and the sky is bright" (available worldwide online). I run my own record label, and on sept 23rd I played my first gig in France, at Point Ephémère in Paris.
What are your influences ?
I read a lot, so books are a big influential factor in my music. If I read something I like I fold the bottom of the page so I can find it again, so my books look rather funny after I've read them... Other than that I'm influenced by everything that happens around me, mostly people I'm close to and whatever they (or I) are going through at the moment. Musically; basically anything can inspire me. I grew up listening to Eurythmics, Kate Bush, U2,
Peter Gabriel
and Fleetwood Mac, and I still love that epic pop music. Nowadays I listen a lot to both Dylan and dancier acts such as Junior Boys, everything can be inspiring !
How do you compose and how much love is important in your songs ?
I usually write words and music at the same time. On my new album there's one song, "Sister Theresa", where I wrote the lyrics before
the music
. It was a test, and actually worked out. Love is an important theme in my songs since it's the only thing we all really have in common, it's the most important thing for a human being. To love and be loved. I also try to put a little of my love into my songs, of course...
What is Kool about Jennie Abrahamson ?
Oh, what is cool about me... I better let someone else decide that for me! But ok, one thing. It's pretty cool I run my own thing and have managed to take it this far. It's not always easy, being your own boss, but I have good friends in similar positions and we help each other out when thing's get difficult or when you have to take tough decisions.
What is Kiss about Jennie Abrahamson ?
Could you explain?
Do you mean Kiss as in
the band
Kiss or do you generally mean something loveable about me ?
If you were on the moon with your lover, You the got the choice of one and only song...It's:....?
I'd choose "1/1" by
Brian Eno
from the album "Music for airports".
What's you best memory on stage ?
There have been so many fine memories to collect over the years, and ususally what comes to mind is a recent memory... So right now I must say it's the guy who arranged a proposal to his pregnant girlfriend on our gig in Gothenburg on this tour. He e-mailed me in advance, since one of my songs was their favourite song, and I helped him set the whole thing up with spotlights on their seats and a microphone. So after I finished what was my usual set, I held a little speech and then passed it over to him. He did the most amazing proposal, she said yes and then I played "their" song. She didn't expect it at all. It was sooo beautiful !
Thank you very much Jennie and good luck for your brillant career !
What's your projects for the near future ?
Right now I'm on a tour with
Ane Brun
throughout Scandinavia, and we're not finished until mid november. On nov 17th we're going back to Paris to play Café de la danse, I'm really looking forward to that! After new years I'm going to do a tour in Sweden with my band, and I also hope to release the album physically in France and the GAS countries.
Jennie Abrahamson - Late Night Show
Jennie Abrahamson - What Is True