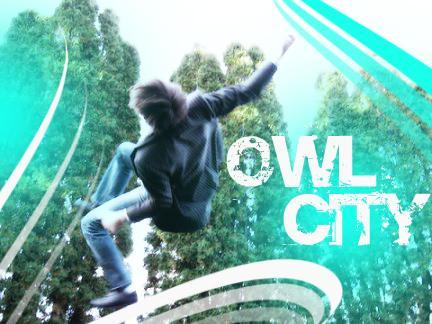 HM •
First of all, why did you choose Owl City as your stage name?

Owl City •

Because owls are widely known to be incredibly fast typists and since I did so well in Word Processing class in high school, I thought it only fitting. Mrs. Lickzeulemehr would be proud.


HM •

Could you describe your music in 10 words or less?




Owl City •

Diamond, gem, ruby, sapphire, emerald, pearl, agate, jade, sunstone, amethyst.


HM •

You've spent many years "under the radar" before your songs started exploding on I-Tunes. Now that "Fireflies" is a top 10 hit in the US, how does it feel for you?

What do you think is so special about that song?




Owl City •

I have no idea. I've heard of some people actually believing that fireflies are imaginary -- like unicorns or Santa Claus. Maybe lots of people think this. Since there are so many songs about Santa Claus, maybe this is why the idea is a pleasant one to them. I still have no idea.


HM •

Could you tell us more about Lights, who will soon be joigning you for a tour ? How did you discover her work?




Owl City •

I tripped and fell into a charming pile of LIGHTS after browsing online a few years ago. I think she's incredibly talented and it's an honor to be going out on the road with her.


HM •

Electronic music was not a genre that was particularly successful in the US - or so it seemed - until recently, with acts such as Hellogoodbye, or you. How do you explain this? Is there something more delicate, more subtle with this kind of music, which the listener may take some time to get?




Owl City •

I'm not sure. If I were a sociologist, I'd probably be able to come up with a smart answer. Since I can't, I prefer not to think about it.


HM •

Your music has a very etheral, dream-like sound - it sometimes seems that it is meant to talk to the child inside each of us (especially Fireflies). There is definitely a real nostalgic dimension in some of your work. How do you relate to that ?

Is there something at the core of your creative process?




Owl City •

I was born in the late 80's, an era in the United States that had a very specific "element" -- something that is still recognizable today as "being from the 80's." I like things that remind me. Retro. I like the idea of music doing that and I think it's a fun challenge to attempt to take listeners back.


HM •

What inspires you, while writing and comosing songs?




Owl City •

Nature documentaries, children's books, anthropomorphic literature, 1940's film noir and of course, pizza.


HM •

Echoing this idea of nostalgia of childhood, the clip of Fireflies plays with that. How did the idea of the video come to you?




Owl City •

It was sorta like a dream... no... better.


HM •

What are you working on, right now? Any particular project?




Owl City •

The wheels are turning. Not sure what'll get turned out next, but I'm incredibly excited about what's going on.


HM •

Finally, we have some really quick random questions:


HM •

If we looked in your I-Pod, what would we find?




Owl City •

A ridiculous amount of Shaquille O'Neal rap songs.


HM •

What was the last album you bought?




Owl City •

"Music for Falling from Trees" by Peter Broderick


HM •

Who would be your dream collaboration and why?




Owl City •

Johnny Cash. Because his songs get stuck in my owl head.


HM •

Maybe a last words for our readers?


Word.