Giving without expecting anything in return, working numerous hours without counting – nor billing, being involved in a team project without competing against each other, switching off your computer with the satisfaction of having achieved something good.
Should the definition of a perfect world be where all you get for your hard work is a rewarding big smile on people's faces?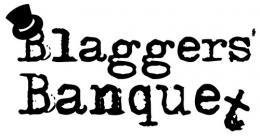 Imagine a world where you don't go to work just for the sake of work, where your main objective isn't keeping your boss or client happy and where productivity and stress are pleasant notions.
A utopia, you would think. Let's call it a dream. A dream that you can make come true. And we did.

On November 15th, based on an idea and the perseverance of Eatlikeagirl, food bloggers organised a Blagger's Banquet at Hawksmoor to raise funds for Action Against Hunger. During two weeks, bloggers blagged in their spare time and over nights to collect ingredients for the menu and prizes for the auction. On the day itself, the persevering bloggers dedicated their Sunday to cook, serve and entertain the 50 guests who attended this first-of-kind event.
The result? More than £3,000 collected for charity on the night, happy and thankful guests, and a bunch of bloggers tired but proud of their achievement.
So, yes, we can.
Life is not just about money and making our big productive machine of world go round. Life is also about dedicating time to others and lending a hand to deserving causes. We can make this dream come true and we did.

But the dream wouldn't have been possible without the help of food and wine suppliers, restaurants, PR companies and all the people that provided prizes for the auction.
The dinner wouldn't have happened without wonderful cooks, terrific barmen and sommeliers, an efficient front-of-house team, queens of goodie-bags, motivated blaggers and generous donators.
But, before all, the event wouldn't have seen the light without the strength and will of Eatlikeagirl
Bravo, Niamh, du fond du cœur.
I remember that movie about a boy wishing for a better world, where he dreamt of people holding a candle and passing it on.
That night, brands, restaurants, musicians and bloggers combined all their forces for Action Against Hunger.
That night, I got involved in my first ever charity action.
That night, I was proud of the world.
Thank you everybody. You made a dream come true.
It is now your turn to pass it on. Go to auction.
—————
Blaggers Banquet Menu
15 November 2009
Menu conceived by Signe Skaimsgard Johansen with Danny Kingston, Charlie Nelson, Neil Rankin
—
š Canapés and table nibbles š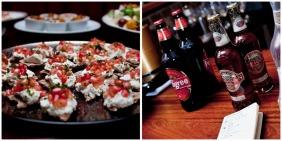 Fresh goats' cheese and pomegranate crispbreads with a salty vanilla twist and fresh chives
(Brockhall Farm, Abel & Cole, Peter's Yard and Halon Mon)
Buffalo mozzarella, tomato and fresh basil brochettes with a pesto dip
(Laverstoke Park, Abel &Cole and Purely Pesto)
Crispy chicken skin bites (Silfield Farm)
Cheddar Gougeres with thyme (Barbers 1833, Abel & Cole)
Spicy Bar Mix (Munchy Seeds)
The canapés were offered with a choice of the following
(also available throughout the evening from the bar):
Chapel Down Pinot Reserve 2004
Albarino Laga de Bouza 2007 (The Wineaux)
Sipsmith's Gin martini
Sipsmith's Vodka Martini
Sipsmith's Gin or Vodka and Fevertree tonic
The Blaggertini(Sipsmith's vodka, Chegworth Valley Apple and Raspberry juice, Galliano Balsamico)
Cornish Cocktail (Bramley & Gage Quince Liqueur, Chapel Down Sparkling Wine)
Black Velvet (Chapel Down Sparkling Wine and Porter)
Marston's Pedigree
Innis & Gunn
Fullers London Pride
Daas White
Chapel Down Brut
Chapel Down Porter
Firefly Tonics
Chegworth Valley Apple Juice
Chegworth Valley Apple and Blackberry Juice
—
š Starter š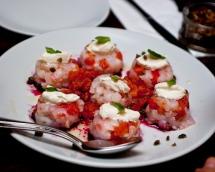 Monkfish and beetroot tartare with tomato salsa
(Fish for Thought, Abel & Cole)
Brewery Hill Chardonnay/Viognier 2008 (Naked Wines)
—
š Main Course š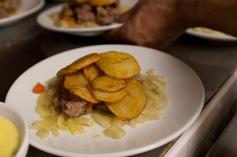 Grilled buffalo steaks with bearnaise sauce (Laverstoke Park)
Winter Beef Stew (Donald Russell)
Lamb hotpot (Donald Russell)
served with a selection of seasonal vegetables from Riverford organic
and handmade sourdough bread from St John Restaurant
Quinta do Lagoalva 2004 (Casa Leal and Viniportugal)
The Pastor's Blend Journey's End 2007
—
š Dessert š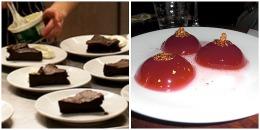 Golden Chocolate Fondant served with Crème Fraiche
(Trish Deseine, Easy Tasty Magic and Sainsbury's So Organic)
Titillating Jellies from Bompas & Parr
Lorca Fantasia Malbec 2008 (Naked Wines)
Castello Romitorio Morellino di Scansano 2007 (The Wineaux)
—
š Cheese š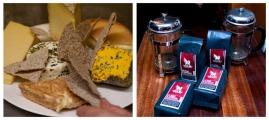 Barbers 1833 Vintage Cheddar
Brockhall Farm Chive Goats Cheese
Trethowans Dairy Gorwydd Caerphilly
A selection of deliciously fragrant cheese from Pong's
Served with Peter's Yard crispbread and a selection of seasonal fruit from Abel & Cole
Albarino Laga de Bouza 2007 (The Wineaux)
š And…
Coffee from Square Mile with milks from Sainsburysn,
Brockhall Farm and Lahloo Tea
Chocolate truffle by Lahloo tea and Damian Allsop
We also used ingredients throughout the menu donated by the following:
Abel & Cole – herbs
Billingtons – sugar
Halen Mon – flavoured salts
Hill Farm – extra virgin rapeseed oil
Maldon Salt – salt and pepper
Riverford Organic – assorted vegetables
Sainsbury's – all dairy produce except cheeses and goats milk
Silfield Farm – chicken used for stock
Pictures from www.foodbymark.com & www.tehbus.com Posted in *JUST A THOUGHT, *RESTAURANTS & Co. Tagged: Blagger's Banquet, Eatlikeagirl, Hawsmoor