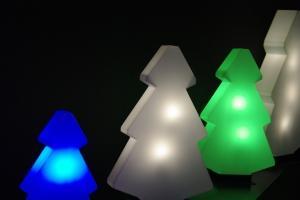 Time has come again for streets to exhibit their most creative decorations, showing off to all those scrambling in search of the ultimate gift.
Time has come again for houses to set up beautiful Christmas trees with lights a shine and ornaments a glitter while the wood is crackling in the fireplace.
Time has come again for what is considered to be one of the most important family times of the year by many.
Time has come again for the host to work on the Christmas dinner menu and impress the guests.
Time has come again for Christmas. Whether you like it or not.
Some will wonder why there is so much fuss over something that doesn't really mean anything to them or that may bring up bad memories.
Others will be looking forward to enjoying a glass of mulled wine while listening to Christmas carols.
Surely enough, rushing through stores to find the perfect gift may not be the most enjoyable aspect of this time of year but Christmas isn't just a painful experience: Christmas gives us the chance to put a smile on people's faces, when they see the festive colours in which our houses are decorated; Christmas is the good excuse to do something good for people who are in a need; Christmas is one of the rare opportunities to share a meal with 30 people joking and laughing around a table.
At Taste of Christmas, it was time for food producers and restaurants to showcase their best ingredients and menus to the attendees looking for the solution that would turn their dinner party into a feast.
Not as big and appealing as its big brother 'Taste Of London', the Christmas edition was however a good opportunity to see how Christmas was going to taste for the exhibitors – Their worst Christmas nightmare, the ingredient that they will always use for Christmas or where they would like to be for Christmas. Points of view can be so very similar and yet so very different!

Brendan Fyles – Bentley's
"My worst Christmas nightmare would be to have a ruined turkey for lunch. On the other side, I will always go for Port and Stilton to share at home with my family."
The fish pie was the star of the menu at Taste. Rich with full of flavours, one of the best fish pies I  have ever tasted.

11-15 Swallow Street
London
W1B 4DG
020 7734 4756
www.bentleys.org


Alfred Prasad – Tamarind
"When I was a young boy, my mom put me in charge of looking after the plum cake in the oven. But our oven didn't have a timer at that time and the turkey burnt in it. This Christmas nightmare will stay in my mind forever! As I come from a Christian family, we can't celebrate Christmas without a good roast Turkey. For Christmas, I will be in India with my parents as the weather is too hot for me to go back home during summer."
The tree dishes showcased at Taste gave a very good introduction of what Tamarind features on its menu: an intense, tasty and yet delicate Indian cuisine.

20-22 Queen Street
London, W1J 5PR
020 7629 3561
www.tamarindrestaurant.com


Francesco Mazzei – L'Anima
"I had my worst Christmas nightmare last year in Disneyland where we went with my family. The food was absolutely horrible and the staff didn't know how to look after the kids. Such a nightmare!
My favourite ingredient for Christmas? Baccalà (salt cod). For Christmas, I would like to cook for people who can't afford a Christmas dinner and who are in the street."
The first spoonful of the creamy Panettone served with melted dark chocolate was a 'délice' and a true revelation for the palate. The risotto was rich and well-cooked in the true Italian way.
1 Snowden Street
London, EC2A 2DQ
020 7422 7000
www.lanima.co.uk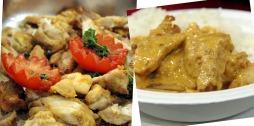 Mustapha Laaziz – Jom Makan
"Fortunately, I have never experienced a Christmas nightmare and I'm very happy like this! In Malaysian cuisine, you will always find ginger, lemongrass, chilli paste and tamarind in Christmas meals. We can't live without it!
For Christmas, I'm looking forward to going to France and spend some time with my fiancée."
The Malaysian cuisine can't live without the magic ingredients and Jom Makan managed to combine all of them to create an interesting combination of flavours.
5-7 Pall Mall East
Trafalgar Square
London, SW1Y 5BA
020 7925 2402
www.jommakan.co.uk


Danny Russel -Freedom Food
"My worst Christmas nightmare would be to have a white Turkey for lunch! For Christmas, I'll be in Switzerland with my family, treating myself with the ultimate ingredient for this time of the year:  Wagyu beef."
Wagyu beef had been a reference amongst food bloggers for a while and everybody is in love with it. Tender and  tasty, it goes very well on a piece of bread with a slice of foie gras.

Unit 43, London Stone Business Estate
Broughton St
London, SW8 3QR
020 7720 4520
www.freedownfood.co.uk
Rodof Le Roux - Nudo
"The worst Christmas nightmare? That all the Nudo trees don't find a home! The Nudo thyme oil adds a great flavour to roast potatoes, games and butternut and it should be the ingredient to have in every home for Christmas!
I will go to Cape Town to spend Christmas with my family, where it's hot and sunny."
Nudo's olive oils come in different flavours and really add a good flavour to the dishes. The idea of adopting a tree and receive all the produce from it is a creative gift for someone looking for a unique Christmas present.
020 7617 7235
www.nudo-italia.com
Joanna Plumb - Edible Ornamentals
"I think the worst thing that can happen at Christmas will be to spend the day by myself but hopefully, I will be in Sicily with my family, spicing up the dishes with some fresh chilli!"
Hot, hot, hot are the chilis that Joanna and the Edible Onarmentals team look after everyday in their nursery. Provider of the mexican restaurant Wahaca, the team spent all their time and efforts to produce the best chilis for spicy food fans.

Cherwood Nursery
Blue Bells, Chawston
Beds MK44 3BL
01480 405663
www.edibleornamentals.co.uk
Alison Lea-Wilson – Halen Mön
"Spoiling the Christmas dinner would be the worst thing to do at Christmas. However, with some Halen Mön spicy salt that adds a great flavour to the Christmas meal, people should have a great time! On my side, I will be at home with my family."
The story started 10 years ago when the company to supply their local butcher and since then, the sea salt from Wales has become a real success, being distributed in 22 countries and used in ones of the best restaurants all around the world.
Brynsiency
Isle of Anglesey
Wales
LL61 6TQ
www.seasalt.co.uk
And the time has come to wish you … a Merry Christmas!