HEAVEN. A place where everything is beautiful and colourful and where life is a big bowl of sweets. . Just like these huge white clouds like comfortable puffy cushions, on which you could lie down and enjoy a moment of plenitude.
On these clouds, time would run slowly and life would run so smoothly. Pink, blue, yellow, green… Bright colours would be shining everywhere and black wouldn't exist. Flowers and ribbons would be the most used ornaments and people would smile and be polite to each other.
It might be the definition of a nightmare for some but who hasn't dreamt of a place where for once, everything is beautiful and charming?

On a cold afternoon, my feet brought me to Bea's of Bloomsbury to enjoy the famous cakes and pastries that everybody has been talking about. I have never been to heaven (well, not yet!) but I think that day I got a pretty good idea of what I would like my heaven to look like.
Pink cupcakes, puffy meringues, huge white wedding cakes with sugar flowers and ribbons…  Everything looked so gorgeous and delicious. The place is run by the lovely Bea since 2008, who just wanted to open a shop that serves good food.
"I originally was a pre-law major at Cornell University studying biomedical ethics.  But I was spending more time in the kitchen than I was in the library.  I love the activity of baking, that there is constant motion, and that you will never feel accomplished, because your to-do list just gets bigger and bigger, so it's never boring," said Bea Vo.

Bea's of Bloomsbury is a tiny place where, you have to book your place early to secure a seat for a well-deserved afternoon tea. "The shop originally was supposed to be a small takeaway place and somewhere to buy cakes. The afternoon tea and coffee reputation was an unexpected surprise."
"We're not the most luxurious place, or have the absolute best pastries in the world, but what we want to do is create food memories, and for people to have happy food memories. I have lived amazing experiences with regular customers whom some of them clean up their own tables, and give us Christmas cards and gifts and treat us like part of the family."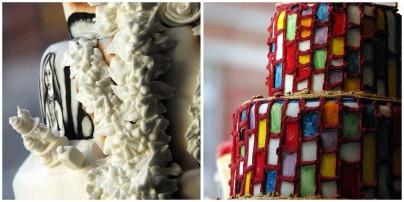 Bea's of Bloomsbury is a place where memories live forever, where people come because this is where they got their wedding cake and they now come back for their kids' birthday cakes.
"We want to be the neighbourhood bakery with whom you celebrate all of your major occasions. Pastry is eaten to be enjoyed and celebrated with.  For every special occasion, whether it be birthday, graduations, bar mitzvahs, etc. Something sweet is always involved, across all cultures and that what makes it quite special."

Bea's of Bloomsbury welcomes you every day of the week to make your life tasting sweeter, as a step away to heaven.
Well done, Bea!
Bea's of Bloomsbury
44 Theobald's Road
London WC1X 8NW
0207 242 8330
www.beasofbloomsbury.com
Posted in *RESTAURANTS & Co. Tagged: afternoon tea, Bea's of Bloomsbury, cakes