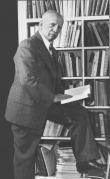 Dr. Carter Woodson, Founder of Black History Month
February is Black History Month. But you will be wrong to assume this month is only a way for black people to celebrate. 
Non-black students from the San Diego campus of the University of California have recently organized a student party untitled the "Compton Cookout". The event was planned for the 2010 Black Month History.
 While the media have accused these students of racism, the hibiscus thinks they should also be accused of plagiarism. 
Indeed, the required dress code for the party is nothing more than a copy-pasted version of a definition found on Urban Dictionary, a ghetto version of Merriam Webster and Cie. Here is how the attendees had to dress and act in order to pass for blacks: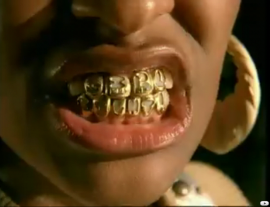 A ghetto chick wearing gloden teeth - Girlfight video by Brooke Valentine
For girls: For those of you who are unfamiliar with ghetto chicks — Ghetto chicks usually have gold teeth, start fights and drama, and wear cheap clothes — they consider Baby Phat to be high class and expensive couture. They also have short, nappy hair, and usually wear cheap weave, usually in bad colors, such as purple or bright red.
They look and act similar to Shenaynay, very loudly and (…) have a very limited vocabulary. (…) And attempt to make up for it, by forming new words, such as « constipulated », or simply cursing persistently, or using other types of vulgarities, and making noises, such as « hmmg! », or smacking their lips, and making other angry noises, grunts, and faces.« 

No endorsement, no punishment
Once more, officials from the University of California have to apologize. In 2007 already, Berkely the oldest of their ten major campuses was also affiliated with similar parties. Attendees of the "Border parties" were invited to dress as Illegal Immigrants as they try to cross the « border » separating Mexico and the U.S.
The only difference of course is that they didn't get ripped off in order to be at the mercy of coyotes and pirates with no qualms and also they don't have to live the permanent stress that comes with being an illegal resident.
If the students from the Berkely campus were penalized, those from the San Diego campus (UCSD) got away with it.

Jeff Gattas, UCSD's executive director of communications and public affairs declared that they "were distressed to learn that over the weekend an offensively themed student party, mocking the commemoration of Black History Month, took place off campus." They "condemn this event and the blatant disregard" of their campus values.

What's more interesting however, is what the school will do to these students. Nothing. 
Since "it wasn't a UCSD-sanctioned event, or run by a student organization, it doesn't appear that there was a technical violation" the UCSD has no "reason to penalize them."
We did not expect better from a higher-education establishment.
In an attempt to minimize growing racial tensions, the school has recycled a 2006 project that never flew.
The Black Student Union had previously asked the school to take action because the African American students – that account for 2% of the University – felt fearful on the campus.
Four years later, the school is now considering the following recommendations:

- making greater efforts to recruit minority faculty

- forming a commission to address the campus climate

- ensuring ongoing funding for the chancellor's diversity office

- creating an African American Resource Center and establishing quarterly meetings between the administration and members of the Black Student Union.
UCSD students: We are not racists
But don't you dare accusing the UCSD students of racism. The 519 members of the Facebook group 
UCSD Students Outraged That People Are Outraged About The Comptom Cookout seem to believe they are victims of "political correctness gone too far".
Their advocacy?
Do you listen to rap or hip-hop music? If you do, then I think you are automatically disqualified from being « outraged » by the Cookout, and you should refocus your attention on some REAL racial/political issues.

Are black people partly responsible of the offense?
Black television feeds the most racists with arguments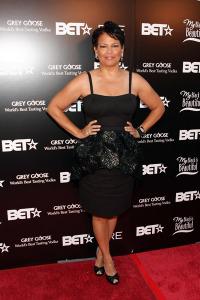 Debra Lee, President and CEO of BET
Our best bet is that the student from UC San Diego have also been studying videos on the Black Entertainment Television (BET). BET is an American cable network targeting young African-American audiences. The current president and CEO of the BET Holdings Inc. is Debra Lee, an African American businesswoman, holder of a bachelor degree in poilitcal science.
One of the editor of the Cluth Magazine wrote a letter to Debra Lee in which he explains why the young African-American feel insulted by BET, nicknamed Blacks Embarrassing Themselves for the occasion.
The President of the channel has also see her house surrounded with protesters rallied by the Enough is Enough movement.
In 2008, the group Enough is Enough has backed a report from the Parent Televison Council on BET and MTV. The report claimed that BET rap programming contains gratuitously sexual, violent, and profane content, was targeting children and teens. 
The programming choice of the black american channel « perpetuates and justifies racism by affecting the interpersonal beliefs others may generalize about African Americans, and also by affecting the psyche of its young viewers through its bombardment of negative images of African Americans. »
We are in 2010 and this is the story of black people: if you keep mocking yourself, you will always find others who will want to join the party.