Hi everybody, I'm going to discover the urban jungle of Brooklyn all the month of August. I'll share with you each new music things that I'll discover. For the little history, I've met Matt at the Real Estate show at le Café de la Danse, May 26, 2010. I couldn't wait till August to have some answers about his music project Ducktails, so I decided to interview him by mail. Here is my first Delicious Scope, I hope that you will like it!

Well, could you introduce yourself and your music to our readers?
Hello, my name is Matt Mondanile and I play in Ducktails and Real Estate. Two bands from New Jersey.
I've discovered your music by following a label that I really like, Olde English Speeling Bee, can you say a few words about this?
Olde English Spelling Bee is a really cool label run out of Brooklyn by one man. He has been doing different record labels for a while. Before OESB, he had a label called Bobby Jay Records.
When did you start playing music and recording and why?
I started playing music when I was in middle school, probably around 12. My first instrument was the drums. I started taking lessons when I was around 10 or so. Then I got really into guitar later on and my friend Julian Lynch helped me learn guitar. We also had the same guitar teacher, Tony Scally, also from New Jersey.
Can you tell me more about your others music projects The Parasails, Predator Vision and Real Estate?
The Parasails is a tape I made that had a little different feel than Ducktails, so I named it differently and presented it as a different release. Predator Vision hasn't played for a while, but we are a psych kraut kinda band where we jam and take drugs. That hasn't happened for a while. Real Estate is a pop band that I play guitar in, I write some of the songs and guitar parts.
I also read the article about « chillwave » in the Japan Times, and I'm totally agree with « Whatever you do, don't call it « chillawave » « , can you explain why you hate this term and why tapes are so important to you?
I don't mind the term.  It's just stupid. Tapes are important because they are physical and real unlike CD's or download cards. If you throw a tape at someone, it will hurt them. Tapes are heavy.
I recently saw that you like the band Cleaners from Venus and Charles Berlitz which is so great! Why do you like this sound and Pacific City, and what are your others influences?
This sound to me is very natural and organic. It is someone recording music in there basement or somewhere for themselves for creative purposes not for anyone else. It is like peeking in on someone's world and being invisible. Without them knowing who you are.
You also did shows in beautiful countries like New Zealand and Australia, can you tell me what can be your next dream travel show?
I think my next dream travel show will be in either Greece, Turkey, or Israel. I am touring there with Dolphins into the Future in September.
You just came back from tours in Europe and California with  Real Estate, what are your best memories?
The Primavera Festival in Barcelona was amazing. It was the biggest show I ever played. I looked at sailboats and cruise ships in the ocean while I played on a huge stage. After Primavera, I went solo to Lisbon, Portugal. I spent about a week there. It was the best time. I love Portugal and this was my third time there. It totally rules. I want to move there really bad. I have a friend there named Marta and she has a scooter. So I spent a week on the back of her scooter, just hanging around. I also played a Ducktails show there and it was awesome. They showed a Sublime Frequencies film before my set which is called « My Friend Rain ».
When I'm listening to your music, it's always tropical summer in my ears. What is a perfect summer day for you?
A perfect summer day to me… riding in a car after going swimming. Sleeping in a sleeping bag outside next to a river in Big Sur, CA. Riding on the back of Marta's scooter.
What are your dream projects now? A thing that you want to share?
I am working on a new record called Ducktails III : Arcade Dynamics. It is going to be released by Woodsist in Autumn. I am pumped about it. When I get a little bit older and get wrinkles, I am going to make an epic Italo Disco records with lots of big bulky equipment. Hopefully I won't live with my parents by then.
Thank you Lea !!!
P.S. : The (or one of the) best episode of the a m a z i n g TV show Seinfeld?
My favorite episode of Seinfeld is where Jerry and George devise a plan so that George get can with his current girlfriend's roommate. The Roommate Switch!
Byye! Pizza time.
Thanks Matt, see you soon.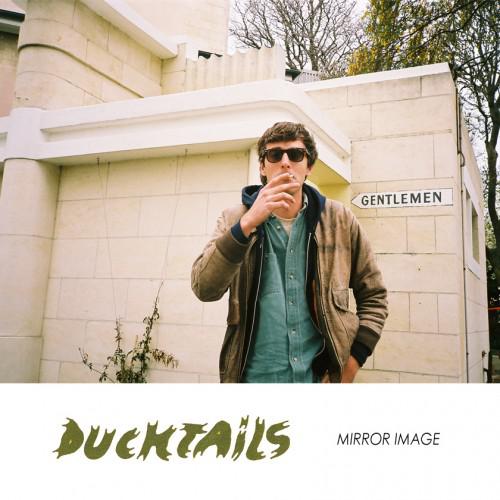 [MP3] Ducktails – Apple Walk
[MP3] Ducktails – Mirror Image
Ducktails – « Mirror Image 7 inch » is out on Shdwply Records, a cool independent record label from Norfolk, Virginia.