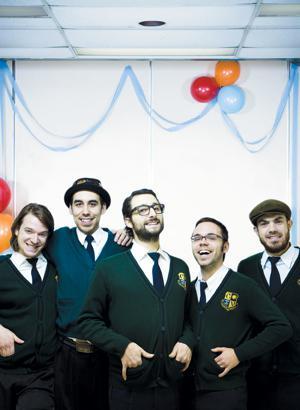 I'm predicting a gamechanging Polaris Music Prize
Another year of debate, discussion, discourse and disagreement comes to an end tonight, as the fifth annual
Polaris Music Prize
is handed out at Toronto's Masonic Temple.  
The Besnard Lakes, Broken Social Scene, Caribou,
Karkwa
, Dan Mangan,
Owen
Pallett, Radio Radio, The Sadies, Shad or
Tegan and Sara
will walk away from the night's festivities with some extra cash in their pockets and the right to brag that their record was deemed the greatest artistic achievement in Canadian music this year.
And then tomorrow we start thinking about Polaris 2011.  But, let's not
rush
things yet.  There's still a matter of tonight's Gala to contend with.  All 10 acts will be performing at the ceremony tonight, making it the second year in a row that all the nominees have been able to attend.  That to me is a sign that all these musicians, and
the music
community in Canada, has respect for Polaris and its mandate.
There's been plenty of speculation and
odds
laying as what what the night's outcome will be.  Fellow jurist Aaron Brophy did a great job of laying odds on the Polaris race, and so too did the Globe and Mail's Brad Wheeler who is also a Polaris jurist.  Wheeler also had an interview with Polaris founder Steve Jordan in Saturday's Globe, wherein discussions ranged from why Bublé didn't get nominated (Jordan: "n
ot enough of the jury liked it enough
") to who he thinks will walk away with this year's prize (Jordan: "
I can say with 100-per-cent certainty that one of the 10 nominees will take it this year. My money's on them.
").  I can say with about 100-percent certainty that some of my fellow bloggers are out there working on their own prediction list at the same time I'm writing mine, so I'm sure that by the time you read this, a
quick
Google
search will result in a glut of predictions to pick your way through on Monday morning.
So, you want to know what I think is going to happen tonight, right?  Well, I'm a bit leery to say.  In the last two years, when I started venturing a guess as to what the Polaris outcome would be, I've I've predicted right only once.  Of course, we'll never know exactly what happens in the jury room that leads to the announcement of the winner, but in the scenario playing out in my head, it goes a little something like this:
Dan Mangan
, the proverbial nice guy of Polaris 2010 has a lot going for him, including a stellar record in
Nice, Nice, Very Nice
but the greatest artistic achievement of the year it is not.
Tegan and Sara
might face a similar fate as Mangan, but I think there's enough support for them that they'll manage to stay in the game as as
Broken Social Scene
and
The Sadies
duke it out.  Again both of their records are easily the best of their respective careers, but Polaris is not about rewarding life-time achievement, it's about capturing the moment.  In the
battle
royal in my mind, both BSS and
The Sadies
will face elimination by way of canceling one another out.
Tegan and Sara's stiffest competition is going to come from
Radio Radio
, their polar opposites in this Polaris race, and arguments will likely be made in both their favours… until someone on the jury realizes that no one has mentioned
Caribou
and
Owen Pallett
yet and the debate on whether they can, should and will award the prize to a previous winner will ignite faster than a tumble weed in Satan's inferno.  Caribou and Pallett will leave T&S and Radio Radio in the dust and out of the running as the merits of their two records get battered about:  both are a greater achievement than their previous winning records, and both have pushed these two artists into new realms.  That leaves the rest of the field to try and match these two Polaris powerhouses.
And they do. 
Shad
has managed to cross genres and make old-school hip hop sound fresh and new to an audience that was never really interested in it the first time around;
Karkwa
have risen about the stigma of being called the Quebecois
Radiohead
and proven that they can do sentimental and sensitive as well as quirky and experimental;
The Besnard Lakes
turned in an album of epic grandeur that was neither pompous or predictable, just compelling.  It's at this point where the race to Polaris 2010 kicks into high gear and rounds the final corner.  The non-committing chicken in me would say that Polaris it will be awarded to one of these three, but I have to push on and make a final choice.  The two Quebec-based bands will likely cause a divide among the jury, but my feeling is that Karkwa will arise victorious from that pairing, leaving them to face down London's Old Prince.  It'll get ugly.  It will get very ugly.  Either one is a worthy winner.  but as the dust settles, and the bell rings to mark the end of the match…
It'll be
Karkwa
who'll take home Polaris 201 for
Les Chemins De Verre
.
MP3: Karkwa "Les chemins de verre"
Myspace: Karkwa
Facebook: Karkwa

From Quick before it melts Monday 20 September 2010