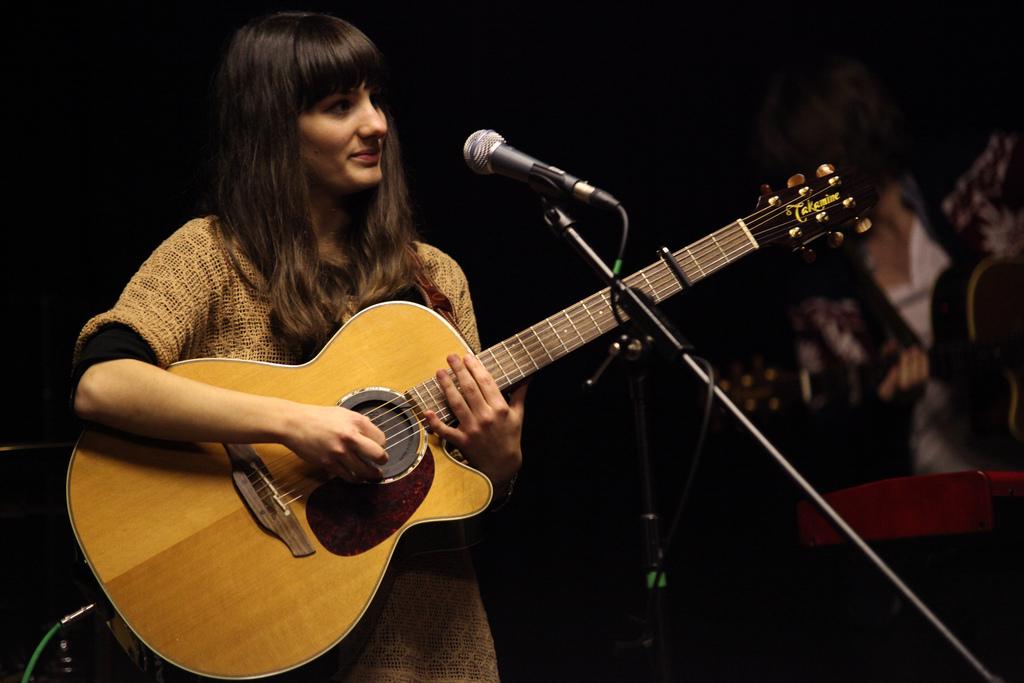 I contacted the band Ellen and the Escapades before their show at the Lexington and they were very kind to spare me some time for an interview and an acoustic session. Ellen and the Escapades is a band that I was really looking forward to see on stage and I thought I could do more than just attend the show so I was on my way to my first interview and first acoustic session as well. It was clearly nerve-wrecking because I had never done that before and I bought some new material that I didn't really have the chance to test beforehand as well. It was definitely a jump into the unknown. For some reason, I wasn't that worried but mostly highly motivated to make my best and get the job done.
I arrived at the Lexington, a very nice venue in London, I went upstairs and finally met the band. They were about to do their soundcheck. I introduced myself and offered some chocolate and tea, which pleased them a lot. I then listened to the soundcheck and the rest of the day already looked promising. I especially noticed two new songs that sounded really good. We had to wait until the other bands finished their own soundcheck to do the acoustic session.
Before this trip, I was particularly impressed with the song Yours to keep and logically this is the one I requested. Jeff was facing Ellen and Chris and I wanted to circle around them while filming. I didn't want to make one of those static videos, although I still put one of my camera on a tripod as a backup just in case. I really wanted to do a hand-held video which would provide movement and basically a different view from the band than we usually have.
I had a device around my neck to keep my camera stable but even with that it wasn't easy but the recording went very well and Ellen's voice was absolutely amazing. The band kindly accepted to record another song. After some hesitation, I asked for This ace I've burned with Andy and James joining the trio. I was much more comfortable for this second song and it showed in the video as I controlled the movement much better. They played beautifully and it was so nice to see a band in a different context working out its magic in front of me. At that point, I was happy and especially relieved, the footage could have been better but it could also have been much worse. I was quite happy to not have messed up things and not waste their time.
Ellen and the Escapades - Yours to keep
Ellen and the escapades - This ace I've burned
We had to leave the place as the staff was about to get the room ready for the first show so we headed towards the dressing room where we recorded the interview. It was my first interview with a band and Ellen and the Escapades were so great, they were very relaxed and easy to talk to. I brought up different subjects like Glastonbury, facebook, tour logistics, expectations and got some interesting answers.
 Ellen and the Escapades - Interview
After all was said and done, I had the feeling that I did a decent job for my first assignment but I first and foremost need to thank the band for making feel so welcome as they clearly went out of their way to make things easy and smooth. it was an incredible experience to get to know the band in a way that I didn't have the chance to do before. It was also very humbling because everyone was so perfectly focused and interested. If you don't know it yet, Ellen is a darling. She has a calm and soothing voice and an adorable smile. She plays with a very nice group of guys and the chemistry is so obvious between them. It's no surprise that more and more people come to see them because of their talent and also their charming personality.
Later that night, they played a fabulous show, which exceeded my highest expectations and I was so grateful to support such a deserving band. It was easily one of the best days ever and it was great honor to meet and work with Ellen and the Escapades. I send my deepest thanks to Ellen, Chris, Jeff, Andy, James, John and Andy at Landslide management for making this day possible.