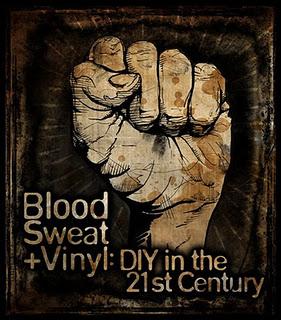 Un bien beau cadeau de Noël pour moins de 40 euros (limité à 2000 exemplaires):
Blood, Sweat, and Vinyl: DIY in the 21st Century
www.bloodsweatvinyl.com
Trailer: http://vimeo.com/27041738
(2011, 91 min, Produced & Directed by Kenneth Thomas)
Blood, Sweat & Vinyl: DIY in the 21st Century (Trailer)
from
kenneth thomas
on
Vimeo
.
This captivating documentary is the product of five years of obsessive filming of live concert footage, exclusive interviews, and historic documentation focusing on three fiercely independent music labels and their bands. Featuring Neurosis, ISIS, Godspeed You! Black Emperor, Pelican, Oxbow, Evangelista, Thee Silver Mt. Zion Memorial Orchestra, Cave In, and many others whose music and art found ideal homes in the artist-run record labels of Hydra Head, Neurot, and Constellation. These labels combine hard-to-define, heavy music with a visual aesthetic that has enraptured worldwide fans, without the need for radio or corporate media outlets. They uphold the legacy of treating music as an art form, not as a product. This film is an answer to those who question where the spirit of punk rock is today. Over 20 bands and visual artists.
3 record labels.
1 philosophy.
"Blood, Sweat & Vinyl provides a keen glimpse into crucial corners of the modern music universe where corporate concerns are disregarded and the artists are given (and receive) the respect they deserve."
- J. Bennett, Decibel Magazine "It's the perfect documentary to make a statement for independent labels, record collecting and general admiration for bands that we love and admire, documenting their influence in a very humbling way… when is part two being made??"
- Lauren Barley, Rarely Unable "It's a goldmine of exclusive footage for fans, but it's also a compelling piece for curious onlookers… It'll make you proud to listen to this music."
- Etan Rosenbloom, www.metalsucks.net
The
Blood, Sweat + Vinyl: Limited Edition
2-DVD Box Set
includes:
Documentary DVD (90 min)
Extras DVD (114 min)
Exclusive live concert footage of: 1. ISIS "Gentle Time"
2. Thee Silver Mt. Zion Memorial Orchestra
"Take These Hands and Throw Them in the River"
3. Grails "Silk Rd"
4. Do Make Say Think "Ontario Plates"
5. Jesu "Silver"
6. Made Out of Babies "Wounded Rhino"
7. Neurosis "Distill (Watching the Swarm)"
8. ISIS + Tim Hecker – Live improvised collaboration
9. Evangelista "Hello, Voyager!"
10. Oxbow "Stallkicker"
11. Neurosis "Water Is Not Enough"
12. Cave In "Juggernaut"
13. Pelican "Last Day of Winter"
14. Thee Silver Mt. Zion Memorial Orchestra 

"North American Motor Over Smoldered Field"
15. ISIS "Carry"
DVDs are Region-Free NTSC 
French and Spanish subtitles
Full color booklet with band profiles, production notes, and photo diary of film.
Bundle of film merchandise goodies.
PRESSKIT :
Press Sheet Film Description Blood, Sweat + Vinyl Logo Film Stills Director's Bio – Kenneth Thomas Photo – Kenneth Thomas
File name: BSV-Press-Kit.zip
File size:3.03 MB
COMMANDER