Les Grammy Awards ou Grammies (initialement les Gramophone Awards) sont des récompenses créées en 1958 qui sont décernées chaque année aux États-Unis par la National Academy of Recording Arts and Sciences et honorent les meilleurs artistes et les meilleurs techniciens dans le domaine de la musique.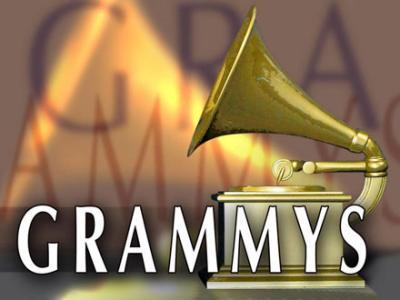 Cette cérémonie est marquée par le décès de Whitney Houston, le 12 février 2012.
Beaucoup d'artistes feront un hommage à la diva à cette occasion.
Adele – Rolling In The Deep – Song of the Year
Voici la liste des nominations, les noms des gagnants sont surlignés en gras :
Best Rap Album
- Watch the Throne, Jay-Z & Kanye West
- Tha Carter IV, Lil Wayne
- Lasers, Lupe Fiasco
- Pink Friday, Nicki Minaj
- My Beautiful Dark Twisted Fantasy, Kanye West
Best Dance/Electronica Album
- Scary Monsters and Nice Sprites, Skrillex
- Zonoscope, Cut/Copy
- 4×4=12, Deadmau5
- Nothing but the Beat, David Guetta
- Body Talk, Pt. 3, Robyn
Best Pop Vocal Album
- 21, Adele
- The Lady Killer, Cee Lo Green
- Born This Way, Lady Gaga
- Doo-Wops & Hooligans, Bruno Mars
- Loud, Rihanna
Best R&B Song
- Far Away, Marsha Ambrosius
- Fool for You, Cee Lo Green & Melanie Fiona
- Not My Daddy, Kelly Price & Stokley
- Pieces of Me, Ledisi
- You Are, Charlie Wilson
Best Pop Duo/Group Performance
- Body and Soul, Tony Bennett & Amy Winehouse
- Dearest, The Black Keys
- Rave On Buddy Holly, Coldplay
- Pumped Up Kicks, Foster The People
- Moves Like Jagger, Maroon 5 & Christina Aguilera
Best Traditional R&B Performance
- Fool for You, Cee Lo Green & Melanie Fiona
- Sometimes I Cry, Eric Benét
- Radio Message, R. Kelly
- Good Man, Raphael Saadiq
- Surrender, Betty Wright & The Roots
Best Rap/Sung Collaboration
- Party, Beyoncé & André 3000
- Im on One, DJ Khaled, Drake, Rick Ross & Lil Wayne
- I Need a Doctor, Dr. Dre, Eminem & Skylar Grey
- Whats My Name? Rihanna & Drake
- Motivation, Kelly Rowland & Lil Wayne
- All of The Lights, Kanye West, Rihanna, Kid Cudi & Fergie
Best Country Solo Performance
- Dirt Road Anthem, Jason Aldean
- Im Gonna Love You Through It, Martina McBride
- Honey Bee, Blake Shelton
- Mean, Taylor Swift
- Mamas Song, Carrie Underwood
Best Rock Album
- Rock N Roll Party Honoring Les Paul, Jeff Beck
- Wasting Light, Foo Fighters
- Come Around Sundown, Kings Of Leon
- Im With You, Red Hot Chili Peppers
- The Whole Love, Wilco
Best Rock Song
- The Cave, Mumford & Sons
- Down by the Water, The Decemberists
- Every Teardrop Is a Waterfall, Coldplay
- Lotus Flower, Radiohead
- Walk, Foo Fighters
Best Hard Rock/Metal Performance
- On the Backs of Angels, Dream Theater
- White Limo, Foo Fighters
- Curl of the Burl, Mastodon
- Public Enemy No. 1, Megadeth
- Blood in My Eyes, Sum 41
Best Alternative Music Album
- Bon Iver, Bon Iver
- Codes and Keys, Death Cab for Cutie
- Torches, Foster The People
- Circuital, My Morning Jacket
- The King of Limbs, Radiohead
Album of the Year
- 21 – Adele
- Born This Way – Lady Gaga
- Wasting Light – Foo Fighters
- Loud – Rihanna
- Doo Wops & Hooligans – Bruno Mars
Record of the Year
- Rolling in the Deep – Adele
- Holocene – Bon Iver
- Grenade – Bruno Mars
- Firework – Katy Perry
- The Cave – Mumford and Sons
Best New Artist
- Nicki Minaj
- The Band Perry
- J. Cole
- Skrillex
- Bon Iver
Song of the Year
- Rolling in the Deep – Adele
- Holocene – Bon Iver
- Grenade – Bruno Mars
- All of the Lights – Kanye West
- The Cave – Mumford and Sons
Best Pop Solo Performance
- Someone Like You, Adele
- Yoü and I, Lady Gaga
- Grenade, Bruno Mars
- Firework, Katy Perry
- F—– Perfect, P!nk
Best Dance Recording
- Scary Monsters and Nice Sprites, Skrillex
- Raise Your Weapon, Deadmau5 & Greta Svabo Bech
- Barbra Streisand, Duck Sauce
- Sunshine, David Guetta & Avicii
- Call Your Girlfriend, Robyn
- Save the World, Swedish House Mafia
Best Traditional Pop Vocal Album
- Duets II, Tony Bennett & Various Artists
- The Gift, Susan Boyle
- In Concert on Broadway, Harry Connick Jr.
- Music Is Better Than Words, Seth MacFarlane
- What Matters Most – Barbra Streisand Sings the Lyrics of Alan and Marilyn Bergman, Barbra Streisand
Best Rock Performance
- Every Teardrop Is a Waterfall, Coldplay
- Down By the Water, The Decemberists
- Walk, Foo Fighters
- The Cave, Mumford & Sons
- Lotus Flower, Radiohead
Best R&B Performance
- Far Away, Marsha Ambrosius
- Pieces of Me, Ledisi
- Not My Daddy, Kelly Price & Stokley
- Is This Love, Corinne Bailey Rae
- You Are, Charlie Wilson
Best R&B Album
- F.A.M.E., Chris Brown
- Second Chance, El DeBarge
- Love Letter, R. Kelly
- Pieces of Me, Ledisi
- Kelly, Kelly Price
Best Rap Performance
- Look at Me Now, Chris Brown, Lil Wayne & Busta Rhymes
- Otis, Jay-Z & Kanye West
- The Show Goes On, Lupe Fiasco
- Moment 4 Life, Nicki Minaj & Drake
- Black and Yellow, Wiz Khalifa
Best Rap Song
- All of The Lights, Kanye West, Rihanna, Kid Cudi & Fergie
- Black and Yellow, Wiz Khalifa
- I Need a Doctor, Dr. Dre, Eminem & Skylar Grey
- Look at Me Now, Chris Brown, Lil Wayne & Busta Rhymes
- Otis, Jay-Z & Kanye West,
- The Show Goes On, Lupe Fiasco
Best Country Song
- Are You Gonna Kiss Me or Not, Thompson Square
- God Gave Me You, Blake Shelton
- Just Fishin, Trace Adkins
- Mean, Taylor Swift
- Threaten Me With Heaven, Vince Gill
Best Country Album
- My Kinda Party, Jason Aldean
- Chief, Eric Church
- Own the Night, Lady Antebellum
- Red River Blue, Blake Shelton
- Here for a Good Time, George Strait
- Speak Now, Taylor Swift
Foo Fighters et Adele ont été les artistes les plus récompensés pour cette cérémonie.
Écoutons un peu quelques titres des gagnants des Grammy Awards 2012



La suite des noms des gagnants sur le site des Grammy Awards 2012